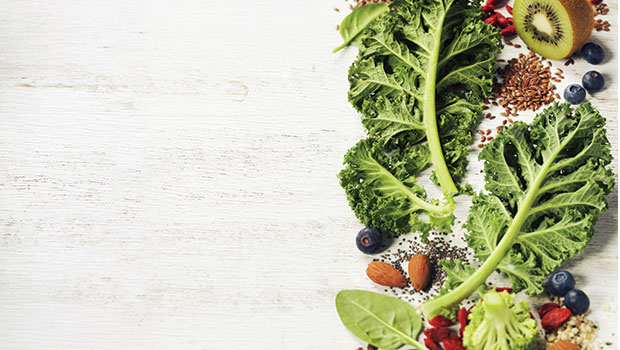 Whether it's the result of super powers or super marketing, superfoods sales continue to soar – but, discovers Kate Miller, not everyone in the industry is on board with the term
Is it a bird? Is it a plane? Is it a 500-calorie blueberry muffin heaving with fat and sugar? Don't worry about it – blueberries are a superfood, right?
Years after EU legislation limited its use, the term superfoods continues to be met with a wryly arched brow from some in the natural products industry. While no one is questioning the credentials of the foods themselves, the problem for many comes with the ranking of one food over another, in isolation and outside the context of a healthy diet.
Simon Wright, founder of OF+ Consulting and organic and Fairtrade brand specialist, says he views the area with some skepticism: "I am keen that we all take more responsibility for our own health, and our choice of diet is crucial. Coming from a wholefoods background I would sooner see the emphasis on eating a well-balanced healthy diet, rather than attempting to upgrade an unhealthy diet through the addition of a superfood."
In his 2017 article Sorry to Spoil the Superfood Party, Wright offers up an anecdote which highlights this: "My wife used to have lunch with someone who was convinced that it did not matter what foods she selected, as putting yoghurt on top would magically make them nutritious (she used to call it 'adding a bit of healthy')."
Wright says that he understands, especially in the current climate, why the marketing power of the term is appealing to retailers, who are grateful for anything that sells. Added to this is the fact that some of these products have long shelf-lives, high margins and a high recommended sales price, making them perfect shelf-fillers. However, he says: "My objection to calling a food a superfood is that it implies other foods are less than super! Broccoli, almonds, borlotti beans, peppers, mushrooms, cherries, avocado, beetroot – all stuffed full of nutrients. And we know that nutrients are more effective when delivered as part of a food rather than as an extract.
"For the same amount of money as an expensive superfood you could buy a basket of locally grown organic fruit and veg which will be good for you and the planet. Not as quick as sprinkling an esoteric powder on your muesli, but certainly tastier."
Myth-busting
This 'ranking' of foods is not something that has escaped mainstream media, with even satirical news site The Onion taking a swipe with its spoof feature Superfoods, Myths vs Fact, which includes this zinger: "MYTH: Leafy greens add beneficial doses of vitamins A, C, and K to every meal, as well as being loaded with folate, potassium, and calcium. FACT: This isn't to discount other greens, such as celery. Celery is still pretty good, okay? We all do our part. It's not a race." 
Ratna Bhusal, founder and managing director of Sprout'd – which supplies freshly grown sprouted lentils, beans and seeds – says that she too has concerns about the misleading nature of the term: "For me, a diet should be varied and not just focused on one 'magic' ingredient such as kale, chia or turmeric.
"This is the reason why we are getting all of our products lab tested and are closely working with dietitians to only communicate scientifically-backed, evidence-based data to our consumers. I think we owe it to our customers to be a fair and transparent company – especially when there is usually a lot of hype around superfoods. For instance, turmeric is a spice that we've been eating for hundreds, if not thousands of years. As someone from a Nepalese ethnic background, we grew up eating it in almost all of our dishes. However, for us, we see it as one of the spices that's good for you, and not a 'superfood'. We use several other spices such as fennel, coriander seeds, cloves – all of which have their own health benefits.
"The marketing of turmeric has taken it out of proportion and has probably resulted in people consuming a much bigger amount than is required/recommended."
The future
Misconception around the term isn't the only area where superfoods have come under fire. Many products under this umbrella carry some serious food miles: there has been the accusation that the addition of certain foods such as quinoa to Western menus has had the unintended but serious side-effect of pricing it out of reach of locals in areas where it has been part of the diet for centuries. 
Also, as local farmers try to keep up with demand, there are those who question whether the introduction of more intensive farming methods may have come at an environmental cost. There has also been controversy over Western companies taking patents on the grain. And if you ever want an eye-opening introduction into how dark food production can get, google the term 'blood avocados'. 
According to Stephanie Mattucci, Mintel's associate director of global food science, the future of the category lies in sustainability: "In addition to reducing food miles by using local superfoods, brands will need to communicate their sustainability initiatives. Ethical and environmentally friendly claims will resonate with mindful consumers who are conscious about the impact their dietary choices have on the world. Look to incorporate and promote sustainable practices to address a growing number of environmental concerns, such as soil health, food waste, water shortages, pesticide residues and plastic adrift in the world's oceans."
Super sales
Whatever the problems with the term, the category continues to do well, engendering trust in consumers. Telling statistics come from Mintel, which reports 40% of vitamin users saying that they prefer vitamins/supplements made from superfoods over traditional ones, and 23% of Brits having tried to eat more nutrient-dense foods such as superfoods.
"My objection to calling a food a superfood is that it implies other foods are less than super!"
Darren Robinson, head of sales at Meridian Foods, says that he thinks sales will continue to grow but only if sustained by retailers marketing the benefits properly: "Customers clearly love the idea of superfoods but want to know the exact benefits they will enjoy from introducing them to their diet ahead of making their purchasing decision." 
However, Wright thinks that the peak of superfoods has passed: "The tendency to have a new superfood every week seems to have (thankfully) stopped. This trend turns food into fashion, when we should be respecting and celebrating foods we have been eating for thousands of years – fruit, vegetables, nuts, seeds, grains, pulses, honey. Oh, and chocolate – my superfood of choice!"
Ones to watch
Tigernuts: Meridian has recently introduced the new Peanut Butter & Tigernut superfoods edition to its range, as, according to the company's Darren Robinson, it wanted to provide its customers with a new and exciting superfood to try out. "A tigernut is classified as an ancient superfood and is the root of an edible perennial plant native to the Old World that dates back 6,000 years. The tigernut is packed with multiple nutritional benefits, known primarily for being a rich source of fibre, vitamin E, iron and calcium. It has a uniquely sweet flavour that combines well with our peanut butter to create a deliciously creamy nut butter with an intense nutty flavour." 
Sorghum: Feted by Mintel in 2017 as the possible new quinoa, this grain heralds from Africa and is used as a grain, sweetener, ingredient in alcohol, animal fodder and biofuel.
According to Marcia Mogelonsky, director of insight, food and drink at Mintel: "Like quinoa, sorghum's versatility as an ingredient in snacks or as a snack food on its own in popped form, will give it room to grow in the category. What's more, sorghum's 'heritage' will help it gain popularity as more consumers seek artisan, handmade, 'clean' ingredients."
Of The Earth Superfoods add two new hot chocolate flavours to the range
Of The earth Superfoods
Tel: 0207 387 9303
E-mail:  [email protected]
www.otesuperfoods.com
Of The Earth Superfoods has finished its rebranding and we think the new image is what we aspire to do. We added specific benefits of each of these superfoods to the packaging and we've increased the use opportunities for these products on pack. With this in mind, we've launched two new products – Organic Chili Hot Chocolate and Organic Turmeric Hot Chocolate. Chili and chocolate is an absolute classic and turmeric has been known for its healing properties for millennia, we couldn't resist working it into a winter favourite.
Clearspring Organic Japanese Brown Rice Miso – Unpasteurised
Clearspring
Tel: 0208 749 1781
E-mail:  [email protected]
www.clearspring.co.uk
Clearspring Organic Japanese Brown Rice Miso is a perfect combination of traditional artisan craftsmanship and authentic flavour. Unpasteurised, it is perfect to create authentic miso soup, but also as a glaze, in stews, sauces and marinades. It is traditionally fermented by combining the finest organic whole soya beans, brown rice and koji culture (Aspergillus Oryzae). 
It is naturally aged over many months, whilst the koji culture breaks down the grains and beans into readily digestible amino acids and proteins. Miso is considered a superfood and staple in Japan, delivering deliciously rich and deep flavours and that unique umami taste.  
Garden of Life Raw Protein & Greens
Tel: 08450 725 825
E-mail:  [email protected]
www.kinetic4health.co.uk
Each serving of Garden of Life Raw Organic Protein & Greens offers 20g of easily digested complete plant protein, 3.6 g of BCAAs per serving with 4 organic sprouted grains, seeds and legumes as well as organic pea protein grown on Garden of Life's USA farm, 1.5 billion live bacteria, 13 digestive enzymes, and six nutrient- rich, organic greens and veggies: organic alfalfa grass juice which has 6 times the nutrient density of whole leaf grass plus organic spinach, organic kale, organic broccoli, organic carrot and organic beet. Garden of Life's plant proteins are produced at low temperatures, preserving their complete amino acid integrity. 
Nutiva Organic MCT Powder – NuMCT™
Kinetic Natural Products Distributor
Tel: 08450 725 825
E-mail:  [email protected]
www.kinetic4health.co.uk
The world's first organic MCT Powder –  NuMCT™ – made from Nutiva Organic MCT Oil from 100% organic virgin coconut oil. With added prebiotic acacia fibre (3g per serving) and a small amount of tapioca maltodextrin to ensure that the quality fats blend into any beverage.Delivers digestible fatty acids that quickly convert to ketones, giving the brain, muscles and other tissues fast and sustained energy. NuMCT™ is a creamy alternative to Nutiva Organic MCT Oil, and is more gentle on the digestive system. Keto- and paleo- friendly. 
Organic Food Bar Active Greens Chocolate Covered
Kinetic Natural Products Distributor
Tel: 08450 725 825
E-mail:  [email protected]
www.kinetic4health.co.uk
The world's best-selling organic Active Greens bar, covered in a thick coating of organic non-dairy Belgium chocolate. Includes: 4000mg of an exclusive green superfood alkaline-forming blend with spirulina, wheat and barley grass, and blueberry and raspberry; 10g of fibre per bar, which is 33% of the recommended daily intake for adults; and 16g of organic protein from pea and pumpkin. 80% raw, and always made with no GMOs, trans fats, preservatives or additives. Available +Protein (15g per bar) and +Probiotics (Bacillus coagulans), both vegan and gluten free.
Organic Traditions Probiotic Sorghum Cereal Chocolate Coconut Crunch
Kinetic Natural Products Distributor
Tel: 08450 725 825
E-mail:  [email protected]
www.kinetic4health.co.uk
Organic Traditions® Probiotic Cereal Chocolate Coconut Crunch is a combination of organic sorghum flakes, chia, cacao nibs, cacao powder, shredded coconut, hemp seeds, cinnamon and beneficial pre and probiotics. Packed with incredible seeds such as chia, flax and hemp, processed by a proprietary milling process that finely slices the chia and flax seeds without crushing them or forcing them through a mesh or sieve to minimise oxidation and degradation of nutrients. Provides 1.28g of omega 3s per serving and is a good source of fibre. With probiotic strain bacillus coagulans, which has excellent survivability and stability, safety and efficacy, and prebiotic acacia gum to create a synbiotic superfood formula. 
UK First Organic Ayurvedic SuperFood Powders & Nutritional Bars
Living Ayurveda Product Ltd
Tel: 07725 849829
E-mail: [email protected]
www.AnandaSuperFoods.co.uk
Vegan Vata, Pitta & Kapha SuperFood powders, retail at £22.99 per pouch for one months supply.  Vata with almond & cinnamon – Relaxing & improves sleep  Pitta with Fennel & Coconut – Digestive aid & good for skin conditions Kapha with Apricot & Ginger – Immune booster. Available in many independent health food shops.
Pukka Organic Night Time Latte
Pukka Herbs
Tel: 0845 375 1744
E-mail:  [email protected]
www.pukkaherbs.com
Sweet dreams are made of this. A velvety blend of malty oat and nutty carob bean infused with nature's night time herbs – lavender and chamomile, ashwagandha and nutmeg.
When Pukka's Night Time latte is added to milk (we recommend almond), the result is a deliciously smooth, creamy and warming drink with a malty taste, hints of nutty chocolate and delicate floral and aromatic notes. All of which have been blended to benefit anyone wanting to aid relaxation naturally before bed.
Raw Living Superfoods
Raw Living Ltd
Tel: 01803 658989
E-mail:  [email protected]
www.RawLiving.eu
Raw Living carry the widest range of superfoods in Europe, from Acai to Wheatgrass, they offer over 30 products in beautiful rainbow pouches that look stunning on the shelf. Raw Living has been in business for 19 years and are dedicated to producing the highest quality raw vegan products on the market, at affordable prices. With such a comprehensive range, standout packaging, guaranteed quality, competitive pricing, and excellent customer service, Raw Living are the number one choice for superfood connoisseurs. Notable products from the range include organic bee pollen, plant-derived MSM, raw nori sheets, dual-extracted mushrooms, and superfood chocolate bars.
Klamath Blue Green Algae®
The Really Healthy Company
Tel: 0208 480 1000
E-mail:  [email protected]
www.healthy.co.uk
Klamath Blue Green Algae® – the most nutrient dense food on the planet.  Contains approximately 65% quality protein and a complete profile of easily assimilated vitamins, minerals, trace elements, enzymes, amino acids, carbohydrates and fatty acids, ALL in perfect synergistic balance. Klamath has the highest beta-carotene and chlorophyll content per gram of any food. 
Our desiccation process increases Klamath's nutritional concentration by as much as 20 times, therefore retaining its enzymatic and nutritional integrity. Klamath Blue Green Algae® is a wild green whole food source that perfectly complements a healthy diet. Wild, Organic, Pure – The UK's ORIGINAL Klamath Blue Green Algae   
Tree of Life Organic Superfoods
Tree of Life
Tel: 01782 567100
E-mail:  [email protected]
www.treeoflife.co.uk
Tree of Life organic, plant-based, nutrient-dense superfoods provide an easy solution to boost the power of everyday meals, snacks and smoothies. We've scoured the globe for the finest quality organic beans, seeds, nibs and berries to build our range of 8 superfoods including beauty berry Acai Powder, protein-packed Spirulina and Hemp Powders and our unique Maca Powder blend of red, yellow, purple and black maca roots. Simply scoop into smoothies, stir-into bakes or sprinkle over dishes to add a natural, nutrient boost. Part of the Tree of Life range of natural wholefoods helping to make health easy every day.
Golden Greens Organic
World Foods Brand Management Ltd
Tel: 01782 366080
E-mail:  [email protected]
www.wfbm.co.uk
The Independent Health stores leading range of Organic nutritional powders continue to lead the way with the widest range of natural and organic single and targeted blends. Best sellers include the Organic Prebiotic inulin and Collagen complex, but with over 50 Organic products to choose from you can offer your customers the most comprehensive range of Organic powders which are especially for Independents. Social media campaigns will continue through 2019 driving trial in health stores.
Available from all leading wholesalers