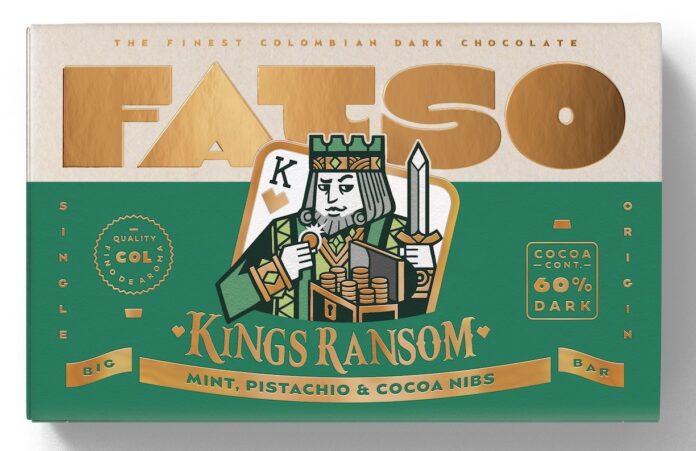 Dark chocolate brand FATSO has created its fourth variant – Mint, Pistachio & Cocoa Nibs – ahead of The King's Coronation in May.
The vegan-friendly King's Ransom bar is a combination of whole pistachios, crunchy cocoa nibs and a hint of mint, all set in fairly traded Colombian dark chocolate (60% cacao).
"We are overjoyed with the UK's positive and embracing attitude toward FATSO since we launched, so it was only right to celebrate with a new flavour, just in time for the big event of the year: The King's Coronation," says FATSO co-creator, Ella McKay. "Dark chocolate and mint is a classic combination, but as you know by now, at FATSO we are all about challenging the boring and delivering epic, uncompromising deliciousness, which is why we … added in crunchy cocoa nibs and whole pistachios.
"King's Ransom gives a nod to the new King Charles III and gives retailers the chance to stock a product that ties into May's huge coronation celebrations. It is also the first new flavour we have added to our range since launching FATSO last spring.
"We believe that King's Ransom, with its huge chunks, extra crunch and minty-fresh flavours, will continue to set the record straight that dark chocolate can be as much fun as milk."
Available from 14 April, King's Ransom is made with sustainably grown single-origin cacao from the ethical, family-owned Luker's Farm in Columbia.
All FATSO bars are packaged in a 100% recyclable box with vegetable ink print and a home compostable flow wrap inside.