Spanish brand Heura has launched in the UK ­- initially into The Vegan Kind and Planet Organic – with its range of 100% plant-based 'meat' products.
The first items to reach shelves are chicken alternatives, available in Original Chunks, Original Strips and Mediterranean Chunks. Made from European soya, olive oil, salt and spices, they have the same amount of protein as chicken, and only a third of the fat.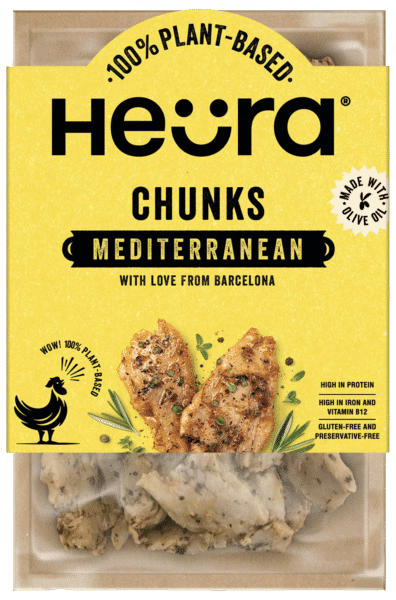 These were closely followed by the launch of the Heura Burger 2.0 – a burger which the brand has positioned as 'the healthiest on the market', containing 64.25% less fat than a traditional beef burger, with 85.6% less saturated fat than beef and 11.3% more protein per calorie.
In order to create a burger with 'the juiciness of beef' without using high amounts of fat, Heura says it developed the first fat analogue made of extra virgin olive oil.
Heura was founded by food activists Marc Colona and Bernat Añaños (pictured) in April 2017 and with growth hitting 460% in the last year, it claims to be the fastest growing 100% plant-based meat company in Europe. It already has a presence in Spain (where it is said to be a favourite of several La Liga players – Sergi Roberto, Ter Stegen, and Saúl Ñíguez), Andorra, Portugal, France, the Netherlands, Singapore, Hong Kong and Chile.
"The UK is the fastest-growing plant-based food market in Europe, and coupled with Heura's growth it means this is the right time for us to enter the UK market," explains co-founder and CEO Coloma. "We trust in the outstanding nutritional value of our products: our products have a clean label, are among the healthiest available, and our Mediterranean heritage means that we are the only plant-based meat made with olive oil."
Heura says its mission is to 'create solutions that make the current food system obsolete and accelerate the transition to a world in which animals are out of the protein production equation'.