After successfully completing an evaluation by NHS Supply Chain to feature on its Cold Beverages, Confectionery and Snacks framework, Nim's Fruit Crisps has made inroads into the foodservice sector.
Catering managers in all NHS hospitals in the country will now be able to order Nim's Fruit Crisps' Apple and Pineapple varieties to sell in visitor and staff canteens.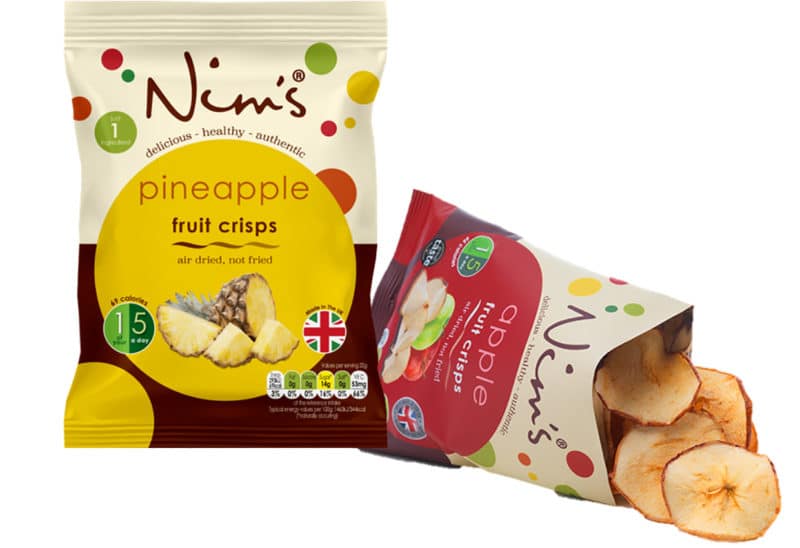 The air-dried fruit crisp manufacturer says that having received an overwhelmingly positive response to the healthy snacks at two Hospital Caterers Association meetings, it predicts that this could grow to become its biggest sales source within the next year.
"This is a major breakthrough for our business and highlights how the NHS is looking to incorporate healthier products into its offer," explains brand founder, Nimisha Raja. "As the only crisp range that has been certified by Public Health England as one of your five a day, we knew we had a good opportunity, but still needed to satisfy requirements around sustainability, sales, service, quality and certification to BRC. I'm delighted to say we scored 100%.
"The initial opportunity will be to supply the visitor and staff canteens, but there is also the chance that our products can be offered to patients at the discretion of the catering manager. That potentially could transform our business forever."
The crisps are manufactured at the brand's facility in Sittingbourne which, after recent investment in new lines, can produce over 15 million packets of the crisps annually.
2019 has also seen it enter into a partnership with Garden County Vending to trial its products in several of its UK sites.
"Word is getting out about how natural and aesthetically pleasing our products are for dessert toppings and air-dried ingredients," explains Raja. "Combine this with the fact that all food service operators have targets they need to meet in terms of offering healthier CQUIN (Commissioning for Quality and Innovation) compliant alternatives to traditional, high fat, sugary snacks and it appears to be a good time to be expanding our market presence."