Marking the brand's biggest investment to date, Cawston Press has announced the launch of a new nationwide marketing campaign – Life's Best Pressed – which focuses on its sparkling soft drinks range.
The campaign – which places its best-selling Sparkling Rhubarb at centre stage – features the tagline No Jiggery Pokery to highlight that Cawston Press uses simple, recognizable ingredients, with no hidden sweeteners, concentrates, added sugar or misleading language.
Encompassing ATL media, OOH advertising, PR, sampling, promotions and social media, the campaign will run until the end of July (ATL and OOH live until the end of June) and has been supported by a £500k investment.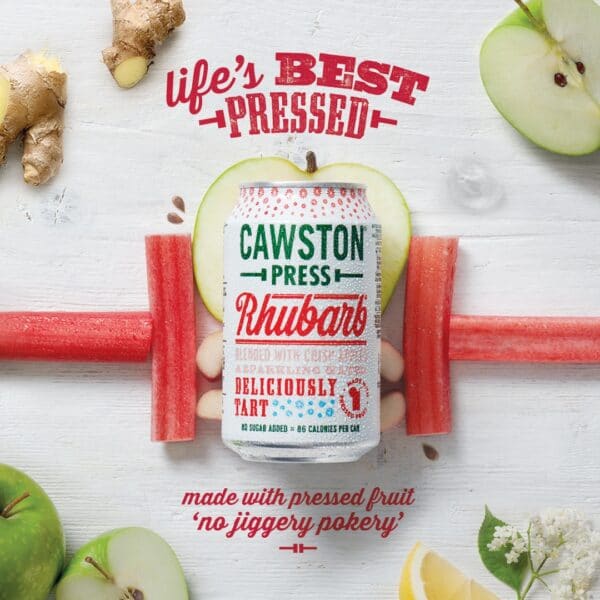 "This is a big moment for Cawston Press and we're incredibly excited to bring our Life's Best Pressed campaign to over 5.7 million people this summer," says Laura Hedderman, the brand's head of marketing. "We pride ourselves on making great-tasting sparkling soft drinks, using real pressed fruit and sparkling water – it really is as simple as that, which is why we call it 'No Jiggery Pokery'.
63% of consumers want drinks with more natural ingredients
"It's exciting to see the new research from YouGov, showing that 63% of consumers want drinks with more natural ingredients and that 60% are concerned about sugar and sweeteners, and it's reflective of a shifting consumer attitude to make more informed decisions, which we're pleased to cater to. We hope that Cawston Press becomes a firm favourite for many more consumers up and down the country."
This summer also sees the introduction of Cawston Press 750ml bottles in two of its most popular varieties – Sparkling Elderflower Lemonade and Sparkling Rhubarb – to tap into sharing occasions and the demand for larger formats.