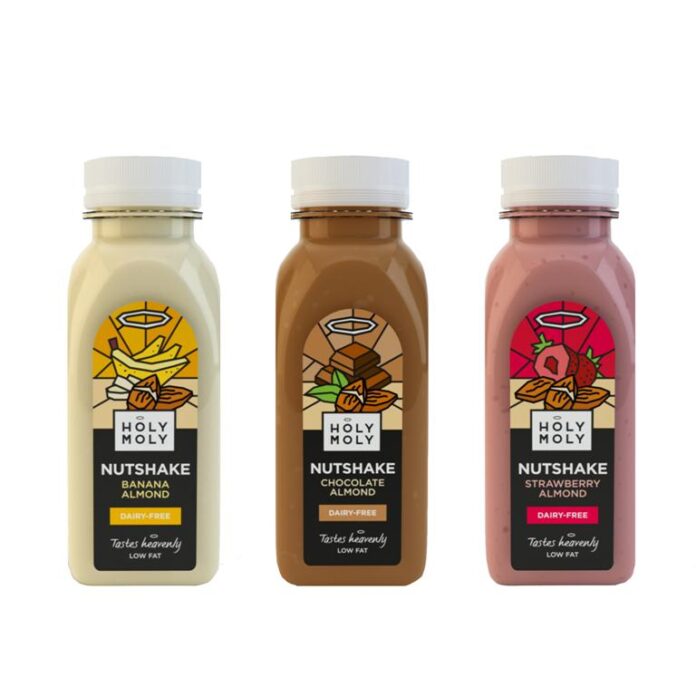 Aiming to disrupt the ready-to-drink category, avocado dip brand Holy Moly has created what it says is the UK's only range of cold-pressed Nutshakes — creamy plant-based shakes made from a blend of raw, unpasteurized almond milk and fresh fruit.
Available in Strawberry Almond, Chocolate Almond and Banana Almond, the Nutshakes come in 750ml and 250ml and are vegan, gluten free and low in fat, with an average 73 calories per 150ml serving. They contain around a third less sugar than smoothies and up to 90% less saturated fat than some traditional dairy milkshakes.
Strawberry Almond combines raw almond milk with crushed strawberries, naturally sweetened with dates; Chocolate Almond is made from a blend of raw almond milk, bananas, apples, dates and smooth, rich chocolate; and Banana Almond is a fat-free Nutshake with no added sugar, and made with raw almond milk, bananas, apples and dates.
Holy Moly uses a cutting edge cold-press production process that retains the nutritional value of the natural ingredients and means the brand can deliver 30 days' chilled shelf life for retailers, without the need for preservatives.
"We are committed to innovation and disrupting the food and drink industry by providing consumers and retailers with more choice," says co-founder Tom Walker commenting on the launch. "We've had success with dips, bringing an all-natural, branded, plant-based product range to a stagnant category. By launching Nutshakes … we will be applying the same level of innovation to the ready-to-drink market. The Nutshakes are unlike anything else on the market."