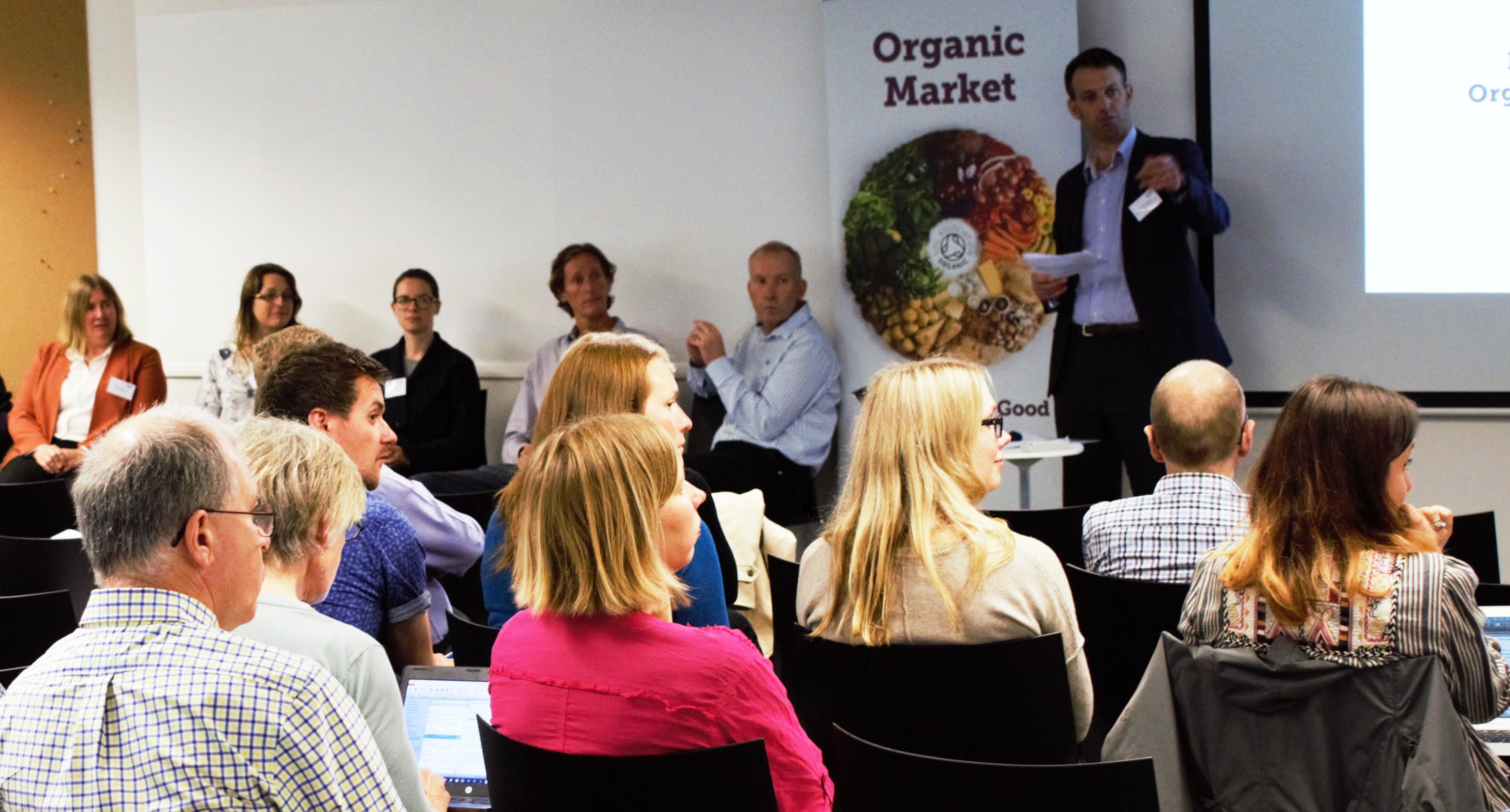 Soil Association (SA) Certification has highlighted the need to protect the integrity of organic supply chains.
Last week it held an event for the UK organic sector at Triodos Bank in Bristol in order to 'lay the foundations to future proofing the supply chain' and it will launch a Supply Chain Challenges and Opportunities report in September.
"This is just the beginning. Organic has the highest levels of integrity and everyone involved recognises that there are always going to be new and evolving challenges especially as the market starts to grow rapidly," said Martin Sawyer, CEO of Soil Association Certification. "This isn't a fire-fighting situation," continued Sawyer, "we are anticipating the challenges the industry will face and the increasing demand from consumer that brands and businesses maintain their hard-earned integrity."
Trust was a consistent theme throughout the event – from consumer trust of organic when they make a purchase, to brands' trust in their suppliers and farmers – and SA research shows that trust remains a key priority for organic consumers.
Speakers explored several potential threats – from fraud to accidental contamination, such as drift and pollution or transportation contamination – as well as the need to build stronger relationships along supply chains and work more closely with producers, who may not always get the support they need.
"Certification may be rigorous, but as markets grow and supply chains draw from regions where operators may have less experience, or the control infrastructure may be less sophisticated, risks can emerge," said Sarah Hathaway, Technical Manager, Soil Association Certification.
Discussion focused on how risk might be further managed, not just by certification, but also through building relationships, improving product knowledge, ensuring consistent controls, clear responsibilities, better communication, reviews of supply chains (keeping them short) and identification of risks.
Ben Heron, Sustainable Herbs Manager at Pukka Herbs, shared his experience of his direct relationships with organic suppliers and how extra vigilance can be required to deliver a further level of risk management in some countries, to complement certification in ensuring organic integrity and sustainability.
Working hand-in-hand with farmers and suppliers to educate and support rather than simply switching suppliers where quality issues arise, is part of Pukka's commitment to supply, said Heron. He concluded that supplier relationships are an essential part of Pukka's quality assurance and a valuable tool in risk mitigation.
Alison Johnson of Food Forensics reminded the audience that testing is a tool to assess risk rather than total solution proving or disproving organic status. "There isn't one solution to deal with contamination, it is data fusion," she said. "Don't look for black & white – grey is a useful tool if you ask the right questions," she continued, warning of the dangers of 'false positives' in residue testing and urging further consideration of other tests for isotopes and GM – all of which can provide information that supports certification.
Jessi Baker from IT start-up Provenance explained how information technology could also assist in preventing fraud and providing consumers with more information on origin or practices. "There is no one silver bullet so my part of the jigsaw is the creation of digital passports and the evolution of trust via a new way of working using open-data systems called Blockchains," she explained.
Ronald van Marlen argued for an improved measure of trust in organic business culture, whilst presenting BioTrust, a Dutch quality assurance tool which helps collate an additional level of risk information in supply chains. "We simply need people in the supply chain who behave. We cannot create a risk-free food system, so we need to bring ethics and trust back into business, or we risk losing our relevance if we don't stand up for further change."
Attendees agreed that opening the debate around the future of trusted supply was key, along with increased use of the tools and facilities available and a willingness among organic businesses to share information on risk. While SA Certification confirmed it will continue to explore where risk tools complement certification and will keep businesses updated and informed.
The forthcoming Supply Chain Challenges and Opportunities report will share further insights around not just integrity, but also efficiency, supply & demand and opportunities for organic via new and emerging routes to market.