Organic veg bag scheme Local Greens has become a member of the Organic Trade Board (OTB).
Operating from the railway aches in London's Herne Hill, Local Greens is an organization which pours its profits back into local community projects and reinvests in the local economy.
Co-founded ten years ago, Local Greens grows organic and biodynamic seasonal vegetables 'as near as possible to South East London, ensuring maximum freshness and minimal food miles', according to the OTB, which welcomed the organization as new members in its April newsletter.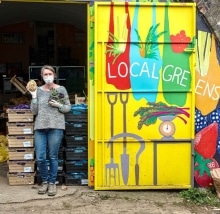 Jean Bergin (pictured), co-founder of Local Greens, comments: "We joined OTB to be part of a trade body that promotes and lobbies on behalf of organic food retailers from big to small (like us). We also look forward to meeting other retailers and sharing stories about the highs and lows of what we do. It also helps to put faces to the names of some of the bigger retailers in our sector.
"We joined at this stage because we noticed a big increase in demand for organic food over the last 12 months. We want to be part of an organization that will help keep us all maintain that growth. OTB aligns with our values because protecting the environment and slowing climate change is at the heart of what we do and this is common across the membership of OTB."
Cristina Dimetto, general manager, OTB, adds: "We are very excited to welcome Local Greens as new member. Their commitment to the local community, ethical practices and sustainable efforts totally align with our strategic plan and membership. We look forward to working more with them and to be able to support their mission, and, at the same time, we want to encourage more organizations with the same ethos to join our growing membership/movement!"