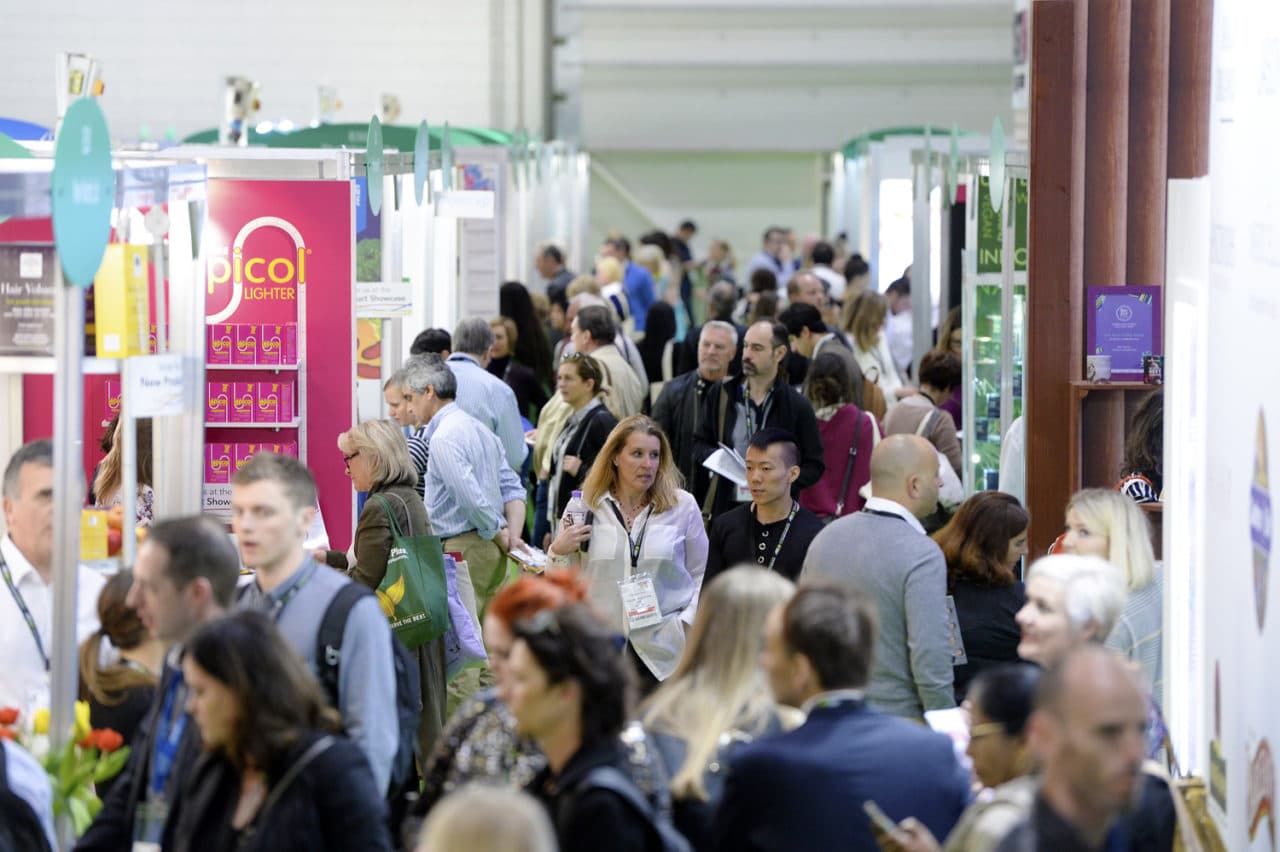 Natural & Organic Products Europe has released a preview of exhibitor highlights and 'next wave' bestsellers for the upcoming 2018 show.
Returning to ExCel London on 22-23 April, the show has been carefully curated to present the industry with the best in natural health and clean living products. Visiting retailers and buyers will be among the first to discover how natural and organic brands are putting their own individual twists on the latest trends such as curcumin, saffron, magnesium, CBD products and alternative modes of VMS delivery.
The following list pulls focus on just some of NPE's highly anticipated innovation:
Health
CBD One is previewing Absorb Gold+, which combines the balancing properties of CBD with the ancient power of curcumin. Presented in a 30ml bottle, with easy to use oral drops, it contains BioActive technology so the body attains 100% uptake of both components (stand B45, UK).
Turmeric Vitality is launching bio-fermented turmeric liquid, which combines the power of turmeric with digestion-enhancing ingredients and six billion diverse live cultures. Available in 99% sugar-free Forest Berry and Pineapple Passion flavours (stand W44, UK).
Better You is unveiling its Iron Oral Spray, which delivers 5mg of highly bioavailable iron combination. Contributing to the health of the immune system and cognitive function, it can help with the reduction of tiredness and fatigue. Also introducing: Magnesium Sleep Mineral Lotion (available in adult and junior variations) and Magnesium Bone Mineral Lotion (stand F33, UK).
Kinetic Natural Products Distributor is launching Neocell Super Collagen+C. This offers 6000mg of BioActive NeoCell Collagen Type 1 and 3, along with 20mg of vitamin C (as Calcium Ascorbate) per serving. It's non-GMO and gluten-free and does not contain soy, wheat, lactose, starch, yeast or artificial flavourings (stand G20, UK).
Wiley's Finest is launching Bold Vision: Proactive supplements, made with FloraGLO® Lutein, Anthocyanins, and Omega-7 from fish oil. These soft gels are designed to nourish eyes and reduce the effects of sunlight and digital blue light by strengthening eye tissue. A serving provides the daily recommended dose of Lutein and Zeaxanthin for optimal eye health support (stand F45, UK).
Jomeis Fine Foods is introducing 100% natural, coffee-free Nutritional Lattes. The lattes come in seven flavours that can be enjoyed hot and cold: turmeric, matcha, beetroot, matcha & cacao, cacao, minty cacao, and spicy ginger (stand U38, Australia).
Garden of Life is launching a range of certified organic, non-GMO and vegan protein and 'greens' powders. Made from whole food ingredients and no added fillers or carriers, they preserve their complete amino acid integrity. Available in: Fit, Raw Protein, Raw Protein & Greens, and Raw All-in-one Shake (stand H20, UK).
Salus UK, manufacturers of the popular Floradix Liquid Iron, is launching Floradix Vitamin-B-complex liquid. Containing six essential B vitamins, this formula will appeal to those looking for vitamin B-complex in a liquid format (stand G24, UK).
Living Planet Distribution is introducing Zen CBD, a new range of CBD sprays and drops using hemp grown in Slovenia. Products include four naturally flavoured sprays in chocolate, orange, peppermint and coconut, in four different strengths: 3%, 5%, 10% and 15% (stand K28, UK).
Natures Plus UK is launching Infinite Planet, an organic, wholefood multivitamin with 100% of profits going to global charities. Also showcasing: HempCeutix Complete 5mg capsules, Source of Life Gold Drink Mix, Keto Living, and a new GI Natural Digestion (stand H24, UK).
Aquamamma natural hydration water is making its European debut at the show. Developed by Australian obstetrician, Dr Robert Buist, it was created to provide women with a healthy way to stay hydrated during pregnancy and after giving birth. The waters are low in sugar and sodium and have added folic acid. Available in Lemon, Orange, Coconut and Mixed Berry, with BP-free bottles (stand E36, USA).
Coyne Healthcare is unveiling Bio-Curcumin with BCM-95® – 100% natural bio-available curcumin which is bio-active for up to eight hours and supported by 33 human clinical studies. It helps to deliver up to seven times more bio-active free curcumin, is vegan friendly, free of GMO, sugar, gluten and soya (stand K42, South Africa).
KIKI Health's new CBD Oil range is 100% vegetable-based and uses whole plant extract, comprising an extensive range of cannabinoids and terpenes. It uses a chemical free 'cold' CO² extraction method to omit degrading and maintain the oil in its purest and cleanest form with no additives, fillers or preservatives (stand L20, UK).
Enzymedica UK is launching Acid-Soothe, a natural solution for occasional heartburn and indigestion. Containing Thera-blended enzymes plus botanicals to soothe the digestive-tract, Acid-Soothe is fast-acting, and provides zinc carnosine to strengthen the lining of the stomach and does not block natural stomach acid production (stand F24, UK). 
Gourmante is introducing six new herbal food supplements, including: Mediterranean Formula, a multipath anti-ageing food supplement to provide a full range of anti-ageing measures and to support well-being at the cellular level; Energy Formula; Immune Support Formula; Eye Health Formula; Menopause Formula; and Slim Aid Formula (stand S38C, Greece).
Solaray is introducing organically grown herbs in vegan capsules including: echinacea, ginger, alfalfa, burdock, dandelion, eleuthero, fenugreek, and fermented beet. Made with no fillers, preservatives, flavours, colours, or additives. Also introducing: organically grown, excipient free, fermented mushrooms (stand C38, UK).
Ciitech Cannabis is launching Reactive CBD, which contains a formula of CBD, antioxidants, vitamins and additional cannabinoids for physical and mental wellbeing. Reactive CBD products are non-psychoactive and 100% legal for sale and consumption across the EU (stand E40, UK).
Karma Rub Liquid Magnesium is launching in the UK. This naturally sourced Australian liquid magnesium is designed for use on the skin, to help relax muscles, nerves and tendons (stand B40, Australia).
Simplee Aloe is introducing its 100% natural and organic Aloe Vera health supplement in a new one litre pack size. All natural, never from concentrate and nothing artificial added, it's made with the highest polysaccharide content of inner leaf supplements on the market (stand H10G, UK).
Kiwi Manuka is launching its new essential oil range in Manuka, lavender, tea tree, peppermint, kanuka and lemongrass. Certified Non-GMO and by UMF(R) Honey Association (stand P35, Hong Kong).
Viridian Nutrition is presenting its Organic Pine Bark and Berry supplement to add to water or juice. The ingredients are taken from an organic forest which harvest wild red lingonberries, and bilberries of the deepest blue. It's then blended with proanthocyanidin-rich Arctic pine bark and Arctic bilberry extracts, sourced from Finnish Lapland (stand J37, UK).
Harmony Cone Ear Candles is promoting its selection of ear candles, made with certified organic cotton. They're the only ear candles with a USA patented safety tip and burnline label. During the burning of the candles, the combination of these raw materials leads to a cleaner, non-GMO smoke, and can specially blend 30 different aromas (stand A35, USA).
Natures Aid is showcasing its new range of probiotics. Enhanced with supportive nutrients, they're supported by scientific research to utilise specific bacteria for certain complaints and are suitable for vegans. The range includes Nutrigut C, Pro Derma, Pro-100 Ultra, Pro-Cognitive and Pro-30 Max (stand F31, UK).
The Naked Pharmacy is presenting Saffrosun for children, launched on the back of new research showing how high strength saffron (sourced from La Mancha, Spain) is very effective for nervousness and tension in children. Containing vitamin D3 and B12, it's suitable for children aged 6-14 years and can be used to help combat exam stresses (stand N44, UK).
Raw Pot is promoting its Raw and Organic Bee Pollen (deep frozen) and Fresh Royal Jelly. Containing a high enzymatic value, friendly bacterial cultures, B vitamins, including B12 complete and protein-free amino acids – it is ready to be used directly on the body (stand Q5, UK).
Friendly Soap is exhibiting its Charcoal Detox Bar, made with toxin absorbing activated charcoal, rosemary and lime essential oils. Activated charcoal draws toxins out of skin, while lime essential oil is known to be antiseptic and antiviral (stand F44, UK).
Canabidol CBD Supplements is exhibiting CBD Cacao-Tabs, available in three variations of strength: 100mg, 250mg and 500mg. These are to be used under the tongue and have been developed to be the most effective delivery method of CBD, which promises 0% THC (stand F47, UK).
Bee&You is presenting its 30ml Propolis Nasal Spray. Made with 5% Pure Propolis, it's alcohol-free and is used to help clean and unblock the nose and release congested nasal mucus. Propolis is known to contain at least 8mg/ml of antioxidants (stand X1, Turkey).
Puori is presenting PW1 organic whey protein powder, which includes 21g of protein and is flavoured with organic cocoa, vanilla bean, and powdered Nordic blackcurrant (stand C37, Denmark).
The Nature's Bounty Co is showcasing its new adult gummies range. These various food supplement gummies for adults come in: COQ-10, Multivitamin, Hair, Skin & Nails, Cran-Max Cranberry, and Bounty Pro for energy, wellbeing, woman's health, and friendly bacteria (stand G10, UK)
Natural Living
MyMood2go is promoting its range of pocket sized USB Essential Oil Diffusers to the show for the first time. These ultrasonic technology portable, small and discreet diffusers can be used on the go; in a laptop, car, office, or in a power bank. They generate a very fine mist of oil into the air and come in three variants: Calm (Lavender), Focus (Peppermint), and Uplift (Orange) (stand C13, Ireland).
The YES YES Company is previewing Yes Baby, a certified organic, two-step lubrication solution for women trying to conceive. The sperm-friendly lubricant is pH-matched to semen and cervical mucus and helps to restore the acidic vaginal pH after the fertile period, reducing risk of infections (stand E4A, Soil Association Pavilion, UK).
Bio-D is launching its new packaging, made from 100% UK post-consumer plastic. Bio-D's Laundry Liquid and Washing Up Liquid are the first products to use the new bottles before roll-out across the full range by the end of 2018 (stand V29, UK).
Natural by Nature Oils is introducing Himalayan Salt lamps to the show. These rare large size lamps are available in sizes from 2kg to 100kg. Health benefits can include help with breathing, eczema, asthma, pet allergies and its calming atmosphere can also aid with anxiety and poor sleep (stand A33) UK).
AromaStick is presenting its Swiss-made inhalers filled with blends of 100% organic essential oils designed to help with any situation – from stress and nerves, through to tiredness and lack of concentration. Small enough to fit into any pocket, they can be taken along and used whenever and wherever. Simply twist open and sniff (stand K44, Switzerland).
OrganiWash is a mild 2-in-1 cleanser for menstrual cup users.  It can be used to cleanse menstrual cups before insertion/after removal and/or as a pH-balanced intimate wash for the body.  OrganiWash contains lactic acid, organic and natural ingredients, is perfume-free, certified vegan, AllergyCertified and suitable for all skin types (stand D36, Denmark).
The Cheeky Panda is promoting its latest range of bamboo kitchen towels, dinner napkins and pocket tissues. Bamboo is known to be the world's fastest growing plant; bamboo fibres are rounder and longer giving these new products a strength and silky soft luxury feel (stand D34, UK).
SoyLites Soy Candles is showcasing its new Rainbow Rocks range of natural soy crayons with no paraffin or synthetic chemicals. Made with food grade pigments, these crayons glide smoothly over the page and are scented with pure lavender for calmative benefits (stand A39, South Africa).
Findhorn Flower Essences is presenting its sacred mist room and aura sprays, which contain a blend of flower, elemental, and gem essences with pure essential oils. This synergistic combination is known to positively contribute to state of mind and sense of wellbeing (stand B13, UK).
To register for a free trade ticket, please visit https://eventdata.uk/Visitor/NOPE2018.aspx?TrackingCode=PR1).