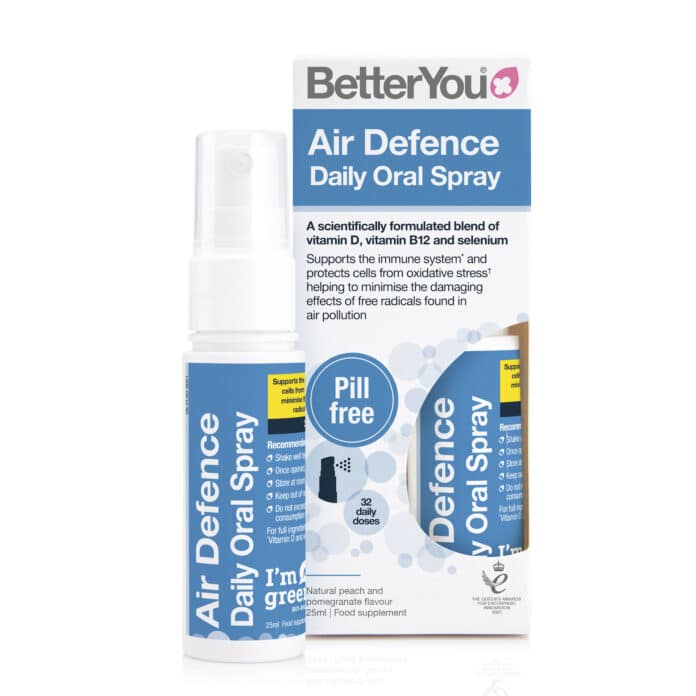 In response to what it says is a growing demand for a natural health supplement to protect against fine air pollution, BetterYou has formulated its Air Defence Oral Spray.
The pill-free supplement combines vitamins B6, B12 and D3, folic acid and selenium, and is designed to protect cells from the oxidative stress that can be caused by fine particles in the air, support the body's immune system and contribute to normal red blood cell formation.
Certified vegetarian and guaranteed palm oil-derivative free, the natural peach and pomegranate flavoured supplement comes in 100% recyclable, planet-friendly packaging.
"Public Health England has acknowledged that poor air quality is the largest environmental risk to public health in the UK, with long-term exposure thought to contribute towards chronic conditions such as cardiovascular and respiratory diseases," explains brand founder and CEO Andrew Thomas.
"Counties including Greater London, West Midlands, Greater Manchester, Bristol and South Wales are reported to have the worst levels of air pollution in the UK, and whilst recent worldwide coronavirus lockdowns incited a decline in pollutants, now restrictions have eased, the average level has rebounded and is on the rise. This means it's more important than ever for people to help their body to protect against the damaging effects this can cause to our health."
To support the removal of CO2 from the atmosphere, the brand has partnered with Earthly to support its mangrove-planting project run by Eden Reforestation in Madagascar. BetterYou has pledged to plant a tree for every Air Defence Oral Spray sold to help sequester carbon from the atmosphere, improve air quality and create 'a climate-positive world'.