Gut health food brand Deeply has launched with a duo of plant-fibre prebiotics, formulated to 'Feed Your Good'.
Containing a blend of 100% natural plant nutrients, vitamins and prebiotics to feed the trillions of good bacteria living in the gut and support immunity, the shots are available in earthy fresh Spinach & Kiwi with Seaweed and zingy Carrot & Ginger with Turmeric.
Each 65ml measure delivers 7.5g of the daily recommended 30g of fibre, double that of current market leaders, says the brand, along with vitamins D3 and B9, which contribute to the normal function of the immune system.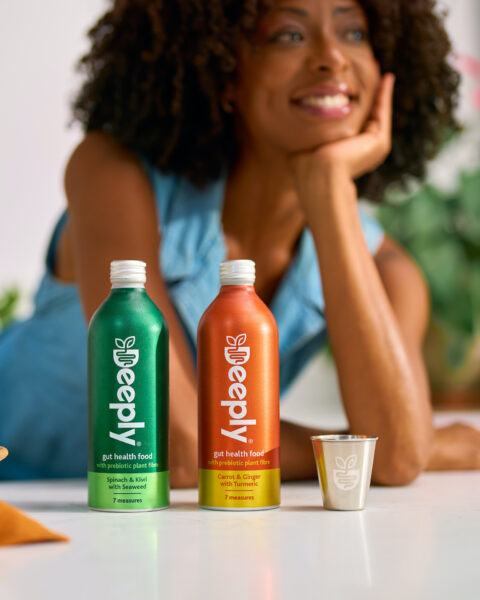 "Despite being fundamental to all-round mental and physical health, gut health is largely misunderstood, with most products focused on adding probiotics (live bacteria) into your diet," comments Deeply co-founder, Clara Latham, who has previously held roles at Bounce and Seedlip. "Your gut has trillions of bacteria already – good and not so good – so the key is feeding yourself the foods that nourish and grow the good bacteria.
"In launching Deeply, we wanted to raise awareness around the power of prebiotics as both a simple and effective solution to achieving better gut health, but one that feels nourishing and really tastes great. We're on a mission to prove just how simple and enjoyable good gut health can be!"
The branding was created by Richmond-based agency, Family (and Friends) with the logo and name rooted in the digestive system to bring to life the benefits of the product for consumers.
Deeply, which has partnered with the UK health distributor CLF, claims to be the world's first gut health brand to launch in infinitely recyclable aluminium bottles, which are available in single daily measures or larger weekly formats.