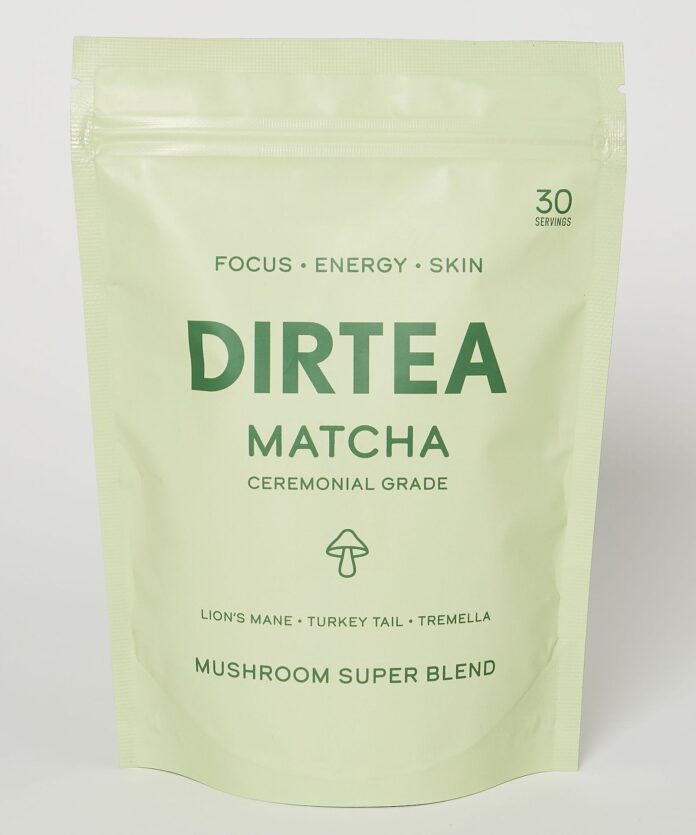 The fourth new SKU from DIRTEA this year is Matcha Mushroom Super Blend, designed as 'a delicious way to power your day'.
The DIRTEA Matcha Mushroom Super Blend combines 100% pure ceremonial-grade matcha, hand foraged in the Shizuoka Region of Japan, with three medicinal mushrooms: tremella – known as the 'beauty mushroom' thanks to its ability to support the body's natural collagen production, increasing elasticity and hydration and reducing signs of aging; lion's mane – proven to stimulate the production of nerve growth factor, this can help with focus and a clear mind; and turkey tail – a rich source of antioxidants, polysaccharides and beta-d glucans to help modulate the immune system and support the gut microbiome.
Also included in the blend is MCT, which is packed full of natural healthy fats, and antioxidant moringa which is a rich source of vitamins A, B, C, D and E, calcium, magnesium, zinc, iron, potassium, copper and amino acids.
With 2.5g of functional mushrooms per serving and containing 80% less caffeine than a standard coffee, Matcha Mushroom Super Blend's mellow, sweet and creamy flavour is achieved by the addition of coconut milk powder and coconut sugar.
Best brewed with hot water and then topped with milk and sweetener if desired, the blend can also be served iced, for a cooling, calming energy boost.
"The introduction of DIRTEA Matcha follows a social media poll whereby our engaged and loyal audience of over 700k chose for a mushroom matcha to be the next DIRTEA product," says brand co-founder Andrew Salter. "To launch the perfect mushroom matcha, the ingredient selection process has been meticulous and intentional, opting for ceremonial-grade matcha and organic, high-quality ingredients to ensure a product which meets the needs of the 2023 consumer, providing cleaner, calmer and longer lasting energy, whilst also increasing focus, and supporting immunity and supporting skin health.
"We've also worked hard to create a mushroom matcha which tastes better than anything else on the market. It's luxurious, subtly rich and creamy, truly taking functional nutrition to the next level by using the finest, powerful natural ingredients to elevate your health and wellbeing and complement our fast-paced, hectic lifestyles."