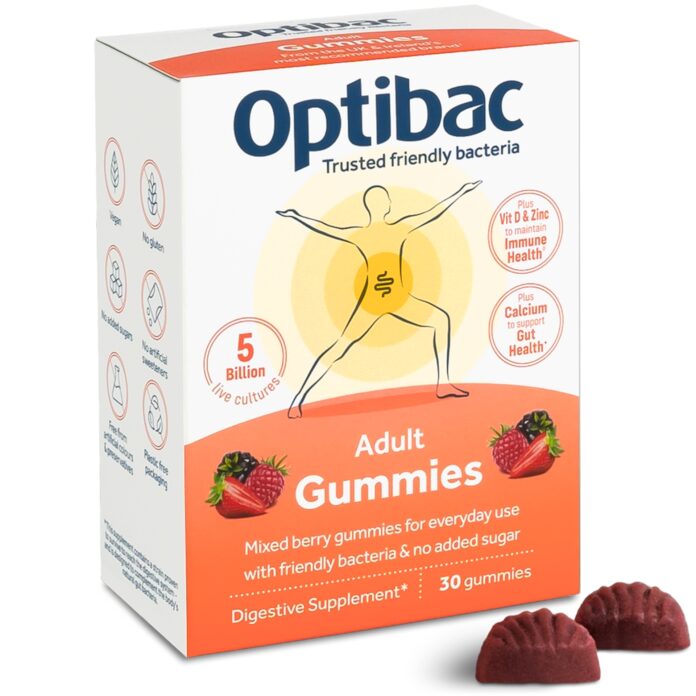 The latest innovation from Optibac Probiotics is an all-in-one gut and immune health supplement in the form of a mixed berry gummy – the first adult gummy the brand has launched.
Containing the well-researched probiotic strain Bacillus coagulans Unique IS-2 and FOS fibres, along with vitamin D, zinc and calcium, the arrival of Optibac Adult Gummies comes hot on the heels of the launch of Optibac's Kids Gummies which prompted feedback from customers asking for their own 'grown-up' version.
The daily gummies are designed to appeal to consumers concerned about gut and immune health in the light of modern stressors, antibiotic use, digestive complaints and COVID, and capitalize on the increasing appetite for supplements in this format.
"We are confident that you won't find a tastier way to support gut and immune health and are proud to be able to bring our company values to this exciting new format in the market," comments Optibac Probiotics co-founder Soraya Janmohamed. "Adults Gummies has all the ingredients for success: gummy format, highly researched strain, added vitamin D, great taste, vegan, no hidden nasties and all in eco-conscious packaging."
Adult Gummies are vegan and contain no additives, preservatives, artificial colourings, added sugar or sweeteners. They are 100% plastic-free and presented in a home compostable pouch made from plant fibres and a fully recyclable FSC-certified carton.