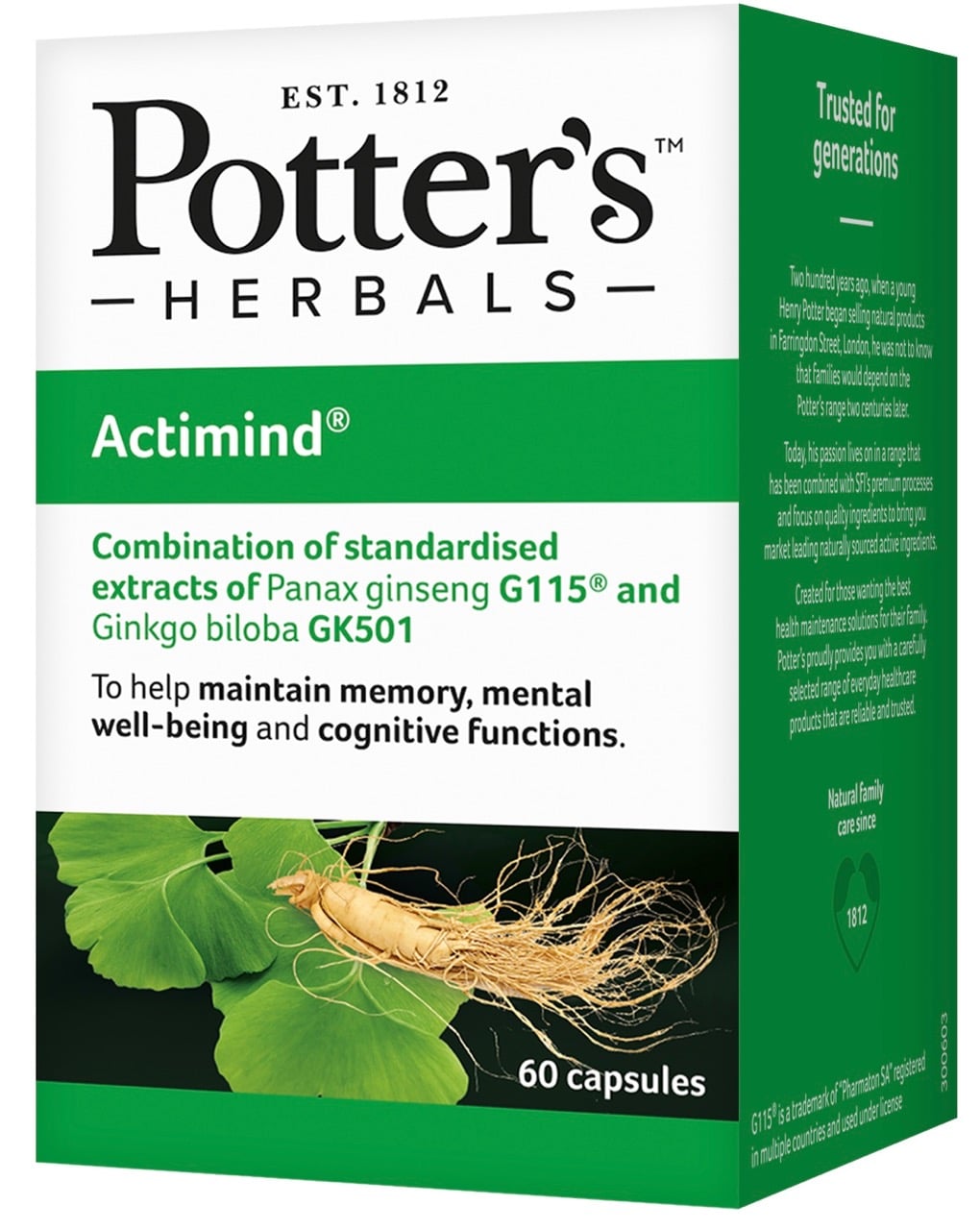 Potter's Herbals has introduced seven new products to its offer, spanning conditions ranging from cognitive health and energy to respiratory health and constipation.
Backed by clinical trials, Potter's Actimind is a patented combination of two plant herbal ingredients – ginkgo biloba GK501 and panax ginseng G115 – both of which help support mental wellbeing, maintain and support healthy memory and preserve good cognitive function. It is suitable for adults to support brain health and provide mental stamina during stressful periods.
Potter's Energise Tonic & Capsules is designed to relieve daily fatigue and exhaustion and support vitality and physical wellbeing to help maintain the immune system. Both products contain Panax ginseng G115, a long established traditional ingredient that has been shown to help fight tiredness and exhaustion, support energy metabolism, physical performance and the immune system.
Memory & Focus is a product formulated to be beneficial during times of stress, helping with concentration, memory and learning retention. The natural, clinically proven botanical remedy contains a specific extract of Bacopa monnieri CDRI 08.
Potter's Muscle Rub Gel has been created to stimulate peripheral circulation to help maintain healthy skin and provide a soothing, revitalizing effect. The rub contains the essential oils of wintergreen, rosemary, bergamot, lavender, peppermint and thyme.
Constipation Relief is a herbal botanical product for the short-term relief of occasional constipation. It contains two natural ingredients – Alexandrian senna pods and fennel – that have proven, but gentle, laxative activity, cleansing from the inside out.
Potter's Liquorice Syrup helps soothe the upper respiratory tract and keep the airways clear. It contains liquorice root extract and star anise essential oil, and has a blackcurrant flavour. The product is suitable for vegetarians and vegans.
Echinacea Tincture with Elderberry Juice is a combination of traditional herbal ingredients for symptomatic relief of cold and flu infections. It helps the body fight infection and may also help shorten the duration of cold and flu.