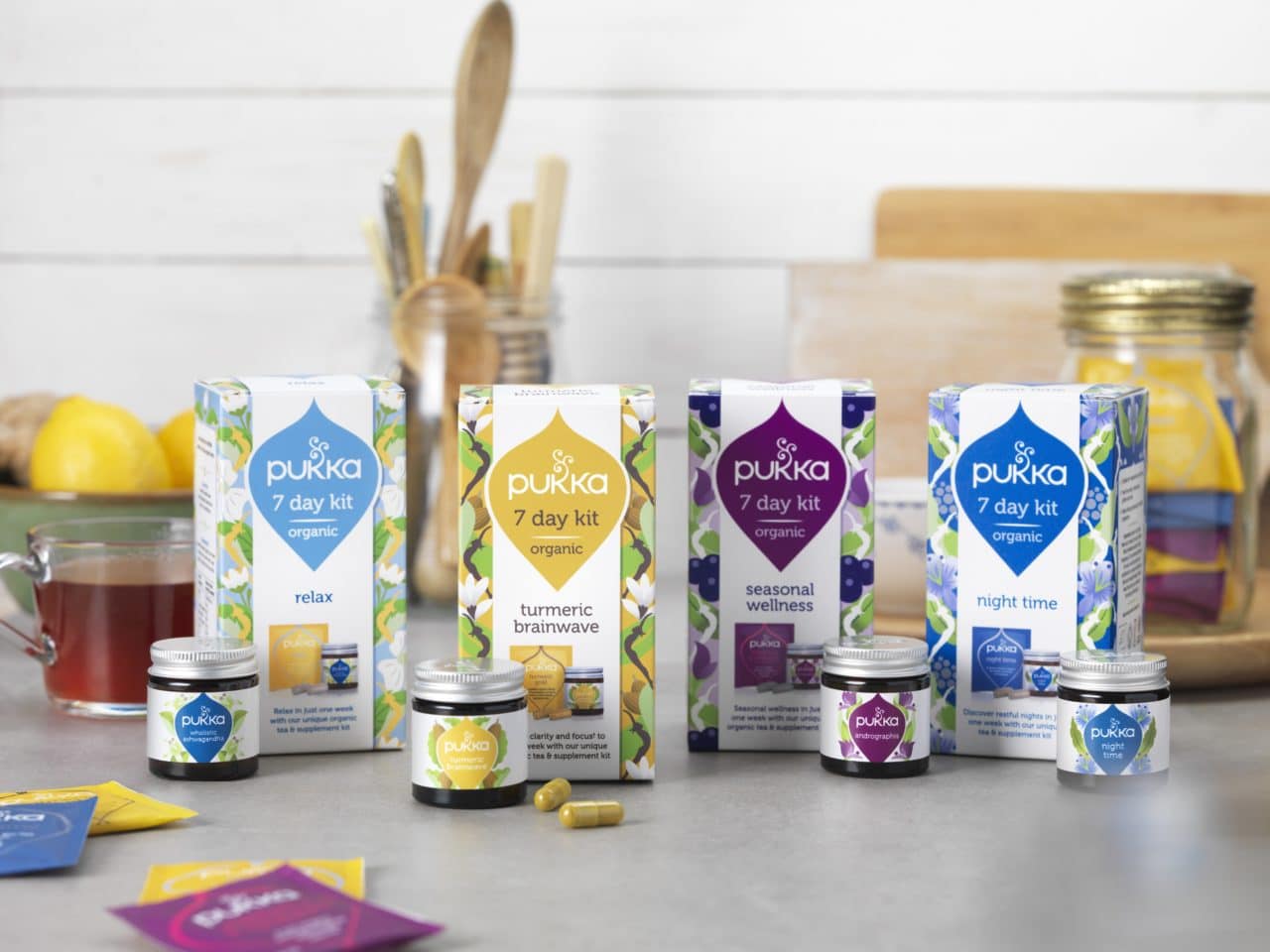 Pukka Herbs has created four kits containing herbal teas and food supplements blended with 100% organic, medicinal-grade herbs, to target specific wellbeing needs.
Pukka Herbs' Night Time 7 Day Kit is designed for peaceful nights and refreshed mornings. It contains Night Time tea sachets – a blend of organic oat flower, lavender and limeflower – and Night Time supplements, a natural and relaxing blend of ashwagandha and valerian to help with irregular sleeping patterns and difficulty getting off to sleep.
Pukka Herbs' Relax 7 Day Kit aims to calm a busy mind and nourish the nervous system with Pukka Relax tea sachets, containing organic chamomile, fennel and marshmallow root, and Wholistic Ashwagandha supplements to calm a busy mind and reduce anxiety.
Each wellbeing kit contains the finest quality, medicinal-grade herbs to help you feel well, stay well, sleep well and think well
Pukka Herbs' Turmeric Brainwave 7 Day Kit is formulated to bring clarity and focus, and includes Pukka Turmeric Gold tea sachets and Pukka Turmeric Brainwave supplements – a blend of key mind-enhancing herbs including turmeric, brahmi and gotu kola to help improve cerebral circulation and nourishment to the brain.
Pukka Herbs' Seasonal Wellness 7 Day Kit is helpful for those under the weather and needing natural support. The kits contains Pukka Elderberry & Echinacea tea to revitalise, warm and soothe, in addition to Pukka Andrographis supplements to stimulate immunity and help fight off infection and fever.
A herbal guide and downloadable digital tips are included with each kit, offering a simple and affordable introduction to holistic health, designed to naturally support overall wellbeing in just seven days.
The formulas have been blended by Pukka co-founder Sebastian Pole, who says: "Each wellbeing kit contains the finest quality, medicinal-grade herbs to help you feel well, stay well, sleep well and think well. With these kits, there's no need to put strain on the body with the pressure of drastic changes. Instead, each will naturally support people through a time when they need it most and gently guide them through how to sustain these positive changes afterwards."