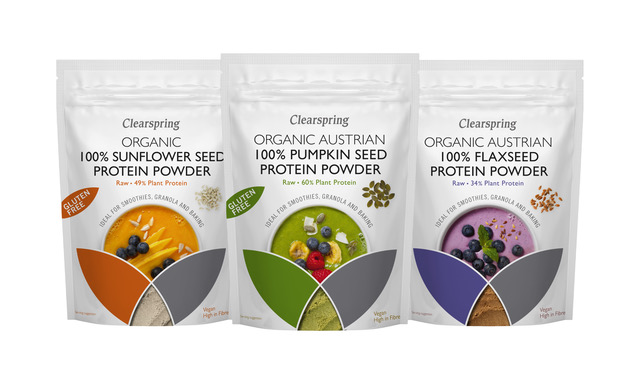 Addressing the growing consumer demand for products with high protein content, fine foods brand Clearspring has unveiled a range of Organic Plant Protein Powders made from cold pressed raw seeds.
Comprising three variants – sunflower seed, pumpkin seed and flaxseed – the organic powders can be easily incorporated into smoothies, juices, porridge, baked goods and even savoury cooking, providing consumers with a simple way of increasing their daily protein intake.
The versatile powders are vegan, 100% natural, predominantly gluten-free and high in both fibre and protein. Favouring cold pressing over more traditional high temperature roasting methods, Clearspring ensure all the nutritional benefits of the raw seeds are retained within the product.
Maria Dawson, Clearspring's sales and marketing director, says the new range offers an alternative to protein powders currently found on the shelves. "Consumers can be confident that our new Plant Protein Powders are packed full of goodness, high in fibre and a valuable source of healthy fats, with no additives," she comments.