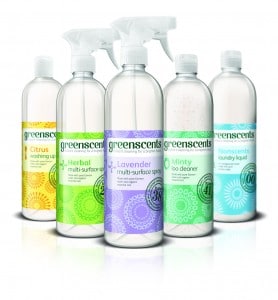 You would have to be a brave person, or at least someone with strong reserves of self-belief, to jump into the crowded eco cleaning sector. Enter former retail analyst and university lecturer Christina Hawkes.
Hakwes is the founder of Somerset based natural and organic brand Greenscents. Now she is about to go national with the fully natural range that began life as a kitchen table operation just two years ago.
Hawkes is confident that the Greenscent range of laundry, washing up and household cleaning products will strike an immediate chord with independent health food retailers and their customers
As with so many natural and organic entrepreneurs, Hawkes' business motivation was born from a personal experience. A dermatitis sufferer herself she had become acutely aware of the effects that some cleaning products had on her skin — and that of her children ("we're an allergic bunch!"). Yet she was unable to find the natural alternatives she was looking for, even among existing green ranges.
One of the first things to tackle, when she set about formulating her products, was ensuring all-natural ingredients and fragrances. She comments: "I love fragrances but many eco brands use perfumes rather than natural fragrances. So you have continental and US brands that tend to be very techie and whizzy, and are more about reducing energy than using natural ingredients.
"We'll use wholly natural ingredient such as horsetail and seasweed extract. It does means that we have higher ingredients costs, but we're still able to price our products competitively (retail prices range from around £2.50 for a 500ml washing up liquid to just under £5 for a 750mm laundry liquid) — and still give the retailer 33%. Those extra special natural ingredients also give great outcomes — our Conditioner, for example, has a gorgeous zingy and minty fragrance."
Hawkes is also keen to stress that Greenscents is a British made range. "I'm a big supporter of the 'made in Britain' ethic. Not in a myopic way, it's just that it feels completely appropriate given all the interest in localism —supporting local economies — and the concern with green issues. I want our range to be the greenest as well as the most natural on the market. For example, our products are concentrated because we're not in the business of moving water around. We also know that if  independent high street retailers are your main customers you've got to think about the size and weight of products — so we've formulated ours to be 'carry away' sizes in thin British-made bottles. We're developing an efficient and clean refill system too because that's something a lot of people have asked us for."
The look of the products is also a key priority for Hawkes. "We want to make products that people can be proud of in their homes. How they look on the shelf or cupboard is an important part of that. So we're delighted with the look Brand Tonic has come up with for our packaging and our website."
Hawkes says the Greenscents range — which has just been signed up by Queenswood — has been getting a good reaction from retailers. "When we first went into Secrets garden centre in Goldaming they notched up £1,000 in just three days and they keep selling out. The good thing for health food stores is that their customers already understand the values and attributes that the brand is built around, so they are immediately very receptive. They already get the issues around concentration and price points that reflect the use of natural ingredients."
Gaining Soil Association certification for its laundry products — a first for the green laundry category — will add a further feather to Greenscents' bow early in the New Year.
So, will the small west country manufacturer be able to scale up to meet nationwide demand? "We're in a wonderful enterprise centre down here in Somerset. We can already make 500 litres a day — and we've got plenty of room to grow. So we're up for the challenge and really looking forward to seeing the brand on more and more health store shelves in 2012."