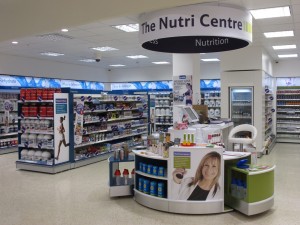 Nutri Centre's latest store opened in Dudley last month and is the first to get a full store-within-a-store treatment.
Nutri Centre's 13th store is located within the new 100,000 sq ft Tesco superstore and is accessed directly from the supermarket shop floor. It features new branding and category navigation and includes an on-site natural health therapist and sports nutrition expert.
Nutri Centre is also launching a new allergy intolerance testing service developed in conjunction with Allergy UK. And the store will also work closely with Tesco's in-store Pharmacy, cross-referring customers to offer "a holistic approach" to healthcare support.
Nutric Centre brand manager, Karen Simister, told Natural Products: "This is the first store-within-a-store opening for Nutri Centre and we think it represents a new concept in healthcare retailing and customer support. By working closely with the adjoining pharmacy means we can offer appropriate advise for those Nutri Centre customers requiring pharmacy support, and when the pharmacy gets customers asking for nutritional advice and products, they send them over to us."
"The re-branding we are trialling here at Dudley is based on consultations with Nutri Centre customers — and potential customer — and reflects their feedback. So what you see here is sports products separated clearly from supplements and foods, both in terms of location and signage (blue for sports, green for supplements), and a demonstration area in the middle.
"We've also merchandised by product type, rather than by brand. Our research tells us that this better reflects the way people actually shop. There is still strong blocking and brand presence and it is still very much a trial. But initial reaction from customers has been good and the say they find the new layout easier to navigate."
Simister is particularly enthusiastic about the new store's free-from offer. "There's a very comprehensive range of gluten and dairy-free, vegan and diabetic foods and, together with the food intolerance testing service, it means we can really help meet the needs of the 33% of the population who say they are managing part of their diet."
Dudley's pilot store has benefited from "a big investment", says Simister. 2012 is likely to see more of the new concept stores rolled out, though probably on a smaller footprint than Dudley Nutri Centre's 1,000sq ft.
Dudley's store-within-a-store concept is already helping draw in new customers. Says Simister: "We're seeing lots of new potential male customers coming into the store, as the entrance to the sports nutrition is straight through from the electronics and gadgets department!"