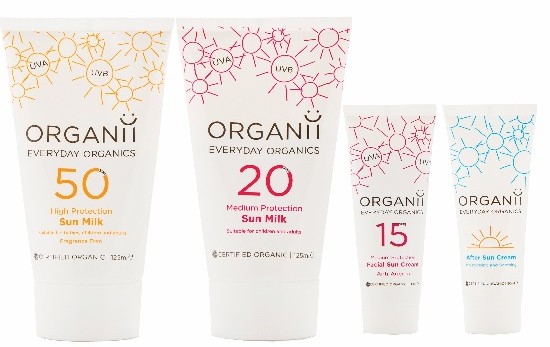 Just as the sun comes out, ORGANii has unveiled a range of suncare products suitable for even the most sensitive skin.
The natural and organic ORGANii Sun Milk comes in SPF50 and SPF20, and joins an SPF15 Anti-ageing Facial Sun Cream and After Sun Cream.
The suncare range uses organic ingredients such as karanja oil with titanium and zinc oxide to create a protective layer on the skin, scattering and reflecting UVA and UVB rays. All products in the range are ICEA certified organic, dermatologically test, suitable for vegans and have no artificial colours, preservatives, fragrances or chemical synthesized sun protection boosters.
One advantage to natural and organic sun creams is that they work instantly, unlike chemical-based sunscreens, which don't shield the skin until around 20 minutes after application. They also blend in effortlessly, leaving no white film.
"There are only a few brands selling natural and organic sun care, and most of these products don't blend very well, leaving a white finish on the skin," explains founder of the brand Graeme Hume. "This is why there is a place in the market for the ORGANii suncare range. It ticks all the boxes: the products are certified, blend into the skin with ease and the price point is competitive. We expect this range to be one of our best-sellers this summer."