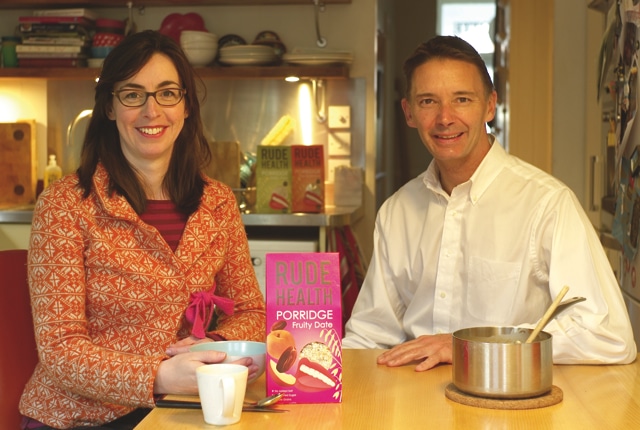 Natural food company Rude Health is kicking off the summer by launching four healthy new products.
"We spent a lot of last year re-doing all our packaging and didn't make so many new foods, so we had an awful lot of things in mind for this year that we've finally been able to actually launch," explains Camilla Barnard, Rude Health co-founder.
Along with a refreshing Coconut Drink, a creamy no-soak Bircher Soft & Fruity muesli and a Gluten Free Oat Drink, the company is launching Drinking Oats – the first product of its kind on the UK market.
"The Drinking Oats are absolutely unique which is enormously exciting for us. At the same time they are incredibly simple and incredibly sophisticated. They're just oats but what makes them different is that they dissolve in liquid," says Barnard.
The oats are cut and rolled extra fine to enable them to dissolve in cold liquid. "There's only one mill in Germany that can do this and we've got the rights to it in the UK, so that means they are an exclusive food to us," she says. "We love that the product is original and innovative, but that would be pointless if it didn't have a purpose. What I really like about Drinking Oats is that although the popularity of supplements and energy food is enormous, many of them are full of absolute garbage – chemicals, additives and goodness knows what – and this is something that everybody understands – oats provide slow release energy and they've also got a lot of vitamins and minerals that people don't necessarily know too much about, and they are 100% natural with no added ingredients.
The oats can be added to any cold drink and are recommended for use pre or post workout or simply as an energy top-up. "If you have had breakfast rather early and are no way going to make it through to lunchtime it means you can have a drink of whatever you want mid-morning, chuck some oats in and the chances are that you won't reach for a biscuit. It's just that energy top up."
The oats thicken as well, so if more than the recommended amount is added to something like milk or a smoothie the oats still dissolve but add some texture.
All four products are launching in stores in June.
Photo: Camilla and Nick Barnard, founders of Rude Health