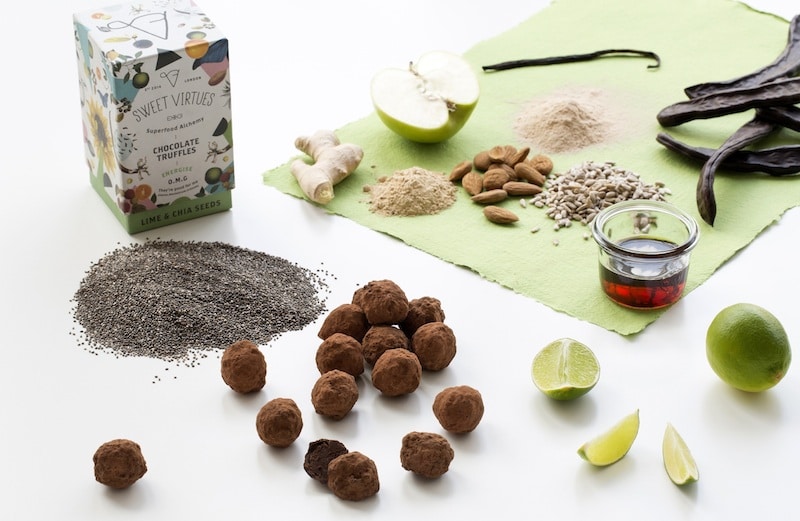 Sweet Virtues has launched a range of superfood luxury truffles handmade by chocolatier Paul Wayne Gregory.
Available in 115g boxes (around ten truffles), the three varieties – Maqui, Chia Seeds & Lime and Baobab & Vanilla – are dairy-free, suitable for vegetarians, vegans and those on gluten-free diets.
There are over five superfood ingredients in every truffle, with the raw centres being a blend of maca, lacuma, carob, ginseng, agave, sunflower seeds and ground almonds mixed with dark chocolate cocoa solids.
At the heart of the Sweet Virtues philosophy is the 'Triangle of Health'  – a balance of mind and relaxation, food and nutrition and exercise and fitness – and this is reflected in the truffle varieties: Maqui to detox, Chia Seeds & Lime to energise, and Baobab & Vanilla to promote balance.
Carey Davis-Munro, founder of the company, commented on the launch: "I wanted Sweet Virtues to reflect the life that I lead and my philosophy towards good food and health, and the Triangle of Health holds this ethos. Eating healthily should always be about using great ingredients that offer a benefit to our body and not about denying oneself. By creating a range of superfood truffles that focus on flavour as well as the health benefits proves that eating healthily can taste delicious."