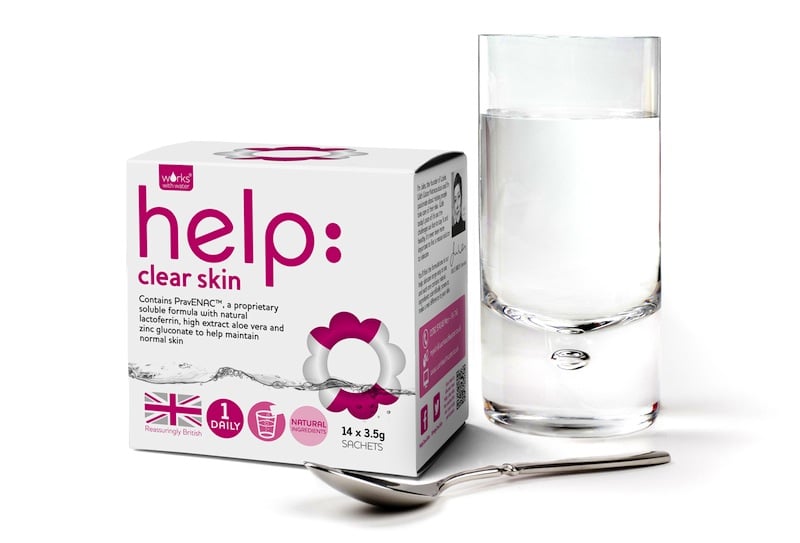 Natural food supplement company Works with Water Nutraceuticals has repackaged and reformulated its range of skin purifying supplements – help: clear skin and help: clear skin MEN.
The help: clear skin products now contain PravENAC, which is rich in lactoferrin – a bioactive milk protein that helps reduce acne by boosting the body's natural defences to help eliminate bacteria, reduce sebum as well as inflammation and repair damaged skin cells caused by acne. PravENAC is rich in aloe vera, which has a smoothing and nourishing effect on skin, as well as zinc gluconate, known to help repair damaged tissues and support the immune system.
The supplements come in new eye-catching packaging with clear nutritional information, making it easy for consumers to understand how the products will benefit their complexion.
The company's two revamped products, which come in 14-day or 28-day packs, will be available from August and the launch will be supported by an integrated PR and marketing campaign.
Founded by Jules Birch in 2006, Works with Water Nutraceuticals says it focuses on first-to-market innovation, delivering products which contain only natural ingredients that are clinically proven to deliver tangible health or beauty benefits for its customers.
Birch decided to restructure the business and focus on enhancing the packaging and formulations of the range after identifying significant growth opportunities across export markets and online.
Works with Water Nutraceuticals recently signed an exclusive export agreement with Hong Kong-based Breakthrough Frontiers Enterprise Ltd, which specializes in bringing European nutraceutical products to the Asian market.
The company also secured a new investor deal with Dee Set Retail (Holdings) Ltd which now has a 50% share in the business and will be actively involved in growing the Works with Water Nutraceuticals brands in home and export markets.
"We are very excited about our partnership with Works with Water Nutraceuticals as the brand has great growth potential and we would like to play a part in its success story, commented Ian Andrews, CEO of Dee Set.