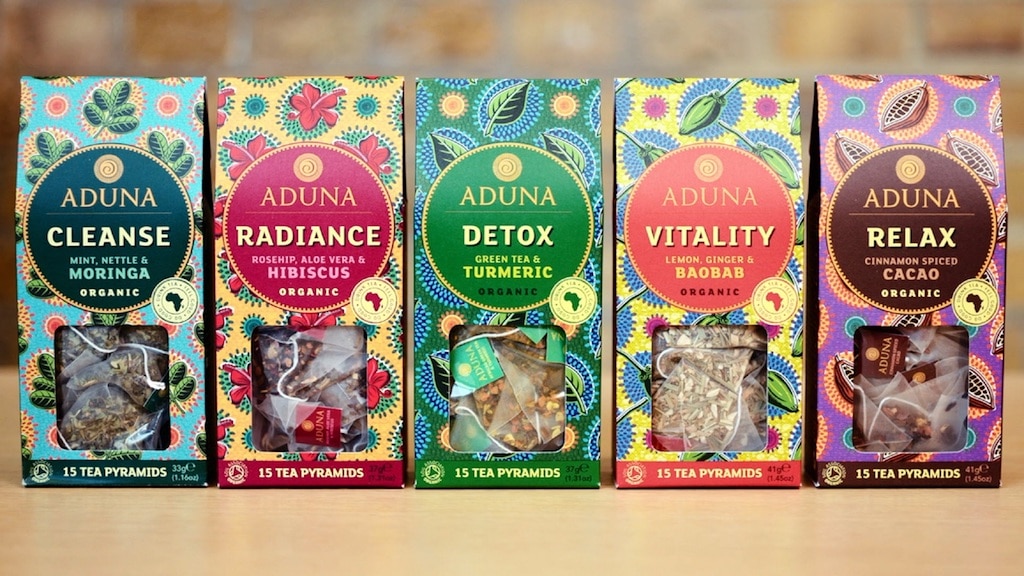 Africa-inspired health food brand Aduna has created a range of organic African Super-Teas, crafted using high quality active botanical ingredients, including African superfoods.
Made with whole pieces of fruit, herbs, leaves, flowers and spices, the teas are available in five flavours, each with its own unique character, benefit, taste profile and aroma:
Vitality: Lemon, Ginger & Baobab is described as a revitalizing, light and refreshing infusion combining zesty lemons with an invigorating kick of ginger and powered by nutrient-rich baobab fruit
Relax: Cinnamon-Spiced Cacao has a dark chocolate aroma with a light, cocoa flavour enriched with warming spices and boosted with restorative cacao
Cleanse: Mint, Nettle & Moringa is designed as a natural digestif with a lively, clean green flavour combining earthy undernotes and a cooling fresh mint finish – supercharged with moringa leaves
Detox: Green Tea & Turmeric is a bright, earthy green tea balanced with warming turmeric, a pep of citrus and a twist of pepper
Radiance: Rosehip, Aloe Vera & Hibiscus is full bodied, fruity and floral with berry notes, and incorporates antioxidant-rich botanicals for a glowing complexion
"We have developed our African Super-Teas in response to consumer demand for more excitement, innovation and functionality in the fast-growing fruit and herbal category," says Andrew Hunt, co-founder and CEO of Aduna. "As well as tapping into the trends for superfoods, ethical consumerism and premiumization; our range features some truly unique new flavours, helping drive category and margin growth for retailers."
The blends are served in tea pyramids and have been designed to be served hot or iced.