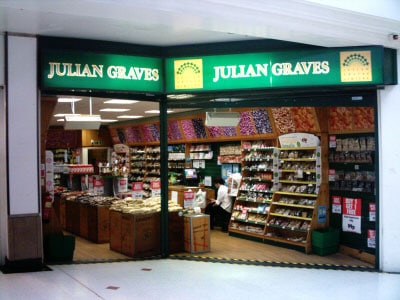 Administrators have been called into the loss-making Julian Graves health food chain.
On Monday (2 July) Deloitte was appointed as administrator to Julian Graves, which operates 189 stores around the UK and is part of NBTY Europe, owner of Holland & Barrett.
Deloitte says its first priority is to assess the financial position of the Julian Graves business and consider the options available – essentially, find a buyer or close it. The business will continue to trade in the meantime.
Commenting on the development, Fergus Wheeler, MD at FTI Consulting, told Natural Products: "When NBTY bought Julian Graves in 2008 – the day before Lehman Brothers went pop – it was a loss making business. In fact, it wasn't able to pay its Q3 business rates and would have gone bust by September. NBTY put a few million into the business, consolidated as many functions as possible into Holland & Barrett operation and worked hard to turn the business around. But in the end the NBTY board concluded that – with current losses of around £2m a year – there wasn't a realistic prospect of the returning Julian Graves to profitability."
• The Holland & Barrett business meanwhile goes from strength to strength. The company has just posted a pre-tax profits surge of 19.4% to £60 million. Sales were up 11.7% to £307.8 million for the year to September 30 helped by store expansion, new products and a high profile marketing campaign.