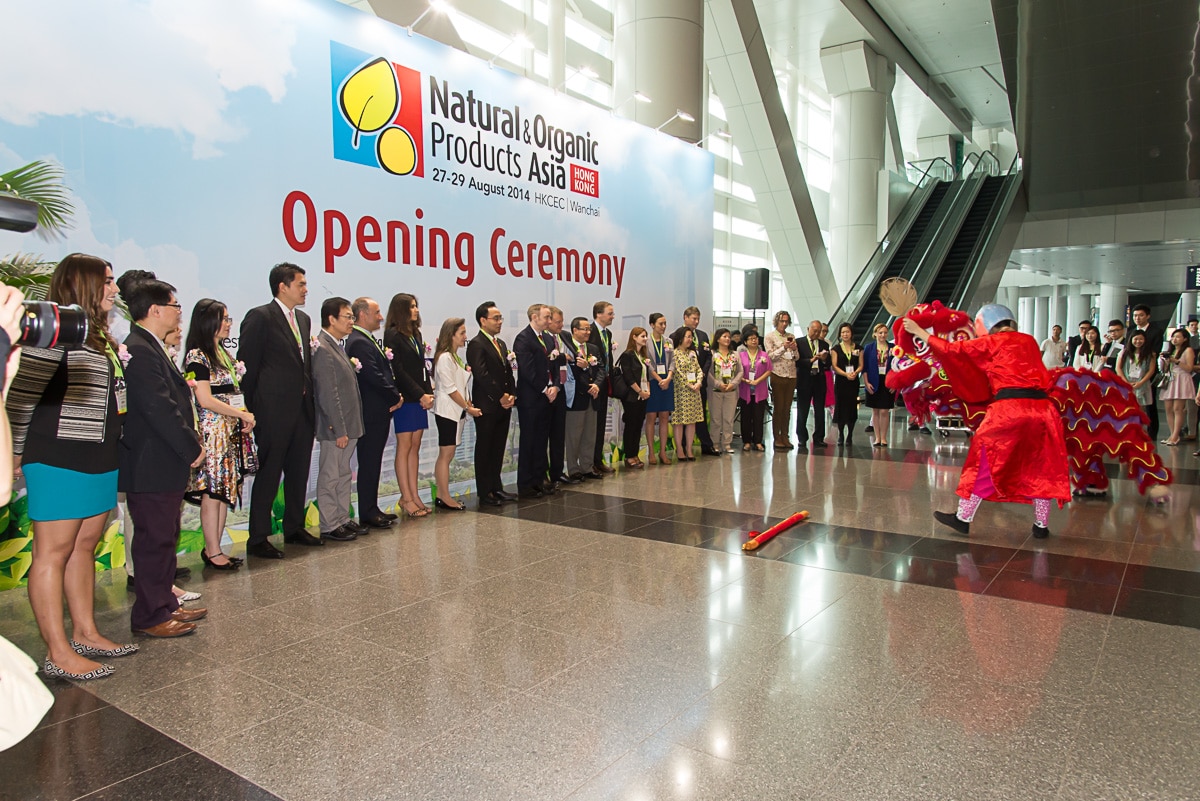 The inaugural Natural & Organic Products Asia has been hailed a major success by exhibitors and visitors.
The event, which took place in Hong Kong on 27-29 August, attracted over 5,000 visitors from 36 countries including China, Japan, Thailand, Philippines, Singapore, US, Malaysia, Australia and Indonesia.
The new show establishes a unique new commercial networking platform in region, this year bringing more than 140 exhibitors from 25 countries together and showcasing more than 1,000 natural products and services spanning the entire healthy living industry.
Stuart Bailey, general manager of organiser Diversified Communications Hong Kong, said, "We are very pleased to have had such a strong start to the Expo. Early feedback from exhibitors and visitors has revealed that safer and more sustainable high-quality food and beauty products are now part of a high-end lifestyle in Asia as consumers become more health conscious. We think this bodes very well for aspirational vendors looking to expand here with innovative products."
The Asia-Pacific organic food market grew at an annual rate of more than 13% between 2009 and 2013, according to Datamonitor, with 8% annual growth expected for the coming five years.[The market for organic personal care products is also expanding rapidly, with annual growth of 9.7% to 2018, says Transparency Market Research.
As with Diversified's London show, Natural & Organic Products Asia 2014 focused on business opportunities in four key areas: Natural Food, Health and Nutrition, Natural Living, and Natural Beauty and Spa. In addition to the exhibition, it is also staged a programme of talks, demonstrations and workshops, allowing attendees to interact with international experts on key industry issues.
Alex Hart, senior certification officer of Soil Association Certification, was among those speaking on the opening day of the show. He highlighted a new partnership between China's Organic Food Development Center (OFDC), a leading organic certification body, and the UK-based Soil Association.
"We hope our collaboration with OFDC will begin to see the certification of new organic products for export to China.  Together we aim to support leading UK organic suppliers in meeting the required certification," he said. "Natural & Organic Products Asia is a valuable opportunity for Soil Association-certified brands to establish relationships with Asian businesses and help drive the growth of this exciting market."
Exhibitors praised the calibre of visitors to the show, indicating a high level of interest from senior decision makers who influence trends across the region.
"Buyers and distributors are showing strong interest in locally made artisanal and healthy food and beverage. Several vendors here at the Made in Hong Kong pavilion have already received export orders from new business partners," said Ms. Sonalie Galardi-Este, Founder and CEO at Green Queen.
"The show is providing a unique and supportive platform for us to find new business collaboration opportunities. The response has been overwhelmingly positive, with customers appreciating the quality of our healthy natural beers," said Mr. Laszlo Raphael, Founder and Brewmaster of Hong Kong's new Moonzen Brewery.
Mr. Carsten Holm, managing director of Diversified Communications UK, commented. "With such a strong showing here today, we are celebrating the rapid growth of natural and organic products in Asia and expect this market to develop even more rapidly than it has in Europe. The opportunity for high-quality businesses to excel here is astonishing."
To register or for more information, please visit: www.naturalproducts.com.hk.