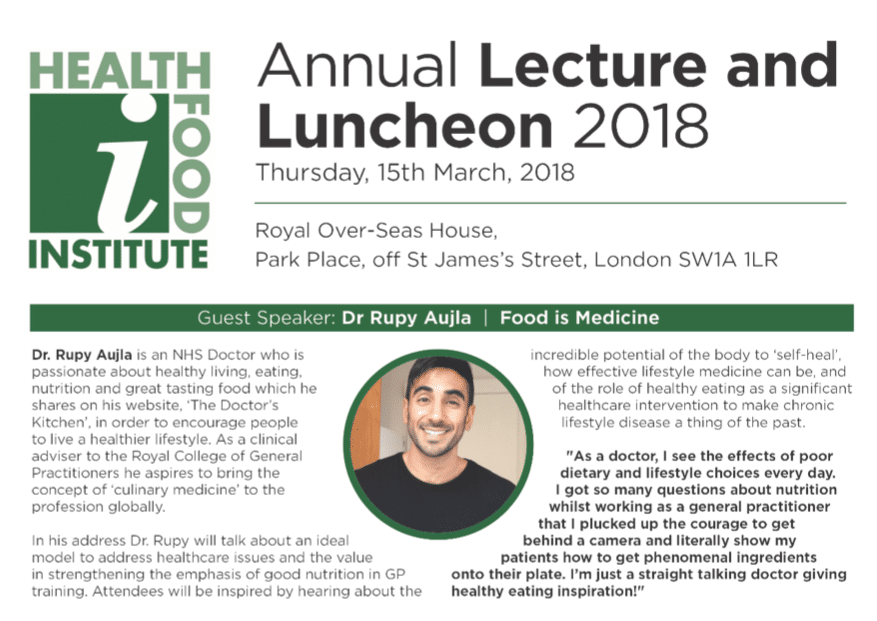 'Food is Medicine' will form the theme for guest speaker Dr Rupy Aujla at this year's Health Food Institute (HFI) lecture and luncheon on 15 March.
As an NHS GP and a firm believer in the power of food and lifestyle change as medicine, Aujla will shape his lecture around this concept for delegates attending the annual event, to be held at Royal Over-Seas House, London.
"As a doctor, I see the effects of poor dietary and lifestyle choices every day. I got so many questions about nutrition whilst working as a general practitioner that I plucked up the courage to get behind the camera and literally show my patients how to get phenomenal ingredients onto their plate. I'm just a straight-talking doctor giving healthy eating inspiration," says Aujla.
The talk will also cover the body's ability to 'self-heal' and will outline what Dr Rupy calls 'an ideal model to address healthcare issues'.
Health food retailers and suppliers are gathering in force for this year's annual HFI lecture and lunch
Speaking to NPN ahead of the event, a representative from the HFI says the event is attracting strong interest: "We are delighted to announce that the health food retailers and suppliers are gathering in force for this year's annual HFI lecture and luncheon. We have had a tremendous response so far and confident this will be our largest ever event."
Carol Dunning, event director of Natural & Organic Products Europe, comments on the importance of the event for the industry: "The HFI has been a foundation of our industry for so many years and this event recognizes the excellence of the individuals who help to set the standard. We are honoured to help support this important event in every way that we can and look forward to seeing so many of our friends and colleagues on the day."
Also featured within the event programme are the annual HFI awards for excellence and networking opportunities. For more information and to book your tickets please contact: Alison Collingwood, administrator, Health Food Institute on 0115 976 7280 or by emailing [email protected].