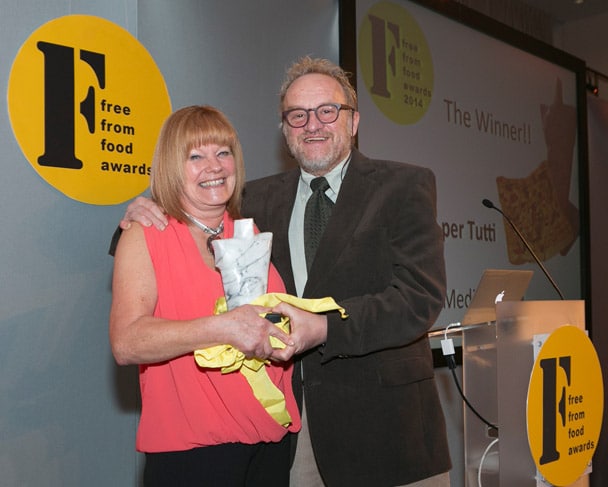 The winners of the FreeFrom Food Awards were announced at the Royal College of Physicians in Regents Park on 25 March and presented by restaurateur Antony Worrall Thompson.
Michelle Berriedale-Johnson, director of the awards, commented on the entries: "So many good products, and right across the food spectrum from staples to exotica. From free-from supermarket bread to raw maca powder and coconut frozen yogurt to gluten-free beer brewed from sorghum – there are few areas of the food world where free-from has not now penetrated."
The awards, run by the FreeFrom Matters team, are now in their seventh year and are judged by a panel including manufactures, chefs, cookery writers, dietitians, nutritionists, coeliacs and allergy sufferers. Below is a complete list of the award-winners as well as those highly commended and commended.
1. Overall Winner of the FAIR trophy for Best FreeFrom Food 2014
Focaccia Per Tutti Focaccia Mediterranea

Runners Up
Amy's Kitchen Broccoli and Cheddar bake
Bessant & Drury Raspberry swirl frozen yogurt
Tesco Free From fresh seeded bread
Waitrose Gluten free egg watercress and chicken salad roll
2. Special Award for services to gluten-free beer 2014
Green's IPA
3. The Innovation Award – sponsored by Food Matters Live
Winner
Venice Bakery large seasoned gluten-free vegan pizza base
Highly Commended
Celtic Chocolates Choices rondellos
Commended
Newburn Bakehouse Seeded wraps
Udi's Cinnamon & raisin bagel
4. Breakfast foods – sponsored by Tesco
Winners
Bfree plain bagels
COYO Coconut milk yoghurt vanilla flavor
Primal Joy Foods Cinnamon nut crunch – no grains breakfast 'cereal'
Highly Commended
Bessant & Drury Alphonse mango & passionfruit coconut yogurt
Bessant & Drury Morello cherry & Madagascan vanilla coconut yogurt
Bfree multiseed bagels
Perkier Apple, cinnamon & raisin porridge
Tobia Teff Teff meal / Teff flakes
Udi's Cranberry walnut granola
Commended
Hale & Hearty Quinoa & chocolate granola
Lucy Bee Organic raw virgin fair trade extra virgin coconut oil
Nature's Path Nice & Nobbly organic granolas (raspberry, strawberry, blueberry & yoghurt pieces)
Of The Earth Dear Me breakfast without cereals, chia & hemp with goji berries & cranberries
St Helen's Farm Natural goats milk yoghurt
5. Breads – Sponsored by Genius Gluten Free
Winner
Focaccia Per Tutti Focaccia Mediterranea
Tesco Free From fresh seeded bread
Highly Commended
Bfree  multigrain wrap
Newburn Bakehouse Spiced fruit loaf
Tobia Teff Teff bread
Commended
Bfree brown seeded rolls
6. Store Cupboard – sponsored by Asda
Winners
Ugg Foods Chia seed and nut bread mix
Vegusto 'Cheese' sauce
Highly Commended
Conscious Food Palmyra jaggery powder
Lucy Bee Organic raw virgin fair trade extra virgin coconut oil
Quinola Express quinoa – pearl and black
Truly Simple Foods Sundried tomatoes and sweet chilli cooking sauce
Ugg Foods Chia muffin mix
Commended
Hale & Hearty Chocolate chip cookie mix
Helen's Quick seeded bread mix
Truly Simple Foods Coconut curry and spinach cooking sauce
Ugg Foods Coconut muffin mix
Ugg Foods Fruit and seed loaf
7. Pasta and Pizza – Sponsored by the Food and Drink Innovation Network
Winner
Amy's Kitchen Broccoli and cheddar bake
Highly Commended
Dell'Ugo Gluten free fresh penne pasta
Elena's Gluten Free Way DialSì gluten free pasta tagliatelle
Elena's Gluten Free Way DialSì gluten free pasta caserecce
The Lab Pizza Genovese
Rizopia Organic brown rice pasta spaghetti
Venice Bakery Large plain gluten free & vegan pizza base
Commended
Hale & Hearty Brown rice penne
Hale & Hearty Corn & quinoa penne
8. Raw Foods and superfoods – Sponsored by Food Heaven
Winner
SaVse Smoothies Super blue
Highly Commended
Lucy Bee Organic raw virgin fair trade extra virgin coconut oil
Ombar Coco mylk
Commended
Creative Nature Organic raw maca powder
Love Smoothies The hulk smoothie
9. 'Food to go' and food for vending machines – Sponsored by 24Vend
Winner
Waitrose Gluten free egg watercress and chicken salad roll
Highly Commended
Great Food Spinach & pinenut with houmous – snack pack
Hotch Potch Eggs Arancini
Commended
Clearspring Organic brown rice crackers with black sesame
Creative Nature Heavenly cacao superfood bar
Creative Nature Blissful berry superfood bar
Freeli Wowbutter brownie
The FreeFrom Bakehouse Chocolate 'digestive' biscuits
LoveRaw  Organic bar – cacao & maca
Udi's Bagel chips
10. Foods designed for food service – Sponsored by Genon Laboratories
Winners
The Indian Coeliac Gluten free authentic Panjabi pakoras
We Love Cake Gluten free cherry Bakewell tarts
Highly Commended
Delicious Alchemy Mini ginger loaf
Hotch Potch Eggs Tiddlee pies & tarts
Pan'Artisan 10" gluten free pizza base, Italian spiced
Commended
Delicious Alchemy Wheat & gluten free sultana scones
Newburn Bakehouse  White wraps
11. Ready Meals     
Meat-based meals – Sponsored by Sainsbury's
Winner
Ilumi Lamb Rogan Josh
Highly Commended
The Black Farmer Chipolatas
Voakes Free From steak pie
Commended
Foodamentalists Fidget pie
Tesco Gluten free breaded pollock
The Black Farmer Premium pork sausages
Tom Hixson & Co Pork & herb sausages
Meat-free meals: Sponsored by Goodness Direct
Winner
Georgia's Choice Gluten Free Mexican bean bake
Highly Commended
Amy's Kitchen Thai red curry
Mash Direct Potato, cheese & onion croquettes
Commended
FEEL FREE For Gluten Free Vegetarian Party Pack
12. Foods manufactured in a nut-free environment – Sponsored by Anaphylaxis Campaign
Winner
Ilumi Kerala chicken curry
Highly Commended
Big Oz Organic chocolate buckwheat flakes with raspberries
Just Love Food Co Angry Birds celebration cake
13. Foods designed for children – Sponsored by Delamere Dairy
Winner
Georgia's Choice Gluten Free chicken bites
Highly Commended
Fun Foods4All Bob the Builder organic free from pasta
Incognito Cakes Cheeky little monkey cake mix
Smooze Mango fruit ice
Sweet Mandarin Sweet chilli sauce
Commended
Moo Free mini moo minty moo
Young's Seafood Ltd 'The Ultimate' 100% Alaskan pollock fillet fish finger
14. Foods for Christmas  – Sponsored by Hale & Hearty
Winner
D&D Chocolates Dairy free chocolate minty snowmen
Highly Commended
Voakes Free From special pie
Commended
Sainsbury Freefrom Advent calendar
15. Scones, sweet biscuits and cookies – Sponsored by Mrs Crimbles
Winners
Nairn's Gluten free biscuit breaks: oats & fruit
Highly Commended
DS-gluten free Bourbon biscuits
Commended
Asda Free-from Belgian chocolate rocky road
16. Cakes, cake bars, cupcakes and brownies –  Sponsored by Newburn Bakehouse
Winner
Melsie Jane Bakes Mini lemon drizzle loaf
Highly Commended
The Handmade Cake Company Chocolate brownie
The Handmade Cake Company Raspberry & almond slice
Commended
Morrisons Free from raspberry macaroon slices
17. NEW! After dinner foods – Sponsored by Udi's
Winners
Bessant & Drury Raspberry swirl frozen yogurt
Pudology  Banoffee pud
Highly Commended
Booja-Booja Almond caramel chocolate truffles
Christine's Puddings Sticky toffee pudding
Okobay Coconut water and pineapple ice
Pudology Chocolate orange pud
Rude Health Corn thins
St Helen's Farm Goat's milk vanilla ice cream
Wellaby's Hummus chips Kalamata olive
Commended
Booja-Booja Hunky Punky chocolate ice cream alternative
Celtic Chocolates Choices rondellos
Eskal Noble Choice dairy free chocolate with raspberries
Food Heaven Smooth chocolate mousse
Nairn's Gluten free wholegrain cracker
Semper Rosemary & salt crispbread
18. Gluten-free beers – Sponsored by Ilumi
Winner
Green's India Pale Ale
Highly Commended
CELIA Organic Gluten Free Lager
Estrella Daura Damm
Commended
Green's Premium Pilsner
St Peter's Brewery G-free