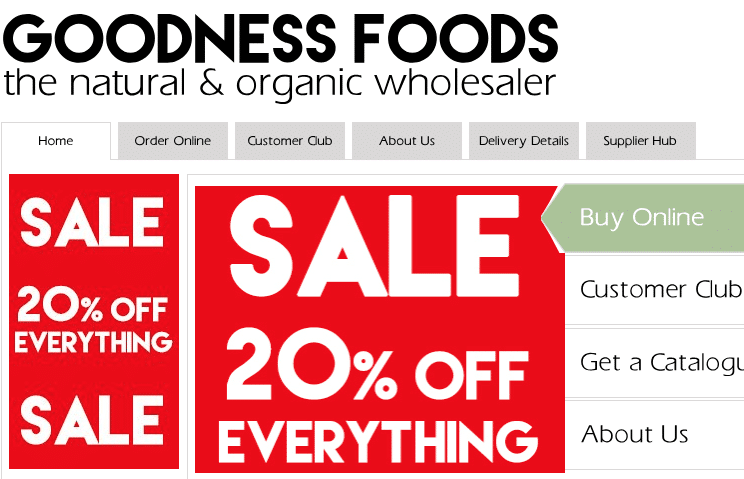 After 35 years in business, Goodness Foods has announced that it will be closing its doors to customers for the final time later this month.
With more than three decades at the forefront of natural and organic wholesale and distribution, Goodness plans to cease trading, with final orders due to be taken on 18 July and the last deliveries set to leave the warehouse on 20 July.
The wholesaler's website – which outlines its ethos as "Our ethical stance sets us apart. We put equal emphasis on what we consider our four core pillars: People, Planet, Product and Profit. One can't do without the other" – is offering customers discounts of 20% during its final weeks.
There is never one reason why things don't work out, but the sad fact of the matter is that it hasn't
Jan Robijns and Narcis Balalau, co-directors, have taken to the company's Facebook page to deliver the news to its customer base: "Dear friends and partners, it is with a heavy heart that we are writing to inform you … Goodness Foods Ltd will be ceasing to trade at the end of July 2018. As you may recall, late October last year, we took over the Goodness Foods wholesale business from House of Goodness Ltd (HoG). HoG had run Goodness Foods for almost 35 years, starting as a health store, evolving into a leading wholesaler in the independent retail market. In April last year, HoG decided to stop with Goodness Foods allowing us the opportunity to take over the business with as primary objectives to save as many jobs as possible and keep the established name of Goodness Foods going and revive its position as a frontrunner of all things good."
We haven't been able to recover and rebuild Goodness Foods to where it needs to be
The directors continue: "There is never one reason why things don't work out, but the sad fact of the matter is that it hasn't, which leaves us with no other option than to cease trading. Despite our best efforts to revive the company, we haven't been able to recover and rebuild Goodness Foods to where it needs to be."
Robijns and Balalau closed by thanking customers for their custom, their loyalty and their patience – "And above all your hard work to keep the independent food market going. Without you, the market would be a boring (and unhealthier) place!"