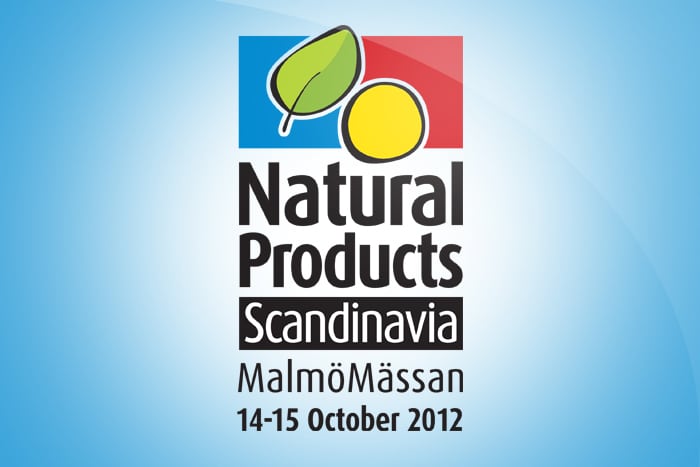 Exhibition space for the Nordic natural and organic products industry's first-ever dedicated trade show – Natural Products Scandinavia – is now almost entirely sold out.
Taking place on 14-15 October 2012 in Malmö, Sweden, visitors to the event will enjoy an increased opportunity to expand their international ranges, with exhibitors from over 23 different countries now confirmed.
The Nordic region's continued strong growth in the sales of dietary supplements, remedies, natural beauty products, and organic produce has made Natural Products Scandinavia an inviting proposition to this region's natural, organic, Fairtrade and eco-friendly product buyers and retailers from the outset, say organisers Diversified UK.
Aided by years of supportive government policies towards organic practices, the majority of Scandinavian consumers already have a strong affinity with provenance and sustainability, and are well-informed of the health-related benefits of natural products.  This can only be good news for Scandinavian's numerous health stores, pharmacies, spas, beauty salons, wholesalers, distributors, supermarkets and multiples looking to increase the diversity of their product ranges at Natural Products Scandinavia, as they are already perfectly geographically-positioned to build on their pre-existing audience.
"Natural Products Scandinavia has very much been created by the Nordic natural products industry for the Nordic industry," comments event manager Zoe Jackson-Cooper.  "We've been working very closely with key Nordic industry bodies and major retail chains such as Life, and have been delighted with the wide scale support the show is receiving.  With two months to go, and new exhibitors coming on board each week, visiting buyers will see an unrivalled showcase of Europe's best natural products together for the first time in one state-of-the-art Swedish venue."
New Scandinavian additions to the event's growing exhibitor list include health and wellness specialists, such as Sweden's Immitec Nutrition AB, with its supplements for immune health, gut health and joint and muscle management; Dalblads Nutrition AB; wholesaler Lifeland Products AB; and the Swereco Group, who'll be showcasing Orthosis – a new orthotics product range from Mabs.  Plus, there's also Finland's Nordic Kiovu, with its Original Birch Sap health drink, and functional food suppliers Leader Foods OY; Norwegian wholesaler Norges Naturmedisinsentral; The Future Food Company from Iceland, with its LazyTown Kids' Sport Supplement; and Danish wholesaler Danasan ApS.  International exhibitors within this category include The Golden Apple – Bulgaria's first company to create ecological superfood products made from microalgae, including AFA from Klamath Lake, Chlorella and Spirulina; Dutch company Frenchtop Natural Care Products BV, with its New Chapter vitamin and minerals and Royal Green certified organic Maca; and Higher Nature – one of the UK's leading suppliers of nutritional supplements.
Natural Products Scandinavia's natural beauty exhibitors meanwhile include Sweden's a la eco – showcasing everything from organic skincare and mineral cosmetics to natural allergy treatments; Dermanord Skincare, home to Maria Åkersberg's organic skincare and makeup range; France's Nature et Strategie, with its Coslys natural cosmetics brand; Ireland's Lifes2good, with its Viviscal Natural Hair Loss Supplements; Aura-Soma Products, who'll be launching its new AEOS (Active Energised Organic Skincare) make-up range made from 100% organic and biodynamic ingredients; Gentle Beauty, UK distributers of natural hair colour range Herbatint™; and Kinetic Natural Products Distributor, whose brands include JASÖN Natural Cosmetics, Dr Bronner's Magic Soaps and Elysambre make-up.
Natural and organic food buyers will also find a wealth of 'real' food delicacies and ingredients on show from established big brands to smaller, speciality suppliers.  Recently confirmed exhibitors include Sweden's Biofood, a KRAV certified food importer and distributor for brands such as Vita Coco, Ombar, RawBite, Isola Bio and Kent & Fraser cakes; Denmark's Gaia Trade Nordic APS, distributors for James White juices, Beet It, Rude Health cereals, Montezuma's chocolate, Firefly drinks and Big Tree Farms's coconut palm sugar; Demeter International – the world's only certifier of Biodynamic® farms and products; Germany's TOPAS Klaus Gaiser (founders of vegan, meat-free alternative Wheaty) and Georg Rosner Vertriebs GmbH, with its pure fruit confectionery ökovital, eco-vital, and Bio Primissimo; leading UK organic and Fairtrade product wholesaler Essential Trading Co-operative; Terra Bio Soc. Coop – an organic association of over 60 agricultural and processing operations in the Italian Marches region (Le Marche); Amaizin, with its new organic range of green, yellow, and red curries, made in Sri Lanka with traditional recipes; and Power of Nature from Estonia, who'll be offering hot samples of its new OrganicWild Blueberry-Blackcurrant Glögg at the show.
Natural Products Scandinavia's initial exhibitor list (to date) is now available to view here.
• Taking place at MalmöMässan, Malmö, Sweden, on 14-15 October, Natural Products Scandinavia trade event presents a unique opportunity for retailers and buyers to meet natural and organic product innovators and pioneers, to see new product launches before they hit the market, to enjoy live product demonstrations and to meet new business suppliers face to face.  Many exhibitors will also be offering special 'show only' deals on their products throughout the two day event. To register free in advance, please visit www.naturalproductsscandinavia.com and use Priority Code NPS222 when prompted.