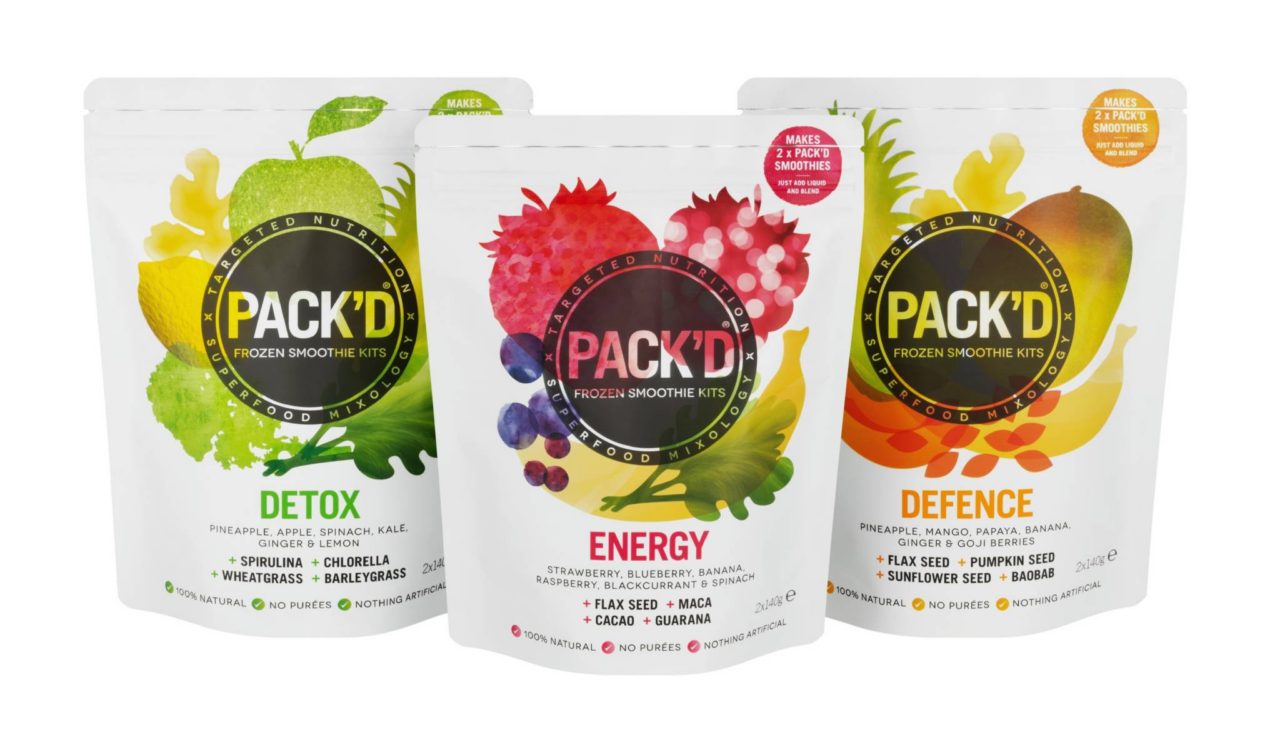 An innovative new way to get a smoothie fix has been developed in the shape of PACK'D, said to be the world's first Frozen Smoothie Kits with functional nutrition.
Each of the three combinations contains six flash-frozen fruit and veg along with a blend of four superfood boosters. All that's needed is to add liquid such as coconut water, almond milk or water, and blend.
The ENERGY Frozen Smoothie Kit combines strawberries, banana, blueberries, raspberries, blackcurrants and spinach with flaxseed, maca, cacao and guarana powder to help reduce tiredness and fatigue and maintain healthy bones.
DETOX helps to protect cells from oxidative stress, reduce tiredness and fatigue and maintain healthy skin. The kit features pineapple, apple, kale, ginger, spinach, lemon zest combined with spirulina, chlorella, wheatgrass and barleygrass powder.
DEFENSE is designed to boost the immune and nervous systems and help protect cells from oxidative stress through a recipe of pineapple, mango, papaya, banana, ginger and goji berries along with flaxseed, sunflower seeds, pumpkin seeds and baobab powder.
The products were designed in collaboration with nutritionist Matt Lovell, who is nutritionist to Tottenham Hotspur FC, the World Cup Senior Female team and the England Rugby team. Commenting on the launch, he said: "I spend a lot of time working with elite athletes and professional international teams. I wanted to get involved with PACK'D because I saw it as the perfect addition to my tool kit for getting athletes into the best shape possible. One of the biggest challenges I face as a nutritionist is instilling consistency into the day-to-day lives of my clients.
"The PACK'D kits are a first class product for nutrition and flavour, but they also provide consistency that is otherwise hard to achieve.  Each PACK'D kit has been perfectly portioned, ensuring that you get exactly the same nutrients time and again.  And, the sachets have been specifically formulated with key superfood ingredients related to the chosen function, elevating the smoothies to a source of real, targeted nutrition."