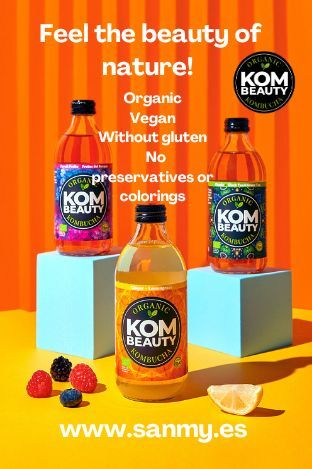 Sanmy, the oldest soft drink company in Spain, will attend at the upcoming edition of the Nordic Organic Food Fair, taking place at MalmöMässan, Malmö, Sweden, on the 15th and 16th of November.
Sanmy will be a co-exhibitor with its partner for Spain, Italy, Andorra, and Portugal, I AM F&B GROUP. Together, they will showcase products in the Innovation Zone. For this event, Sanmy will present its latest product: KOMBEAUTY | More than just Kombucha, feel the beauty of nature!
I AM F&B GROUP is presenting their portfolio of organic beverages under the Innovation category, including I AM Supersoda with 6 surprising flavours. They will also feature I am Superwater, an alkaline spring water with a pH of 9.4.
Sanmy's goal is to make this beverage more accessible, and they offer three delicious flavours (Black Tea and Green Tea, Ginger and Lemongrass, and Forest Fruits) at a competitive price while maintaining high food safety standards and indisputable quality, supported by over 128 years in the refreshing beverage market.
Sanmy will be a co-exhibitor with its partner I AM F&B GROUP
KOMBEAUTY is an organic Kombucha with a great sensory balance, low in sugars, a mild and pleasant taste, full of health properties and benefits. The aromas and nuances emitted by Kombeauty can captivate anyone's senses. Furthermore, it's a refreshing beverage, gluten-free, without colorants or preservatives, that will leave no one indifferent.
Visually, the brand has incorporated geometric graphic elements reminiscent of a kaleidoscope, conveying the harmony that characterizes this timeless beverage.
Kombeauty stands out for its versatility as it can be stored at room temperature, unlike its competitors, while maintaining high food safety standards. Additionally, it has an attractive "Ready to Sell" packaging that attracts and captivates consumers at the point of sale.
"We hope that this 100% natural elixir, with probiotic and detoxifying properties, capable of improving digestion, revitalizing, and rehydrating after exercise, will be well-received in the Swedish market, which is increasingly conscious of the importance of personal well-being."
Futher information available at www.sanmy.es
Subscribe to Bio Eco Actual Newsletter and be up to date with the latest news from the Organic Sector
Bio Eco Actual, International Organic Newspaper
Read Bio Eco Actual
La entrada Sanmy to attend Nordic Organic Food Fair 2023 se publicó primero en Bio Eco Actual.