Natural Products News shines a spotlight on a handful of the latest launches, campaigns, award wins and more from natural and organic brands and businesses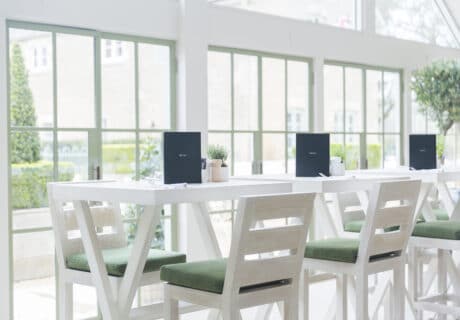 Daylesford Organic has announced that its Gloucestershire farm has been awarded the Michelin Guide's new Green Star. Recognizing its high ethical, sustainable and environmental standards, the Green Star applies to The Old Spot Restaurant, The Trough Café and The Legbar. "I'm so proud that Daylesford has been awarded one of the new Michelin Guide Green Stars," says Daylesford founder Carole Bamford. "It's wonderful recognition of the whole team's hard work and the time and care that goes into producing and serving simple organic food in a way that helps to nourish both people and planet."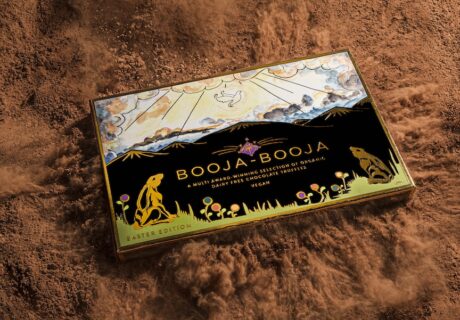 Booja-Booja has introduced a new Easter Edition of its best-selling chocolate truffle collection. Packaged in a special edition box designed and illustrated by Norfolk artist Pippa Mulvany, the collection features 16 multi-award-winning organic Booja-Booja truffles: Hazelnut Crunch, Almond Salted Caramel, Around Midnight Espresso, Rhubarb & Vanilla Fool and Stem Ginger. "The Easter Edition is such a striking and beautiful box: and very us," comments Booja-Booja MD Matt Gilding. "We're delighted that it was a created by local artist Pippa Mulvany, who has done beautiful illustrations for us over many years. It's already grabbing attention from our regular fans and new customers."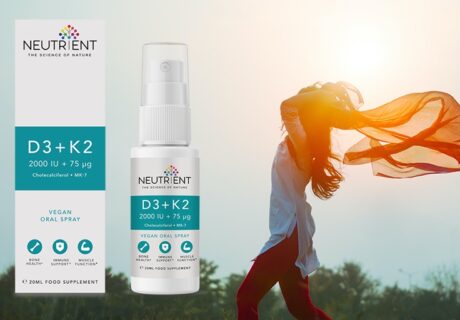 New Neutrient D3 + K2 is an advanced vegan oral spray delivering highly bioactive forms of vitamins D3 and K2. Just one spray provides 2000 IU of vitamin D3 balanced with 75mcg vitamin K2 as MK-7. Each 20ml bottle provides 150 sprays. The product is aimed at those requiring additional bone and immune support as well as those who experience digestive discomfort with supplements or who find tablets and capsules difficult to swallow. The handy oral spray is certified by The Vegan Society, has a two-year shelf life, recyclable packaging and no additives.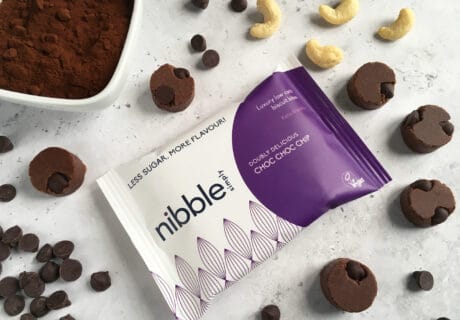 Made with just a handful of the ingredients, including the company's own bespoke, responsibly-sourced chocolate, Nibble Simply has launched to put a healthy twist on favourite treats like shortbread and chocolate chip cookies. The 'game-changing' keto-friendly snacks, which are made with all-natural ingredients, have at least 55% fewer carbs, 60% less sugar and 160% more protein than their cookie counterparts. Flavours include Fantastically Fudgy Lemon Shortbread, Outrageously Orange Double Choc Brownie and Doubly Delicious Choc Choc Chip.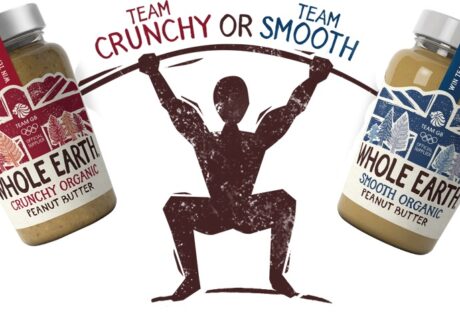 Kick starting its Team GB sponsorship, Whole Earth is drumming up team spirit through a multi-channel campaign, supported with enhanced social media spend. YouTube animations featuring its peanut butter jars competing in Olympic sports guide consumers to the brand's website where they can engage with a plethora of Team GB content and purchase their own personalized, Team GB-branded peanut butter jars for the first time ever. Whole Earth is supporting the campaign with enhanced visibility at in-store and e-commerce point of purchase, as well as running an on-pack promotion on core SKUs across grocery, convenience and the health food trade.