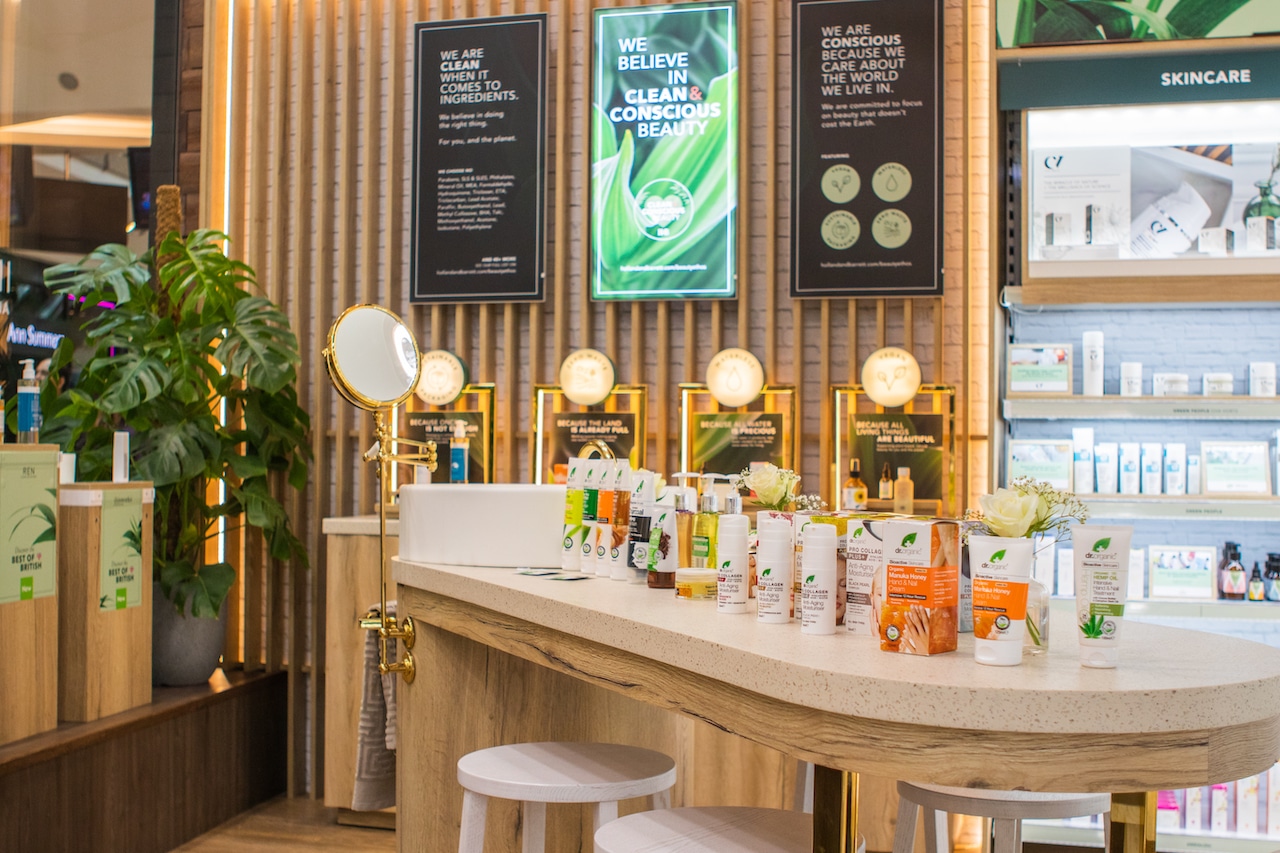 Mitch McCarthy-Kalischer, assistant category manager at Holland & Barrett, invites Rosie Greenaway to discover the revamped Birmingham Bullring concept store – an Aladdin's cave of beauty where clean meets conscious.
Holland & Barrett started 2020 with a bang, launching a new beauty concept store in Birmingham. Tell me more about that.
"We chose the Birmingham Bullring store because it does really well in beauty. It's in a great position. Now, when you go into the store, beauty is all at the front. It has 25% of the total store space, which is massive. We've got new signage; the shelves have lighting; we've got POS to talk about all the new products; [and] a whole new aromatherapy display – we're one of the biggest for aromatherapy, so that was crucial. Now we've got proper cosmetics stands that you would see in any beauty retailer … so that's really exciting.
It's a shift change for Holland & Barrett. We've always been known [for] health food and vitamins. We want to be known as a company that is a player in the natural beauty arena. This [store] is so much better than any of us thought it was going to look. The feedback from customers has already been amazing.
Which brands are you profiling?
We've added loads; it's a massive leap. We've got INIKA Organic – they're obviously a massive cosmetics brand within natural – PHB Ethical Beauty and Lily Lolo. We've got loads of new premium brands – ilapothecary, This Works, Evolve, Ren, Hanna Sillitoe – and some really cool smaller brands as well, including extending our aluminium-free deodorant range with various formats: sticks, balms, creams. Brands include We Love The Planet, The Natural Deodorant Co, Ben & Anna and Earth Conscious. All of these brands have much more conscious packaging too.
We've got a big ethos wall which talks all about what we stand for, why we list products we list, why we don't list certain products because of the ingredients they've got within them. Consumers are becoming a lot more aware of ingredients that are within cosmetic products, and transparency, I think, is key from brands. Five Dot Botanics is all about having a small amount of ingredients; five or less in all of their products, which obviously is a great USP. The customer knows exactly what they're getting. I think that will do well.
Will you extend the concept to other large stores?
It's a trial to see how it does. The aim, hopefully, will be to roll it out to other bigger stores in due course – Manchester, Marble Arch, Southampton, York, Chester. These are all our big More stores.
How long has this initiative been in the pipeline?
This has happened within the last six to nine months. It has been a lot of work. We have launched and set up 800-900 new beauty products (all going online) and 300-400 of them have gone into Birmingham Bullring. In due course we're launching some of those into stores as well. We're a small team in beauty, but Holland & Barrett gives us the opportunity to go for it.
Tell us how your Clean Beauty campaign is evolving …
For the last few years we did the big Clean Beauty campaign; our new strapline is 'Clean & Conscious Beauty'. Seeing what's happening in Australia with the fires and with plastic pollution and what's happening to our oceans, it's the natural next step for us to be banning wipes like we have done, educating the customer and also offering the opportunity to purchase products which are not going to harm the environment – or harm it a lot less than some other products.
We are starting to grab the attention of younger customers, but our heartland at the moment is that 35-55 [year old]. I think doing what we've done in the Bullring will definitely interest younger customers now. You go into Superdrug and it feels contemporary and modern; that's probably what Holland & Barrett had been lacking a little bit, but this new shop is just completely different.
I definitely think that the younger customer is really in tune with the 'conscious' part. They say 'we're the last generation that can save the planet', which is a scary thought. You walk past [the Bullring] now and it looks like a completely different store. Historically, you'd look in our windows and see vitamins; now, in that store, you see clean and conscious beauty, amazing stands with hero products on, plants in the window. It stops a customer in their tracks, they come in, have a look and educate themselves a bit.
Your 2019 Beauty Showcase featured lots of zero waste products and you launched Beauty Kitchen's Return. Refill. Repeat scheme. Will there be more?
We have a Faith in Nature refill station [in Birmingham]. Faith in Nature was a great choice because it already does five-litre shampoos, conditioners and body washes.
We're selling aluminium bottles – so the customer can pump … into the aluminium bottle. Once they've finished, they bring the aluminium bottle back in.
I have no doubt that we will see more and more beauty brands doing that sort of thing. We are definitely open to more of our suppliers changing to those sorts of things. We have 850 stores across the UK and Ireland and they're all completely different sizes. So a refill station would fit in Marble Arch [or] Manchester Market Street; it's not going to fit in everywhere.
But what's the plan for the little stores? I'm not sure yet, it will just be a case of seeing where we can get to. That's definitely a big part of the 'conscious' – it's 100% on our radar. It will just be working out how we roll that out across the estate. We don't have elastic shelves, there's always limited space!
Do many brands discuss larger sized bottles of daily-use products which run out relatively fast?
Larger sizes are another thing that we're very interested in because obviously it reduces the amount of waste and plastic. We have recently launched pretty much all of Faith in Nature's five-litre range onto our website [and] Dead Sea Spa Magik – we've launched its five kilo salts onto our website. With regards to Sukin, we've recently launched its new shampoos and conditioners, and they're 500ml. Jason – we've recently launched … body washes (887ml). No doubt, big sizes are going to continue to grow. Having them online and in bigger stores is a great first step.
What does the term clean and conscious beauty mean to you personally?
Before I joined this business, I was the stereotypical man who just looked in the supermarket at whatever was selling for a quid, which a lot of men say they do. I wasn't massively aware of all the ingredients that go into products and never thought there's a reason it's £1. Since joining and educating myself about clean beauty, I never use anything other than the products that we sell, which I guess is a testament to what we are doing as a business. The things people say about how it's transformed their life; that's what I love about Holland & Barrett. Once we have shown them that you can buy products from us that you can trust, that work, they're going to come back and they're going to tell their friends. Years ago when people thought of clean and natural beauty it was gunky and discoloured, the packaging was not very appealing – now we sell products that look amazing, smell amazing, do amazing things, at a reasonable price for the customer who wants more natural and organic in their life.
What aspect of beauty are you most excited about this year?
Seeing how all these new products do, this year's PR showcase [and] getting more customers on board with what we're trying to do. Recently we did a collaboration with Latest in Beauty – The Vegan Beauty Edit box for Veganuary – [which] is a brand we've not worked with before. It has a database of really engaged beauty customers – who they call 'beauty addicts'. We created 1,500 boxes. That was an opportunity to get our products – Dr Organic, Sukin, Beauty Kitchen, Faith in Nature, Urban Veda, Salcura – into the hands of customers that aren't necessarily our customers. Within that box was a 10% off coupon so the customer, – once they've finished that product – can come in and get 10% off it.
We did a Clean Beauty Box, we do the advent calendar, we did a Zero Waste bundle (it went really quickly). I have no doubt that we will continue to do more – bigger, better versions of them.
So you're drip-feeding clean beauty to mainstream consumers to tempt them into behavioural change?
Totally. They might not necessarily have tried it. And that's a great thing about the Bullring store: we've got loads of testers … especially for skincare. Skincare is naturally more expensive than a daily essentials product or a shower gel. The Bullring store is a massive step change; the customer is going to try the product, feel what's like on their skin, smell it and then they're hopefully going to want to buy it.