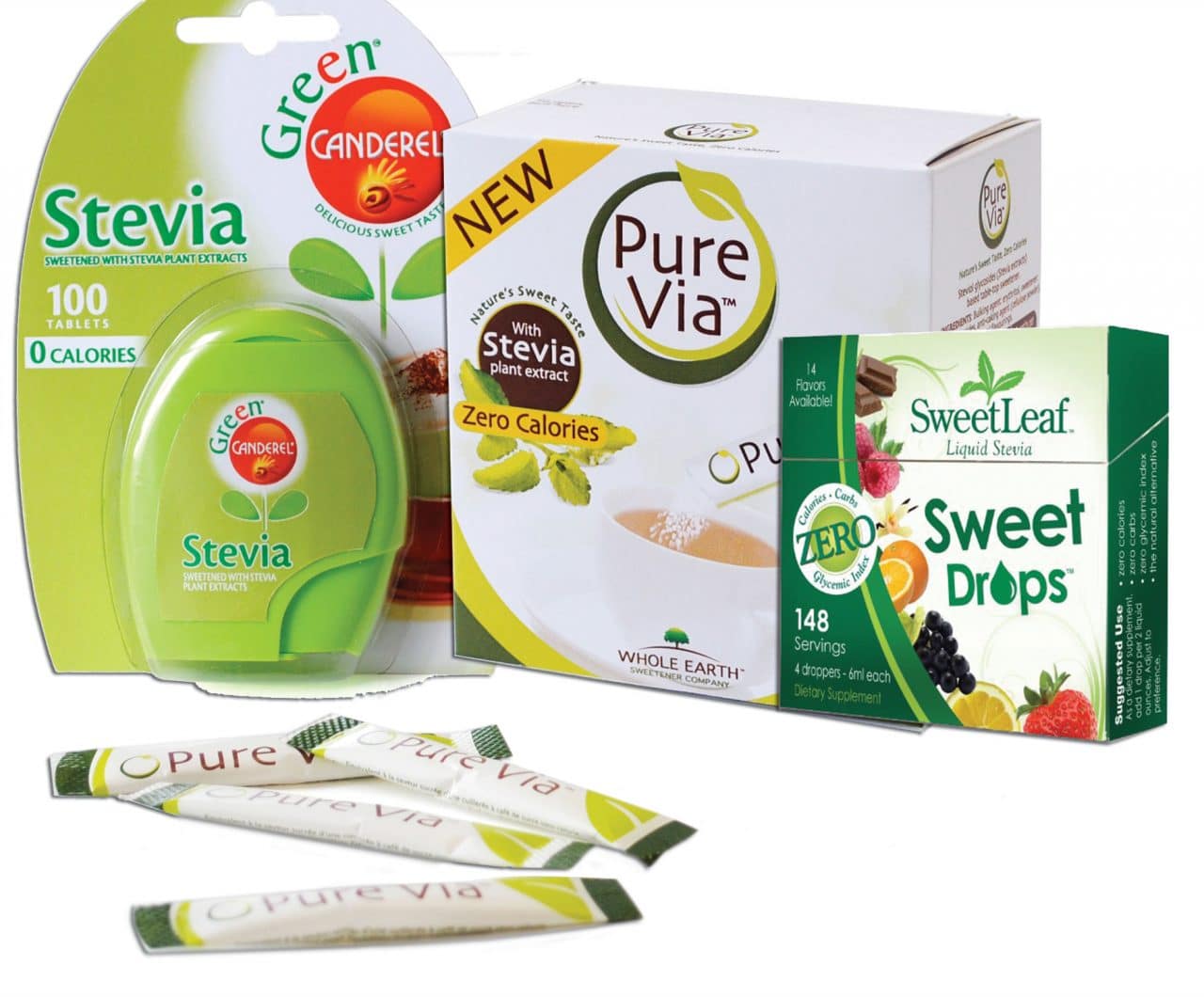 Last month the first of a new wave of stevia products hit UK shelves. Natural Products asks what the natural herbal
sweetener could do for your store? Last month the first of a new wave of stevia products hit UK shelves. Natural Products asks what the natural herbal sweetener could do for your store?
In late November the European Commission gave a green light for the natural sweetener stevia to be used in food products in the European Union.
Used as a table top product, or as a sweetener in drinks and food (and also in herbal remedies and supplements) stevia has quickly established itself in America, where it commands a market worth $85m.
In the UK, where the total sweetener market is valued at around £60m, a small group of multinationals look poised to take the lion share of a market currently dominated by artificial sweetener brands like Splenda and Canderel.
Sweetener like no other
The double attraction of a 30 per cent price premium over artificial sweeteners and the allure of stevia's natural credentials is proving appealing. Hence The Guardian's portrayal of a 'Goliath v. Goliath' battle – with Truvia (a partnership between Britain's Silver Spoon and US conglomerate Cargill) in one corner; and PureVia, developed jointly by Canderel owner Merisant and PepsiCo, in the other.
So where does stevia fit into the health food arena? The US trade magazine Natural Food Merchandiser recently offered some interesting insights into the very different ways that stevia is making a mark in the natural and mass market retail channels.
In the mass market, table top sweeteners represent 70 per cent of the total value of the stevia market, while in the natural food channel they make up just 15 per cent. Stevia presented as a herbal product represents the single biggest sub-category, claiming 56 per cent of stevia sales through natural food channels.
Health food hero?
We asked Michael Evans, technical adviser at the HFMA, about  the potential for stevia-sweetened products in the UK health food trade. He suspects the biggest opening will be as an ingredient in products from fruit drinks to supplements.
But UK manufacturers keen to have a bit of the stevia action need to bear in mind that final 'Purity Criteria' for steviol glycosides (E960) is unlikely to be published before March 2012. Stevia-containing products developed before the final criteria is decided would potentially have to be reformulated.
Julian Wright, purchasing director at The Health Store, is also yet to be convinced that stevia is set to make a big impact at the till. He told us: "We've been shown a number of stevia products, mostly from America, and we are looking at them. But I don't think sweeteners are ever going to be big in the health food trade itself. I suspect stevia may well have more of an impact as an ingredient in drinks and other products."
Door opener
Karen Wilson, marketing manager at Tree of Life – health food trade distributor of the Pure Via and Canderel Green brands – has a different take. "I think the stevia sweeteners could open a door to whole a new group of potential health store customers. People who have already made the decision to reduce their weight, or address their risk of developing diabetes, are already making health-oriented decisions. Why would that person want to put something like aspartame into their bodies when there is now a natural alternative with fewer of the downsides of artificial sweeteners?"
Retailer Alan Martin is already selling stevia products. "We've taken the Pure Via and Canderel Green products at Food For Thought and they're selling well. I think my view as that in three months these products will probably be in all the supermarkets and I might was well get some decent sales myself before they do! But I like stevia anyway. And although I would have preferred it if stevia leaf had been approved too, I still think we're likely to see some innovative new products containing stevia coming onto the market soon."
What's next for stevia?
There's a strong likelihood of an influx of stevia-sweetened products from America. That could mean interesting new formats, like stevia drops in fruit flavours, for example or stevia syrups.
We're also likely to see manufacturers responding to this industry's interest in offering something different to the mainstream offer. So watch out for the first certified organic products, and manufacturers – like pioneer US stevia brand Sweetleaf – who can demonstrate sustainable cultivation and production processes.