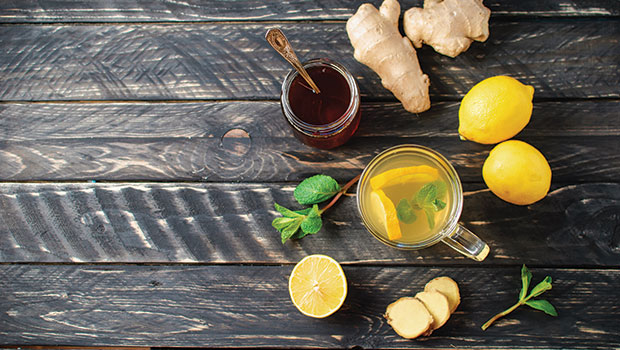 Ancient knowledge and modern research are combining to make winter remedies even more effective in 2019, explains Matt Chittock
Ancient cave people coming down with the flu. Roman invaders stepping off the galleon and sneezing. Office workers struggling through six inches of snow to work.
In the UK our 'unique' climate has ensured that there's always a steady stream of people who are seeking a winter remedy to salve their seasonal sniffles and assorted lurgies.
Scientifically soothing
Thankfully, many old-fashioned approaches (like turpentine on the chest or leeches all over the place) have faded into obscurity. But, as herbalist Dee Atkinson confirms, other remedies have endured through the ages to help soothe contemporary cold sufferers – such as elderberry.
"Elderberry is something we always recommend," she says. "It's an effective remedy that we can see has been used to treat colds for centuries all over Europe. So it has lots of traditional use backed by an increasing body of scientific evidence too."
The most recent evidence emerged this year in a study from the University of Sydney. The scientists found that compounds from elderberries can be particularly effective against flu. They do this in part by inhibiting the virus's entry and replication in human cells.
Dee points out that elderberries ripen just as the UK weather starts to get worse, and that adding honey to them can be a powerful tonic against coughs. 
These traditional elements and modern flu-fighting properties all point to elderberry being an ingredient that will win over health store customers ahead of the winter season in 2019.
Yet the most important factor is that researchers found that elderberries can actually strengthen people's immune system – a quality many winter remedies share. 
Seasonal support 
"Winter remedies are all about supporting the immune system," confirms Jonathan Selzer, PhD VP for scientific affairs at Bio-Botanica, the manufacturer of Nature's Answer. "It's quite complicated, but we know that it happens at the cellular level. They help the body fight off invaders, whether that means bacteria, viruses or something else.
"Luckily we have access to lots of plants and herbs that can do this for us. Some of the most popular are elderberry, echinacea and medical mushrooms. They've been used in different cultures and have got the benefit of having been medically researched for decades."
Nature's Answer is getting behind elderberries with its Sambucus (black elderberries) product. The mixture includes customer-favourite echinacea and astragalus too, to boost the immune system while warding off colds. 
Selzer identifies the use of combination remedies as an enduring health store trend. "Combinations are always very interesting," he says. "So there's a big trend for combination products because all of them have different effects on the immune system. Basically, consumers get more bang for their buck." 
But while combinations are creating a bang for natural-savvy shoppers, there's still plenty of opportunity to make some noise around the wider category.
Simple solutions 
In the UK, the winter remedies market is worth an impressive £373.6 million [Kantar], and there's a lot of scope for health stores to shave off some of that total for their stores. 
Happily, in the wider culture, the tide seems to be turning toward natural. For one thing, thanks to TV exposure, more consumers now know that there's often little or no difference between generic and branded over-the-counter medicines, which has made people think twice before purchasing their usual cough-killer.
Plus, due to an over-stretched NHS, the UK Government is now officially recommending that cough, cold and flu sufferers treat themselves. It has also provided some welcome validation for key natural alternatives, such as honey.
"Last year Public Health England and NICE jointly issued guidance saying that at the first sign of a cough, you should turn to honey rather going to the doctor's, where you may well end up being prescribed antibiotics," says a spokesperson for Manuka Doctor.
"This is a huge validation for our industry, and something that stores are well placed to capitalize on, helping people navigate the manuka category to find the strength of product that will work best for their needs. This winter provides a good opportunity to grow sales of manuka honey thanks to this Government endorsement."
Bee helpful
To help retailers win sales, Manuka Doctor is getting behind its innovative Bee's Sneeze product. It's an effective combo of two popular immunity-positive ingredients, mixing high strength manuka honey with vitamins and minerals specifically approved for their immunity-boosting properties. 
"A daily dose contains a bug-busting 600% of your daily vitamin C, ginger root and bee propolis extract," says the spokesperson. "That means it's a really convenient way to be primed and ready for the colder months when sneezes and sniffles are rife." 
Winter wellness is incredibly seasonal. So, once the mercury drops, they recommend retailers create a powerful display that signposts shoppers directly towards remedy offers. 
"Thankfully, many old-fashioned approaches (like turpentine on the chest or leeches all over the place) have faded into obscurity"
"In our experience it's all about making it easy for the customer," they say. "Don't force them to do extra work looking for things in store or make them have to visit several different fixtures in order to get products that work together. Remember some people might be visiting your shop for the first time; they want to see what they want right in front of their face as soon as they open the door, so it's nice and easy to pick up."
Before you start selling, it's also vital to be clear on dosage and timing with customers. Starting early in the season is often best for maximum effectiveness and to build the immune system (later on in winter may be too late). Yet Selzer explains that you never want to overwhelm your body with a single approach used too often.
"It's really important to know that people shouldn't take these remedies 365 days a year," he says. "They're very powerful and so should only be used around the seasonal periods when you need to improve your immune system. For example, think about using echinacea two weeks on, two weeks off. It's good to 'change out' products as you go. So if you've been using echinacea for two weeks, think about switching to elderberry."
Express delivery
When customers are feeling really rubbish they want a winter remedy that gets to work fast, and that means paying close attention to how the ingredients are being delivered to the body.
"Quality is one of the most important things to look for in winter remedies," Selzer explains. "We can only talk about our own products, but you look at some others and think 'how can they possibly do that for such a low price?' The quality has to suffer.
"The other is bioavailability. How effective is the delivery system in the first place? At Nature's Answer we do a lot of liquids just because they get to where they need to go fast. Mucal absorption is really important."
BetterYou is another brand that focuses on more efficient delivery systems. Its pioneering vitamin D spray range is designed to bolster the body with the nutrient in an easy-to-absorb quick-acting format.
"Vitamin D is the core nutrient for people to be conscious of during the winter months," says Keeley Berry, nutritional expert and new product development executive at BetterYou. "This vitamin is crucial for activating immune defences, and without sufficient intake the immune system will not be able to react to fight off infections in the body. 
"Giving the immune system an extra boost at this time of year will increase the chance of staying healthy and avoiding infections. It will also aid long-term protection against diseases and the health impacts of ageing."
So, there you are. Honey, elderberries and echinacea (alongside vitamin C) can all help you cure customers' winter blues. Just be sure to provide the right advice, and look after your own immune system too, so you can capitalize on sales right through to next Spring.
Shop with a view
 "We always do a display around winter health when the school year starts and it gets colder. Our big focus these days is vitamin D. Customers are more aware of deficiency and understand how it can affect health and mood," says Anita Hatch of Nature's Corner, Newbury.
"We keep an eye on the papers for new trends, and vitamin D stories always turn up. BetterYou is a top seller just because it's so easy to use. Children can take it okay. You don't have to worry about the size of the pill, or how much sugar is in it. That makes it easy to sell. The vegan version is great for us as this is such a big market. 
The winter classics are echinacea (still a biggie for us) – I like to promote the old-fashioned approaches. We also try to go down less obvious winter wellness routes. I like to offer magnesium because it's such a good all-rounder. Also Pukka's Ashwagandha is good.
"People aren't as interested in high dose vitamin C products as they used to be. That's purely because of negative media coverage. I think people worry about buying a high dosage – that because their body gets rid of it, they're just wasting their money. Still, it's a classic approach and has a place in immune health. I think today people trust in herbal approaches a bit more."
Propolis Winter Mixture
Bee Health Propolis
Tel: 0800 731 6006
E-mail:  [email protected]
www.beehealthpropolis.com
Winter can leave your immune system running low, making you more susceptible to coughs and colds.
Bee Health Propolis Winter Liquid is a versatile way of accessing the benefits of this wonderful, natural ingredient. Propolis is a natural substance collected by honey bees from buds and trees containing tree resin, essential oils, waxes and bioflavonoids. Propolis offers an array of benefits for many ailments and is one of nature's richest sources of bioflavonoids for immune support.
DLux1000 Vegan Oral Spray
BetterYou Limited
Tel: 01226 814 030
E-mail:  [email protected]
www.betteryou.com
Offering effective vitamin D absorption for those following a plant-based diet, BetterYou's DLux 1000 Vegan Vitamin D Oral Spray comprises a pure and simple formulation containing only 100 per cent plant-origin vitamin D3V and coconut oil. 
Contained in a bottle made from recycled material, including Ocean Waste Plastic, the optimum strength daily oral spray is designed to deliver 1000 IU of bioavailable, vegan-certified vitamin D through the inner lining of the mouth, providing an effective and convenient alternative to tablets and capsules. Just one spray daily will help to maintain healthy bones and teeth as well as support a healthy immune system. RRP £9.95
Wintervits®
HealthAid Ltd
Tel: 020 8426 3400
E-mail: [email protected]
www.HealthAid.co.uk
Wintervits®  Immune Booster Age, stress, and poor nutrition can deplete our immune system of its effectiveness. In order to avoid illness, the body needs to be equipped with a whole host of essential micronutrients. Supplements are a great way of safeguarding nutrient intake. Wintervits® a synergistic blend of vital Vitamins, Minerals and Herbal extracts such as: Vitamin C, Zinc, Maitake mushroom, Astragalus, Rutin and Proplis extract; are well-known for their immune boosting properties. Wintervits® also has the added benefit of Quercetin, which contains powerful antioxidant and anti-inflammatory properties that help support a healthy immune system. Wintervits® retails at £10.49 for 30 tablets. Contact HealthAid Ltd on 020 8426 3400 for purchase and stockist information or visit www.healthaid.co.uk.
Let's Talk Winter
Bio-Kult
Tel: 01460  243230
[email protected]
www.bio-kult.com
Our immune system can be compromised during the winter months and whilst health problems such as colds, coughs and infections are active all year round, your clients and their little ones are more vulnerable to them in winter.  70% of your immune cells are located in the gut and are supported by the thousands of microbes that reside there , so it's really important to keep the gut flora balanced at all times but especially in the cooler months when we're busy fighting off all those winter bugs.  
Some tips to suggest to your client to help keep them fighting fit:
• Add spices and warming herbs to your meals and drinks, to aid digestion and warm the body. Try a fresh ginger tea, or add rosemary to roasted veg our favourite Turmeric and cayenne pepper to a curry.
• Ensure you have the best start to the day during the colder months, and be organised with a hearty breakfast to balance healthy blood sugar levels. Include healthy fruits, warming grains and healthy lean proteins so that you can cope with whatever weather is thrown your way!
• Pace yourself – winter is the last of the seasons and it's a time when we are meant to be more introspective, reflective and mindful of pacing ourselves – not burning the candle at both ends especially in the party season.
• Learn to say "No" to things that may overload your schedule.
• Epsom Salt Baths are a lovely way to relax and increase magnesium levels in through the skin. The baths have been shown to aid sleep and to reduce tiredness and fatigue.
You might also want to reccomend a live bacteria supplement such as Bio-Kult with 14 strains of live bacteria or Bio-Kult Infantis with 7 strains, omega 3 and vitamin D3 which contributes towards the normal function of the immune system.
Dr Bronner Organic Lavender Hand Sanitizer
Healthy Food Brands
Tel: 01403 786460
E-mail:  [email protected]
www.healthyfoodbrands.co.uk
We all know the winter months can be a challenge for avoiding colds and germs. Dr Bronner's Organic Lavender Hand Sanitizer kills germs with a simple formula of organic ethyl alcohol, water, organic lavender oil and organic glycerine. It contains none of the nasty chemicals you find in conventional sanitizers but is just as effective. It is perfect for using on the go and keeping the bugs away this winter!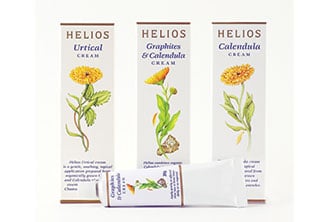 Natural Soothing Relief from Helios
HELIOS HOMEOPATHY LTD
Tel: 01892 537254
E-mail: [email protected]
www.helios.co.uk
The Helios trio of creams with Calendula offer natural soothing relief for a variety of winter skin complaints such as dry, flaky skin; itching and irritated skin, or sore cracked and weeping skin. Using organically grown Calendula plus either Urtica Urens or Graphites, essential oils and natural plant based ingredients, Helios creams are suitable for the most delicate skin. Other creams in the range cover common first aid situations such as bruises, sprains and strains, cuts and scrapes, arthritic complaints, varicose veins and haemorrhoids.
Garden of Life mykind Organics Vitamin C Organic Spray
Kinetic Natural Products Distributor
Tel: 08450 725 825
E-mail:  [email protected]
www.kinetic4health.co.uk
Garden of Life's mykind Organics Vitamin C Spray provides 75% of your recommended intake per dose in the most bioavailable form possible; a natural form that is easily recognised and absorbed by the body without the need of flushing the body with excessive amounts. Amla berry is one of the richest food sources of vitamin C with naturally occurring plant compounds, referred to as 'bioflavonoids' and supporting co-nutrients for vitamin C's absorption. Vitamin C is a water-soluble essential nutrient and needs to be replenished daily. Independently certified organic, non GMO, gluten free, vegan and kosher. Vitamin D3 and B12 sprays also available.
OM Organic Mushrooms Chaga Mushroom Powder
Kinetic Natural Products Distributor
Tel: 08450 725 825
E-mail:  [email protected]
www.kinetic4health.co.uk
Chaga extracts have been shown to exhibit activity against several common types of viruses in in vitro studies. OM's full spectrum organic chaga mushroom naturally contains: beta glucans, prebiotics, digestive enzymes, antioxidants, amino acids, proteins, peptides, lectins, polyphenols, flavonoids, selenium compounds and other myconutrients, including betulin, lupeol and mycosterols- the compounds believed to be responsible for Chaga's antiviral activity. Grown in California, Om is a leading producer of pure, fresh, certified 100% organic mushroom powders that may support optimal health. OM combine the perfect balance of ancient wisdom with modern methodology to grow these miraculous mushrooms in their state-of-the-art clean room facility. Organic, vegan, gluten-free, non-GMO and fermented.
Nature's Answer Sambucus Elderberry Extract Spray
Kinetic Natural Products Distributor
Tel: 08450 725 825
E-mail:  [email protected]
www.kinetic4health.co.uk
Nature's Answer Sambucus Elderberry Extract Spray is super-concentrated 523 mg of fresh elderberries per serving (5 sprays – 0.75ml). Sambucus is joined by echinacea, slippery elm, sage, astragalus and propolis in this proprietary herbal blend. The spray format is ideal for keeping on your person and using "on-the-go". Made with a vegetable glycerin base, the product is vegetarian and gluten-, alcohol- and preservative-free. The spray can be used in conjunction with the other products in the Sambucus range from Nature's Answer. Nature's Answer utilise a carefully controlled extraction technique, to ensure the plant value is passed on in holistic balance. 
Lamberts® Beta Glucan Complex Beta Glucans 1,3/1,6 with Vitamins D3 & C, Selenium and Zinc
Lamberts Healthcare Ltd
Tel: : 01892 554313
E-mail:  [email protected]
www.lambertshealthcare.co.uk
Beta glucans 1,3/1,6 are naturally occuring polysaccharides derived from the cell wall of Sacchromyces Cerevisiae. Lamberts® Beta Glucan Complex is a high strength one a day product that provides a full 250mg of 1,3/1,6 beta glucans and is suitable for vegetarians. We have also included vitamin D3 at 25µg, 150mg of vitamin C plus 10mg of zinc and 110µg of selenium since all these nutrients are renowned for the role they play in supporting the immune system.
Vitamin C bioflavonoids
Link Nutrition
Tel: 0207 881 0048
E-mail:  [email protected]
www.linknutrition.com
Link Nutrition's Vitamin C & Bioflavonoids complex is formulated with the essential vitamins and minerals needed for optimal health. Formulated with Food Based vitamin C, zinc, bioflavonoids and Chaga mushroom, their complex is beneficial for anyone looking to strengthen their immune system this winter. Both vitamin C and zinc play a fundamental role in immune health, but getting the recommended nutritional intake from food alone is not always possible. The increased bioavailability of Food Based vitamins and mineral means quicker and more effective absorption. Link Nutrition supplements are also free from artificial fillers, binders and excipients.
Beta Glucans Immune Support +
Natures Aid Ltd
Tel: 01772 686231
E-mail:  [email protected]
www.naturesaid.co.uk 
Natures Aid award-winning Beta-Glucans Immune Support + is an advanced formula, combining the popular ingredient Beta Glucans (1,3/ 1,6) with odour-controlled garlic, elderberry, and vitamin D3. With vitamin A, vitamin C, Zinc, Copper and Selenium which all contribute to the normal function of the immune system. In addition:
• Vitamin A supports the normal functioning of the mucous membranes • Zinc and Selenium can help to protect cells from damage caused by oxidative stress • Vitamin C supports normal energy yielding metabolism and reduces tiredness & fatigue.
Suitable for vegans.  30 Tablets – £9.95 90 Tablets – £24.95
Bee prepared immune formulas
Unbeelievable Health
E-mail:  [email protected]
www.unbeelievablehealth.com
Voted Best Immune Supplement in both the 2019 Healthy Magazine Awards & Psychologies Magazine Wellness Awards, Bee Prepared immune formulas are formulated by nutritionists using highest quality plant sourced ingredients. They help keep colds, flu & illness at bay and are suitable for most ages & combine nutrients with proven benefits which are not found in a regular diet or multivitamin, including bee propolis, elderberry, olive leaf, beta glucans, acerola cherry, reishi  & more.  Capsules may be opened into juices and food. Wholesale via CLF, Tree of Life & The Health Store. % of sales donated to bee causes.
Ultibio Immune
The Nature's Bounty Co.
Tel: 01442 821 419
E-mail:  [email protected]
www.solgar.co.uk 
Keep well this winter with Solgar® Ultibio Immune.  Providing unique patented protection, Solgar® Ultibio Immune is scientifically proven to balance and maintain the immune system.   This innovative cold season complex contains clinically studied strains and ingredients including Vitamin A, Vitamin B12 and Vitamin D3 to target immune defences.  In addition, there is a guaranteed one billion CFU blend of clinically studied live bacterial strains, Lactobacillus plantarum HEAL9 and Lactobacillus paracasei 8700:2 all expertly formulated in a convenient, one-a-day formula.
CureC Liposomal Vitamin C+Quercetin
Wholesale Health Ltd
Tel: 01606 889905
E-mail:  [email protected]
www.wholesalehealthltd.co.uk
We are delighted to announce the re-launch of Good Health Naturally's new formula, CureC™, a high-performance nutritional supplement containing 1000mg of Liposomal Vitamin C, plus 400mg of Natural Phosphatidylcholine and now containing 100mg of Quercetin per serving (a powerful flavonoid antioxidant that may reduce inflammation, prevent infections and reduce the risk of various diseases.)  Its liposomal delivery system maximises vitamin absorption, CureC™ goes straight to the source to protect healthy cells from damage.  As a potent antioxidant, Vitamin C has countless benefits and studies show it has the potential to support immune function, brain health, blood sugar and heart health.   No mixing required – CureC™ tastes good straight from the bottle!  
Biona Organic Apple Cider Vinegar with the Mother
Biona Organic
Tel: 0208 547 2775
E-mail:  [email protected]
www.biona.co.uk
Made from pressed organic apple juice fermented with the mother, Biona Organic Apple Cider Vinegar is aged in wooden casks for a robust finish. This raw, unfiltered vinegar is not heat-treated or pasteurised, to keep enzymes happy. It can be used in salad dressings, for pickling, or as an invigorating tonic drink to fend off winter bugs. Simply mix a couple of tablespoons with warm water, a dash of lemon juice and honey and a pinch of cinnamon, cayenne and ginger.