Natural Products News shines a spotlight on a handful of the latest launches, campaigns, award wins and more from natural and organic brands and businesses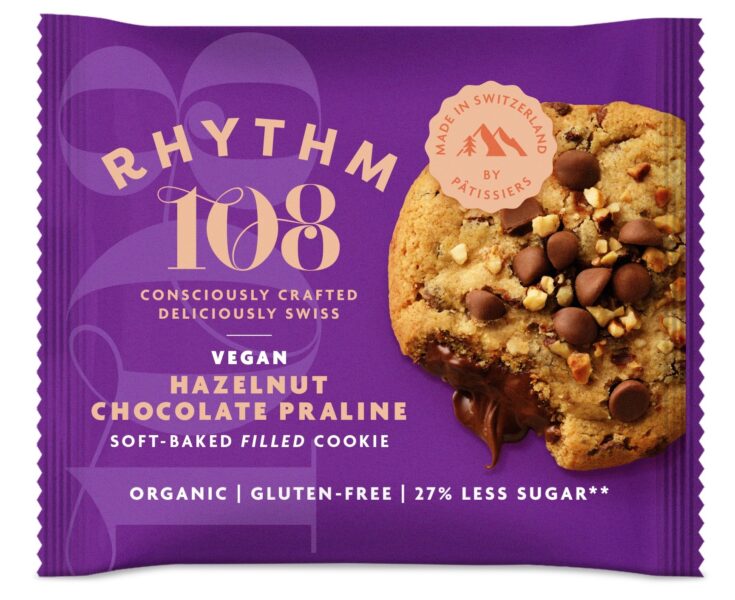 Rhythm 108 has created a duo of vegan Soft-Baked Filled Cookies in Hazelnut Chocolate Praline and Chocolate Peanut Butter variants. The artisan cookies are handmade by Swiss pâtissiers and filled with smooth, creamy centres for an indulgent on-the-go treat or a vegan dessert when heated in a microwave. Rhythm 108 Hazelnut Chocolate Praline is a soft, chewy blondie cookie, filled with a creamy chocolate hazelnut praline and topped with a sprinkle of toasted hazelnuts and mini Swiss chocolate chips. Chocolate Peanut is sweet with a hint of saltiness – the rich Swiss chocolate cookie is filled with smooth, gooey peanut butter and topped with roasted peanuts and mini Swiss chocolate chips. The cookies are organic, gluten- and palm oil-free. They are individually wrapped in plastic-free, 100% compostable paper with a fully recyclable inner cardboard square.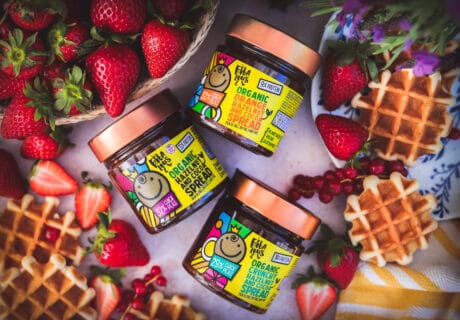 Following on from the launch of its original Organic Hazelnut & Cocoa Spread, Fabalous has added two new chickpea-based products to its offer: Organic Orange Hazelnut & Cocoa Spread and Organic Crunchy Hazelnut & Cocoa Spread. The vegan spreads combine organic hazelnuts and ethically sourced cocoa with chickpeas – the primary ingredient. The Orange variety contains 32% chickpeas and 9% protein, while the Crunchy Hazelnut boasts 29% chickpeas and 10% protein. The fibre-rich spreads are described as having an intense chocolatey flavour and a smooth and silky texture. Fabalous has switched out palm oil for sunflower oil and cocoa butter and claims the products have 43% less saturated fat and 57% less sugar than the leading brand in the category. The spreads are packaged in sustainable glass jars with a contemporary design.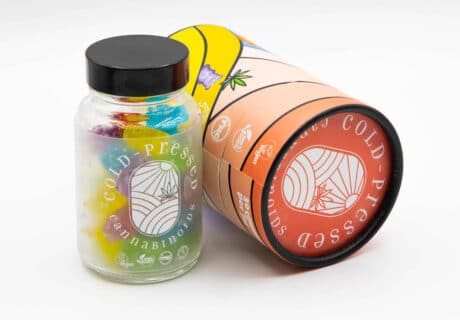 British CBD brand Cold-Pressed has introduced a line of CBD Gummy Bears produced using a cold-pressed extraction method to retain nutritional value. The 100% natural  gummies are available in five natural fruit flavours – Strawberry, Grape, Apple, Grapefruit and Pineapple. Each Cold-Pressed CBD Gummy contains 10mg of cannabidiol. Cold-Pressed says the unique CBD extraction process it uses is new to the UK and involves the whole hemp plant being passed through a press, squeezing out the organic hemp extract to create 'a superior product' and ensuring all of the beneficial vitamins, omegas, nutrients and phytonutrients remain within the product. The Gummy Bears carry The Vegan Society's Vegan Trademark.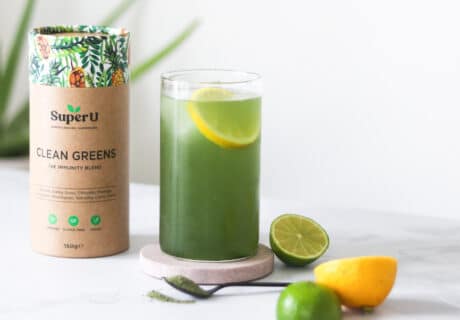 Super U has launched a new certified organic (OF&G) Clean Green Immunity Blend combining eight nutrient-dense real food ingredients full of natural vitamins and minerals: spirulina, chlorella, moringa, wheatgrass, barley grass, pineapple, camu camu and baobab. Adding a spoonful to water, smoothies or salads provides vitamin C, B6 and iron to help boost immunity, digestive health and energy levels. "Greens are notoriously good for our gut health and immune system, but they aren't the best tasting thing in the world!" says co-founder Charlotte Bailey. "We balanced the flavour of our blend with freeze-dried superfoods such as baobab and camu camu berry, both of which are a rich source of vitamins but also really work alongside the supergreens. Clean Greens has been our hero blend from the start, and it has helped so many people in the UK with their digestion and energy levels!"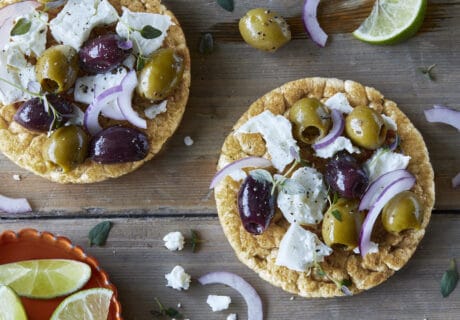 Kallø's latest offer are two new variants of its vegan-friendly lentil and pea-based Veggie Cakes: Tomato Salsa, Lime & Coriander and Caramelised Onion Chutney. High in protein and fibre, the new flavours follow the launch of Spinach & Pesto and Beetroot & Balsamic Veggie Cakes in 2020. "Last year was the first time we had taken the rice out of rice cakes to create a completely unique and innovative concept," says Hayley Murgett, Kallø marketing controller. "Introducing grown-up flavour profiles such as Tomato Salsa, Lime & Coriander and Caramelised Onion Chutney was a natural next step as we branch out to appeal to those savoury moments and offer a versatile snack that tastes just as good plain as it does topped." The gluten-free Veggie Cakes contain no artificial colours, preservatives or flavours.