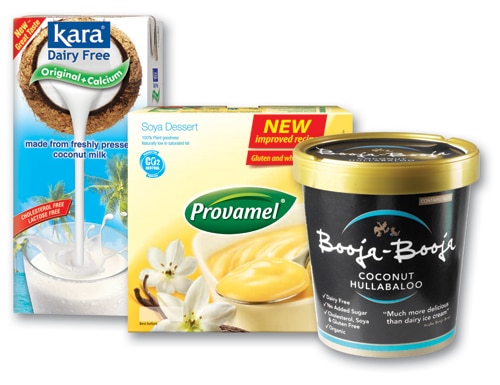 The dairy-free category is being spurred on by innovation and the growing trend towards a plant-based diet. But amid the growth of dairy-free, independent retailers may find mainstream retailers their biggest challenge, writes Aline Tanner
A growing number of people in the UK are living with a food allergy or intolerance to certain foods, resulting in higher consumer demand for free-from products. Take into account the fact that one in six people in the UK need an alternative to cow's milk, as well as the growing number of people avoiding dairy for health and ethical reasons, and it's easy to see why the dairy-free sector is expected to remain buoyant.
Worth over £104 million in 2010 (Nielsen), dairy-free is becoming increasingly mainstream as brands continue to focus on new product development (NPD), with an emphasis on taste and variety. However, more mainstream customers attract more mainstream competitors, so how are smaller, specialist dairy-free brands retaining their point of difference?
For now, the free-from market remains the speciality of the health food sector, with independent retailers still successfully capitalising on the growing demand for free-
from products. However, 2011 will see the free-from foods sector targeted even more aggressively by mainstream retailers and manufacturers.
Growing choice
For people avoiding dairy, soya products remain a popular alternative. But soya also appears to be successfully settling into the mainstream market, with non-lactose-intolerant consumers choosing soya products as part of a healthy and balanced diet and/or simply because they enjoy the taste of them.
Michael Lovitt, Product Manager for Provamel, says: "With almost 4 million households currently buying soya, the dairy-free category is certain to grow. As brands continue to turn their attention towards creating tastier, more versatile products, the health-conscious consumer is faced with a wider choice of alternatives, which is sure to push soya more and more into the mainstream."
The choice of dairy alternatives is ever widening, especially in terms of dairy-free milk alternatives, with products made from rice, oats, coconut, almonds, hazelnuts, hemp, and more recently spelt and quinoa, now readily available.
Lovitt says: "In the last couple of years there has been some interesting innovation in the dairy-free market, which has helped create noise off-shelf and reinvigorate the category. The emerging trend towards a plant-based diet and increased consumer understanding of the positive benefits this can have, both for the planet and nutrition, is likely to drive growth.
"Provamel is focusing all its efforts on strong NPD, looking to create great-tasting, innovative additions to its range of dairy-free alternatives. We have some exciting developments coming up this year."
According to Eli Sare, marketing manager for wholesaler Essential Trading: "One notable development within the dairy-free category — and one that is being met by consumer demand — is non-curdle soya milk. We're finding that Sunrise Foods' version is doing well."
"The emerging trend towards a plant-based diet and increased consumer understanding of the positive benefits this can have is likely to drive growth"
Plenty of treats
The dairy-free category is certainly not short on imagination, and innovative new products are hitting the shelves at a steady rate. Dairy-free desserts and 'treat' foods appear to be a burgeoning sub-sector, with yoghurt, ice cream, puddings, cheese and chocolate no longer being a no-go area for people following a dairy-free diet.
Provamel has upgraded its chocolate and vanilla soya desserts to ensure they appeal to a more mainstream taste. While French brands Sojade and Sosjun offer quality dairy-free yoghurts, with Sojade fitting the dairy-free and organic yoghurt category.
A good range of dairy-free ice creams is also readily available from independent health retailers, including Booja-Booja's organic and dairy-free ice creams, made using a unique process which combines cashew nuts, agave syrup, and pure water from reverse osmosis.
Vegan and dairy-free company Plamil more than caters for consumers with a sweet tooth. Managing director Adrian Ling says: "Combining dairy-free with other important sales factors, such as gluten-and nut-free, organic and Fairtrade, makes our products particularly unique and attractive to consumers."
Say Sheese
As well as sweet treats, dairy-free consumers can also enjoy some tasty cheese alternatives, such as Redwood's popular Cheezly range.
The development of dairy-free cheese is a growing area, with manufacturers working hard to create innovative, tempting products. One such company is Bute Island Foods, the Scottish manufacturer of the 100% dairy-free and vegan product, Sheese.
Company director Guy Crichton says: "We have had a busy start to 2011, mainly from an increase in orders from abroad and unexpected interest from countries we don't currently export to. One notable consumer demand is for a real melting hard cheese. It is very difficult to reproduce the melting property of cow cheese, but we have come up with a new, excellent melting cheese which we intend to launch later this year." Sheese comes in a range of styles, including Blue, Edam, Cheshire and Mozzarella.