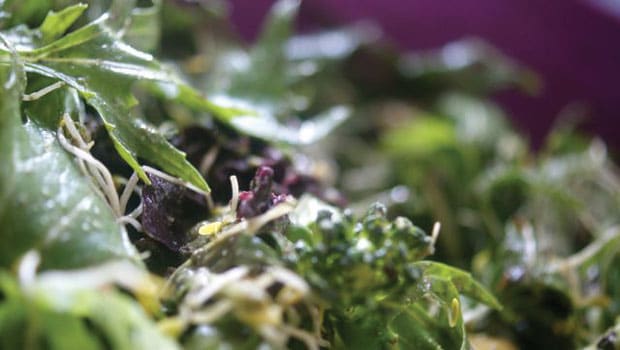 Raw food has blossomed within the natural food sector in the last few years, but will it remain the preserve of the natural health food retailer? Jane Wolfe takes a look
There are undoubtedly a myriad of positives to a raw food diet and the market has grown substantially in recent years, but how far into consumers' consciousness has it really sunk?
"Raw food is still an emerging category," says David Street, marketing manager, The Premium Snack Company, which produces the Nothing But range of freeze-dried fruit and veg snacks. "As with free-from foods, which are increasingly becoming a lifestyle choice, it's not inconceivable that raw will become more mainstream. However, I think we are now looking at a market in its infancy rather than a niche market."
Kate Magic, co-founder of Raw Living, Europe's largest online resource for raw food and living, says: "I've been doing this for 21 years, when raw didn't really exist as a thing at all, and now there is raw almond milk in Pret A Manger and green juices in Waitrose. The growth this year has been mindblowing. How-ever, I think raw itself still isn't a very trendy concept."
Katie Clare, PR & marketing manager at inSpiral Visionary Products, agrees that raw is edging into the mainstream, but that "being completely raw may still be more of a niche and a philosophy/belief system, but one that we are really seeing spreading across Europe".
"At its most basic, raw food is in the mainstream," says Amy Clinkard, own-label buyer at Planet Organic, which recently launched its own range of raw products under the Raw46 sub-brand. "It can be as simple as a fresh salad, smoothie or a piece of fruit. However as a lifestyle choice where raw foods make up between 70-100% of the total diet, raw is still a niche market. That said, the rate of growth seen within the independent health foods sector is encouraging.
"The argument for raw food is strong – a sustainable, long-term solution to maintaining health. It is also a nutritious solution to the increased demand for unprocessed and allergen-free foods – but the challenge has been accessibility. However the recent development of raw convenience food for retail has made the raw lifestyle more accessible and the pace of development has been fast."
What's cooking (or not)?
So what's hot in the raw sector? "This year it's been mostly about the drinks," says Magic, "people going beyond just fruit juice and getting into vegetable juicing and nut milks. Chocolate exploded a few years ago and that's pretty consistent – it's probably the biggest sub-sector."
Clinkard believes that whilst ambient product developments continue to excite, the latest and most ground-breaking raw food innovation has come in the form of fresh takeaway foods. "Far beyond a simple salad, we now have raw sandwiches, pizza and burgers with a look and taste to challenge their non-raw counterparts," she says.
Clinkard sees nut butters as one high growth category. "Under the Raw 46 brand, our Chocolate & Hazelnut Butter and our Sprouted Chia Almond Butter are selling incredibly well. Demand for sprouted products is increasing due to the numerous associated benefits and we are seeing strong sales on our Raw 46 Sprouted Naked Rolled Oats."
She says superfoods is another key category, with the store's top sellers including Organic Traditions Maca x6, Sprouted Chia, and Goji Berries. "Other popular sellers include coconut oil, chocolate, kale chips, raw coconut water, sandwiches and cakes."
Clare has also seen kale chips rise in popularity, along with superfoods and raw cakes: "It is a real shift to move away from a cake full of gluten, dairy and sugar to one made of nuts, coconut, cacao, avocado. Why feel guilty about eating a dessert loaded with unhealthy foods when you can feel much prouder of eating a raw dessert?"
Skin deep
The health-giving properties of raw foods aren't confined to consumption, with raw beauty being touted as the next hot thing in skincare. But it's not just another trend, as Jessica Laura, CEO of Brighton-based Raw Gaia, explains. "The benefits of raw bodycare are similar to those of eating raw food. The active nutrients – plant acids, vitamins, minerals and antioxidants – can all be enjoyed through raw skin products so you're actually giving your skin a much healthier start." "To a lot of people raw skincare is brand new," she adds, "but I think as companies grow and awareness rises there will be a point where it is completely common to see raw skincare in the high street." Laura sees raw skincare as being a step beyond organic because although with organic certification a lot of chemicals are banned, there are still a lot that can be used. "The problem is that you only need to have a tiny, tiny amount of organic ingredients to call the whole thing organic. We trade on the fact that if we say a product is organic it's because 100% of everything that's gone into it is certified organic."
Food Focus Listings
The Nutty Juicer™
Nuwell Health & Wellness Ltd
Tel: 852 – 2180 9122
E-mail: [email protected]
www.nuwell.net
Nuwell's Nutty Juicer™ is one of a kind low RPM centrifugal grinding juicer which preserves more vital nutrients and enzymes : • Makes decadent nut, seed & grand milks in one easy step • Proficiently juices leafy greens, hard vegetables & fruit • Grinding system extracts and produces more fibre• Economical – yields up to 40% more juice per pound of produce • Green technology – use less energy • Whisper-quiet induction motor • Easy to clean and dishwasher safe • Patents from UK, Euro Community, Germany, US, Japan• BPA free
Wild Thing
Organico Realfoods Limited
Tel: 01189 238765/767
E-mail: [email protected]k
[email protected]
What makes your heart sing? Real paleo bars – organic, raw and vegan too! Our nutrient dense approach to the paleo diet ensures a high quality nutritional and natural product, packed with great ingredients and superfoods. Beyond RAW! 4 delicious varieties. RSP only £1.45 each. Massive launch promo discount with mixed cases also available. Available TOL, CLF, Queenswood, Infinity, Suma, Goodness, Marigold, Green City, Essential… [email protected] Tel: 0118923 8769.
Organic Traditions Ice-Pressed Olive Oil
Planet Organic
Tel: 02072 217171
E-mail: [email protected]
www.planetorganic.com
Organic Traditions introduces Ice-Pressed™ Raw Olive Oil, the most unique olive oil in the world. A true innovation in olive oil production, the olives are pressed using ice. This process is 20-30 times colder than cold-pressed olive oils. The result is a dramatically different olive oil, both from a taste and a nutritional standpoint. By using this unique ice-pressed™ method, the perfect acidity is achieved and beneficial antioxidants remain intact. With a higher concentration of polyphenols, the end result is a truly therapeutic culinary grade raw, extra-virgin olive oil with the most delicious, full-bodied taste. Origin: Early-Harvested Koroneiki Olives Prices: RRP £9.99 Contact: [email protected] Available At: www.planetorganic.com
Raw Chocolate Bars, Berries and Supreme Foods
The Raw Chocolate Company
Tel: 01237 493331
E-mail: [email protected]
www.therawchocolatecompany.com
2015 sees a make over for the Raw Chocolate Company's range of Raw Chocolate Snacks and Supreme Foods. A smarter look for our Raw Chocolate Goji Berries, Mulberries and Raisins, they are all now available in 12 x 28g Snack Pack or 6 x 125g Re-sealable Pouch. The organic, raw, Supreme Foods range includes Cacao Butter, Nibs and Powder, Acai Powder, Chia Seeds, Coconut Sugar, Hemp Protein Powder, Shelled Hemp Seeds, Lucuma Powder, Goji Berries and Mulberries. There are new sizes across the range with 6 re-sealable pouches in a case. Easier ordering, easier shelf filling, enjoy!
Beond Organic Bars
Pulsin' Limited
Tel: 01452 729000
E-mail: [email protected]
www.pulsin.co.uk
Produced in Pulsin's Gloucestershire factory Beond bars are packed full of natural ingredients and ORGANIC goodness. They are VEGAN, RAW, GLUTEN FREE, DAIRY FREE AND SOYA FREE and are perfect for special diets including no added sugar. We now have a new addition to the award winning range with the Baobab and Pineapple bar. Available in a 35g or 15g serving they are low GI, guilt free treats to enjoy at anytime of the day. The bite size bars at less than 60 calories each are ideal for Kid's lunch boxes or a little boost between meals and have an amazing taste delivery.
Superfoodies – the new name in superfoods
Raw Creation Ltd/Superfoodies
Tel: 08700 113119
E-mail: [email protected]
www.superfoodies.com
Raw food is more widely appreciated than ever before. At the heart of most raw food diets is the most nutritionally dense food on the planet – superfood. 'Superfoodies' is the new superfood brand from Detox Your World, a company that has been bringing top-quality superfood products to market since 2000. 'Superfoodies' has a range of over 100 lines, all of which are raw, vegan and organic. Now packaged in a smart, eye-catching livery, they will look great in your shop-window displays or on your shelves. 'Superfoodies' is the perfect route into this life-enhancing way of eating. Listed with leading wholesalers.
Sprouted & Raw
Sun & Seed Ltd
Tel: 0207 2677799
E-mail: [email protected]
www.sunandseed.com
Sun & Seed Sprouted & Raw New Products Activated with water and germinated into shoots than dehydrated bellow 40C to preserve the raw nutritional value. Soaking and rinsing the seeds with pure water removes the enzyme inhibitors and the seed begins to germinate. Meanwhile, the plant starts to multiply in its nutrient content, growing into a sprout, getting ready to become a tree or full sized plant. This results in a sprouted food packed with vitamins, minerals and proteins. Distributed trough : Marigold Health Foods , Essential Trading Coop, Raw Living
Amazing Grass Wheat Grass
Kinetic Natural Products Distributor
Tel: 08450 725825
E-mail: [email protected]
www.kinetic4health.co.uk
Amazing Grass Wheat Grass Powder contains 100% USDA certified organic, whole leaf wheat grass, one of the most potent leafy greens available. Amazing Grass Organic Wheat Grass powder gives you an antioxi-dant packed boost that alkalizes and energizes with every serving. Just mix with any beverage for a great source of leafy greens, vitamins and minerals. It's vegan, gluten free and raw, is a complete food with en-zymes and all essential amino acids. It's a natural source of antioxidants to help repair damaged cells, wheatgrass also helps increase and sustain energy naturally, detoxifies, balances acidic pH levels and strengthens immunity.
Planet Organic Raw Stoneground Nut Butters
Planet Organic
Tel: 0207 2217171
E-mail: [email protected]
www.planetorganic.com
Introducing 10 totally raw-some nut butters packed with activated nuts, seeds, coconut and super foods. Each of our carefully crafted mixes are slowly stoneground for up to 24 hours using solid granite milling wheels, an ancient process known to produce the richest, smoothest butters whilst preserving nutrients and flavour. Great mixed into smoothies, spread on raw crackers or eaten straight from the jar (we won't tell anyone). Our 100% coconut butter is an excellent vegan replacement for cream in soups, porridge and hot chocolate. RAW. ORGANIC. VEGAN. GLUTEN FREE. Spread the love! Prices: RRP £6.49 – £8.49 Contact: [email protected] Available At: www.planetorganic.com