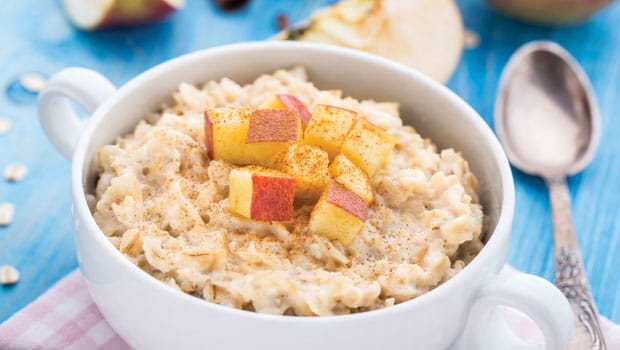 With numerous studies linking missing breakfast to poor health – including obesity, coronary heart disease and high blood sugar – healthier and on-the-go options are on the up
According to Key Note 26% of the population are skipping breakfast due to lack of time, and those who do regularly eat breakfast are increasingly demanding on-the-go breakfast formats.
"Some consumers are time poor and looking for more convenient options," says Richard Jones, marketing manager for Mornflake which has a range of Superfast cereal and Oats2Go pots as well as ready-to-eat Bircher Muesli.
But eating on-the-go isn't for everyone. "More and more consumers are turning to convenience," says Jones, "but the older generation who have more time still prefer the traditional formats and eating at home around the table."
Camilla Barnard, co-founder of Rude Health, believes convenience comes at a price. "The convenience factor is frankly at odds with eating well. I'd question the health of eating on-the-go – I don't think you absorb the nutrients if you're stuffing something down on your way to work. We've got a real issue with the packaging on one hand and also that it often involves a compromise in ingredients. But I think convenience is going to continue be king, despite our best efforts."
The healthy route
By 2018 the UK breakfast market is forecast to be worth around £1.86 billion, according to Key Note, with the hot cereals sector set to more than double in size compared to 2009. The growth in this sector has been driven by the upsurge in popularity of porridge with Mintel reporting that 49% of Britons now eat porridge and 23% of those have a bowl almost daily.
"Health is now a much higher priority," says Jones. "Porridge oats and oatbran are some of the best products to help reduce blood cholesterol. Consumers are watching what they eat and also want something to keep them fuller for longer."
Barnard thinks people are more aware of the value of a well balanced breakfast. "One reason oats are so popular is because people know they've got insoluble and soluble fibre and are high in protein; they're incredibly well balanced."
The recent media focus on the potential health risks of sugar is a key issue affecting the breakfast market and the fact that a lot of regular breakfast cereals contain hidden sugar and salt is driving demand for healthier versions.
"That is what started our business to a degree," says Barnard, "my being shocked at the salt and sugar content of the so-called healthy cereals I was eating. I'll eat salty food, I'll eat sweet food, but I want to know it. I don't want to feel conned."
Charles Redfern, MD at Organico which distributes Ecomil, adds: "People are looking for non-dairy alternatives, but there's also a separate trend of wanting less sugar. An important recent development for us is our no-added sugar range."
Milking it
As demand for dairy-free continues to grow, there are alternatives aplenty to splash on your healthy cereals. With oat, almond, soya, hemp, coconut and quinoa milks, there is no shortage of choice. Redfern has seen almond milk shoot up but warns that there are lots of cheap alternatives which are very low in almond and contain additives because they're not organic. Barnard has also noticed a marked the rise in popularity of almond milk: "Young people are often not touching soya and going for almond." She has also noticed a rise in smoothie breakfasts. "Insta-gram is absolutely full of these. We've seen our almond drink absolutely fly, partly I think because of this trend."
The tea trend
According to Datamonitor's Ghina Romani, the innovative use of ingredients such as green tea in breakfast cereal is set to grow, driven by current market trends in weight loss products using natural ingredients. "I think cereal manufacturers should start thinking about adding those natural extracts that are scientifically known for their good properties, like green tea and garcinia extracts, to cereal products so that it's not only a cereal with high fibre that keeps consumers fuller for longer, for example, but also has added natural health benefits," he told Bakeryandsnacks.com. Mintel notes that although breakfast cereals using green tea are still a very niche sector, there was a 63% increase in new product launches between 2009 and 2013.
Food Focus Listings
Alara Into The Garden Organic Goji & Yacon Muesli
Alara Wholefoods Ltd.
Tel: +44 (0)207 2559 7227
E-mail: [email protected]
www.alara.co.uk
The Alara Into The Garden Organic Goji & Yacon Muesli is BACK! Previously a best seller, but taken off shelf due to Yacon being added to the 'Novel Food' list. Yacon is the new low GI and prebiotic superfood of choice for making your food sweeter. A high energy and high fibre mix, ancient Kamut flakes, rye flakes and oats are blended with apricots and superfoods Yacon flakes and antioxidant-rich Goji berries. (This product replaces ITG Goji & Pineapple Muesli.) Available in 600g box, RSP £4.99. Order from your health food wholesaler.
Equal Exchange Organic Fairly Traded Tea
Equal Exchange 
Tel: 0131 5545912
E-mail: [email protected]
www.equalexchange.co.uk
Equal Exchange has been making tea for a very long time and we're proud to launch our new range of Fair Trade and Organic teas from our small-holder farmer partners in India and Sri Lanka. At a time when corporations and plantations threaten the integrity of this movement, we are excited to be working to bring consumers and farmers around the world closer together. We have five Organic teas to tickle your taste buds. Whether you're after a sophisticated Darjeeling, early morning English Breakfast, a lively Green, a cool Earl Grey or a Chai to warm you up, there is something for everyone.
Pertwood Farm Organic Yacon Granola
Pertwood Farm Organic Cereals
Tel: +4420725597227
E-mail: [email protected]
www.pertwoodfarm.co.uk
Toasted to crunchy perfection, this is a granola that goes beyond the usual flavours and crispiness. Yacon syrup, a new low GI and prebiotic superfood sweetener, gives the oaty base a unique and moreish malty taste. The complex FOS sugars found in Yacon syrup are not absorbed by the body, making it a healthy alternative. We then add crispy barley flakes, toasted coconut, protein-rich buckwheat and sweet dates to complete the recipe. 100% organic, vegan, wheat-free and using an exclusive oat from Pertwood Farm, Wiltshire. Made in the UK. RSP £4.39 / 350g, available from Queenswood or The Health Store.
Active juice cherry juice
Optima Consumer Health Ltd
Tel: +44 (0)1274 526360
E-mail: [email protected]
www.optimah.com
ActiveJuice for Joints +PLUS combines sour cherry juice, a natural source of antioxidants, with Glucosamine, Chondroitin, OptiMSM & Vitamin C to provide a refreshing way to maintain normal function of cartilage in joints, bone, skin, teeth and blood vessels. Chondroitin works well in combination with Glucosamine; it is a glycosaminoglycan(GAG). GAGs are normal constituents of connective tissue. OptiMSM is a patented form of MSM, certified for quality & consistent purity. MSN contains sulphur; an element essential to life, found in all tissue protein.
Nutiva Coconut Oil
Kinetic Natural Products Distributor
Tel: 08450 725825
E-mail: [email protected]
www.kinetic4health.co.uk
Coconut oil is a sound nutritional addition to any breakfast, and there are so many ways to incorporate this superfood into your morning meal – smoothies, oatmeal, waffles, pancakes and omelettes – the options are vast! Coconut oil is a fabulous source of nourishing fats, and some of the top benefits of eating coconut oil for breakfast are – improved digestion, stabilisation of blood sugar levels, sustained energy levels and endurance, and balancing of hormones from the very start of the day. Nutiva's certified Organic Virgin Coconut Oil, is cold-pressed, unrefined, chemical-free, unfermented, unbleached, undeodorised, unhydrogenated, solvent-free, and is light in taste, with a pleasant aroma, and pure white colour.
Optima Coconut Oil
Optima Consumer Health Ltd
Tel: +44 (0)1274 526360
E-mail: [email protected]
www.optimah.com
Optima 100% certified Organic Raw Virgin Coconut Oil is cold processed and non-GM. We produce from raw fresh coconut flesh and not dried copra. It is a highly nutritious food, a delicious culinary ingredient and is one of the finest cooking oils you can use. Unlike most vegetable oils, it is resistant to the breakdown of fatty acid chains even at higher cooking temperature. Raw Virgin Coconut Oil can be used all over the body as a lusciously nourishing and moisturising beauty treatment.
Honey Sunrise
Tel: 0800 0723658
facebook.com/naturespathuk
www.naturespath.co.uk
NATURE KNOWS BEST The latest addition to Nature's Paths breakfast larder is Honey Sunrise, a moreish, wholegrain crunchy cereal made from corn, rice, quinoa, buckwheat, amaranth and a delicious dollop of honey. Long ago we came to the conclusion that down a free-from aisle where synthetic man-made golden syrup dominates, we wanted to bring a generous splash of all natural flower nectar. Endorsed by Coeliac UK, this sumptuous cereal with all round 'family' appeal comes from good stock as Mesa Sunrise (the UK's No.1 gluten-free cereal) and Maple Sunrise (our fastest growing cereal in 2014) have both established quite a following in the UK.
Ecomil No Added Sugar
Organico Realfoods Limited
Tel: 0118 9238765 / 767
E-mail: [email protected]  [email protected]
Did you know that some non-dairy milks have almost as much sugar in them as coca cola – more in one case! Ecomil is not just pioneer of the almond milk category – using only pure Spanish almonds – but is also ahead in terms of NO SUGAR options. NO SUGAR means just that – no sugar added, not natural, no artificial sweetener. All natural and organic: in almond, almond-calcium and coconut. Available through all healthfood wholesalers. [email protected] Tel: 0118923 8769.
Planet Organic RAW Sprouted Rolled Naked Oats
Tel: 0207 2217171
E-mail: [email protected]
www.planetorganic.com
Q) What's better on a winter's morning than a hearty bowl of warming porridge? A) Porridge made from Planet Organic's raw, organic gluten-free sprouted oats of course.We all know oats are a super healthy breakfast choice but in their dormant form they can be difficult to digest. Which is why Planet Organic sprout them, turning sleepy oats into activated super foods bursting with vitality and easily digested nutrients. Use in place of regular oats in porridge, overnight oat recipes, raw cakes and baking. RAW. ORGANIC. SPROUTED. GLUTEN FREE. Prices: RRP £3.99 (300g), £5.99 (600g)
Amisa Gluten Free Breakfast Range
Windmill Organics
Tel: 0208 547 2775
E-mail: [email protected]
Discover the full range of delicious Amisa gluten free breakfast cereals: From creamy wholesome porridge oats to crispy rice flakes & nutty granola, there's bound to be something for everyone to enjoy. These breakfast cereals are a healthy way to kick-start the day and will keep you going until lunch time! All Amisa gluten free products are batch tested using the ELISA method to guarantee gluten free status. Our products combine peace of mind with pure pleasure. For more information on the full range, please visit us at www.amisa.co.uk.
Rude Health Bircher Muesli – Soft & Fruity
Rude Health
Tel: 0207 731 3740
E-mail: [email protected]
www.rudehealth.com
Original Swiss muesli, invented by Dr Bircher, was made the night before to let the flavours all flow together into a smooth, comforting breakfast. We've milled these oats extra fine, so they go soft and creamy immediately. It's as if you've made muesli the old Swiss way, without the wait. There's no added sugar, and the fruit's chopped really small, so the natural sweetness spreads through the milk, making a kind of fruity porridge.
Beond Organic Bars
Pulsin' Limited
Tel: 01452 729000
E-mail: [email protected]
www.pulsin.co.uk
Produced in Pulsin's Gloucestershire factory Beond bars are packed full of natural ingredients and ORGANIC goodness. They are VEGAN, RAW, GLUTEN FREE, DAIRY FREE AND SOYA FREE and are perfect for special diets including no added sugar. We now have a new addition to the award winning range with the Baobab and Pineapple bar. Available in a 35g or 15g serving they are low GI, guilt free treats to enjoy at anytime of the day. The bite size bars at less than 60 calories each are ideal for Kid's lunch boxes or a little boost between meals and have an amazing taste delivery.