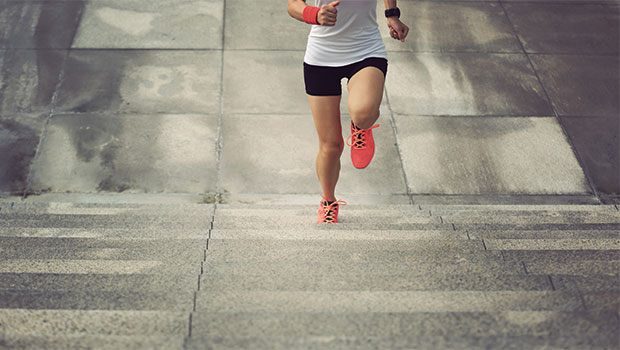 The supplements fuelling the UK's fastest runners are changing. Paul Halford jumps into the sports nutrition scene to see how natural products are helping to shave seconds off marathon times, and how the retail landscape is shifting
When the men's world marathon record was broken earlier this autumn by Eliud Kipchoge, the focus of attention fell on a revolutionary, game-changing brand of sports drink and gel composed entirely of natural products.
Maurten, produced by the Swedish start-up of the same name, has been massively credited for a giant leap forward in marathon running. The winners of the last 14 major marathons have used it, while Kipchoge's record, by more than a minute, of 2:01:39 in Berlin in September has been hailed as one of the greatest performances of all time.
While Maurten is unlikely to reach health food stores anytime soon, it is an example of the genre of clean-ingredient products that are, increasingly, highly sought after by those with active lifestyles. Disappearing are the shelves upon shelves of bodybuilding powders – today's health food shops are being taken over by plant-based or other natural products which are being used in connection with sport and exercise, perhaps more than many retailers realize.
A report from Euromonitor International published this year highlighted that sports nutrition is the fastest growing category within consumer health, increasing worldwide from US$7.3 billion in 2011 to US$11.9 billion in 2016, and is expected to rise by 7.9% per annum over the five years up to 2021. 
Despite this, repeated claims are heard from retailers that they don't do much in the way of sports nutrition anymore. While it is true that many shoppers are instead going online or to specialist stores for the traditional big sellers, the sports nutrition market is evolving, and retailers need to be aware of this to avoid losing potential revenue.
Gary Trickett, managing director at Healthy Route – which has branches in Leicester  and Nottingham – and chairman of the National Association of Health Stores (NAHS), is one retailer who is well clued-up on the changing scene. Admitting his company has lost £1,000-£2,000 per week in sales of protein powders over the past three to five years, he adds that Healthy Route has needed to become 'more sophisticated' in its approach to this sector.
"Our sales of beetroot juice over the last four or five years have gone up dramatically," he says, before stressing the need to be informed about how what's on the shelves relates to exercise. "We're also utilizing things like rhodiola and ginseng. We look at overall multivitamins to keep generally healthy." Trickett also recommends taking magnesium to help muscles relax afterwards, and l-glutamine 'to stop the build-up of chronic post-exercise pain'.
"We can't compete on the protein powders now, but what we can do is sell more sophisticated products to ensure that those consumers have to come back to us as they're not going to get the high quality products that we're selling from Boots or Asda."
Also noticing the changing face of the market is Martin Watson of Energetic Health in Cobham, who says: "Sports nutrition as we remember it – which was weight-gainers, creatine and whey protein – is all sold online at slashed prices. And what I'm seeing in the health food trade now is more pea protein, in particular, which is being purchased in our store. And it's more so women than men. They'll do their protein shakes before pilates and things like that."
Further, John Carey, director at Active Edge Nutrition, highlights the broadening base of the market, even though he says some consumers may not, for example, view their pre-parkrun beetroot juice as being 'sports nutrition'.
"It's not that the sports market has gone away; it's that the sports market has gone mainstream," says Carey, whose company's range includes fruit and vegetable concentrates. "Everyday people are exercising more and becoming much more aware of what they need in their diet to make them feel good and perform well."
Many of the lines health food shops are currently stocking could perhaps be marketed more effectively at sports and specific exercise types. A few examples of products which aid performance or recovery include:
Beetroot juice
One product that has been recognized for many years for its endurance-boosting capabilities is beetroot juice. A study published in the Journal of Applied Physiology revealed runners improved their 5km times by 1.5% on average by taking a shot before the race, thanks to its nitric oxide-stimulating powers, and it is now widely used by endurance athletes.
Cherries
A more recent arrival to the food cupboards of competitive sports people, cherry juice has been credited with improving exercise recovery time, plus reducing upper respiratory tract symptoms after a marathon when the body is particularly susceptible.
Beta-alanine
This amino acid has long been a favourite among cyclists. A 2016 paper published by the Natural Health Research Institute reported a 10.3% increase in power output among trained cyclists who had undergone four weeks of supplementation with beta-alanine.
Garlic
Though less well supported by the weight of evidence compared to the aforementioned, garlic has been scientifically shown to improve VO2 max – the measurement of the maximum amount of oxygen it's possible to utilize during intense physical exercise. The good news for consumers, and therefore health food shops too, is that garlic also works in odourless capsule form.
Plankton
Plankton from the ocean floor is now being harvested to aid hydration and boost recovery. A 100% natural product from Totum Sport – containing 78 naturally occurring electrolytes – is being used by sports professionals including Rafael Nadal and Jermain Defoe.
Caffeine
The endurance-boosting power of our favourite stimulant is no secret, and it's no longer just students who are buying caffeine pills to stay awake after late-night study sessions. Many studies have advised taking around 5mg of caffeine per kilogram of bodyweight in order to knock chunks off your marathon or cycling trial time. The advantage of pill form is, of course, not having to carry around a litre or more of coffee in your stomach as you compete.
Active individuals are not only endeavouring to improve performance and recovery time, though. As all health food shop owners will suspect, the switch to cleaner ingredients, particularly derived from plants, is evident in this field.
Carey adds: "The biggest thing is that people are more conscious about what they are putting in their bodies and aware of additives and synthetic ingredients. A lot of people are looking for plant-based ingredients to boost their performance."
This is echoed by Peter Antonio, registered nutritionist at University of Birmingham Sport and Fitness. "[Veganism] has already increased massively over the last ten years. The number of vegans in this country has increased tenfold," says Antonio, who has worked in nutrition at all levels, from the general public to elite athletes. 
"There are far more options these days … with many websites listing whether their supplements are suitable for vegans. Food items and products that are suitable for vegans already have exploded over the last five to ten years, and will definitely continue to do so."
The Euromonitor report went so far as to predict that plant-based protein will 'reshape the industry'. It states: "Over 80% of global sports nutrition value sales came from sports protein products in 2016. Within this category, demand for plant-based proteins is growing due to concerns for animal rights, cruelty-free awareness, fear of potential antibiotics pollution in dairy products, rising dairy allergies, and the growing vegan and vegetarian movement, with many industry players already launching (or planning to launch) products to suit these consumer demands."
The sports nutrition market is truly changing. Smart retailers realize that clean ingredients can significantly aid sport and exercise – and you don't need to have a marathon world-record holder as a customer in order to cash in.
Injury support from Helios
Helios Homeopathy Ltd
Tel: 01892 537254
E-mail: [email protected]
www.helios.co.uk
Three homeopathic remedies Arnica, Rhus tox and Ruta grav are combined to form Helios Injury. This combination of remedies has a long history of traditional use for the symptomatic relief of pain associated with joint problems, strains, sprains, bruises and minor injuries and trauma. Helios Injury is one of five award winning combination remedies from Helios covering Sleep, Stress, Hay Fever and ABC for childhood teething, fevers and earache.
TIANA High Strength 100% MCT Energy
TIANA Fair Trade Organics
Tel: 020 8427 1695
E-mail:  [email protected]
www.tiana-coconut.com
The Purest and Most Powerful TIANA 100% MCT Energy supplements extracted from Premium Organic Raw Extra Virgin Coconut Oil to provide remarkable results. TIANA guarantee 100% MCT with all four vital fatty acids to supply a longer energy curve of up to 12 hours as opposed 3 hours with Capric (C8) and Caprylic (C10) Acids. Ideal for sports nutrition. Popular with athletes and bodybuilders to increase energy levels and enhance endurance during high intensity exercise. Flavourless, easy to consume and enjoy energy boost in shakes, coffee, smoothies, dressings and other food and drinks. Perfect for ketogenic, low-carb, paleo and vegan diets.
Pure MCT Oil 100%
Natures Aid Ltd
Tel: 01772 686231
E-mail:  [email protected]
www.naturesaid.co.uk
Natures Aid MCT Oil 100% is produced from premium quality, pure, natural coconut oil.  It is sustainably sourced, GM free and contains 100% medium chain triglycerides.
MCT oils are metabolised more easily by the body than standard coconut oils due to the removal of long chain fatty acids.  They are rapidly absorbed and are thought to provide a useful energy source.
MCT oil is often chosen by advocates of ketogenic diets and can be added to products such as the 'bullet proof coffee'. Unflavoured and odourless, this is the perfect addition to coffee, shakes, dressings and smoothies. Suitable for vegans.
Informed Sports Accredited Range
BioCare® Ltd
Tel: 0121 433 3727 
[email protected]
www.biocare.co.uk
Success in sport depends on many factors, but when everything else is equal, nutrition can make the difference between winning and losing.  
At BioCare we believe that the foundations of nutrition to support great performance are optimal micronutrient intake (vitamins and minerals), ensuring a healthy gut (probiotics), supporting the structure of the body (glucosamine), modulating inflammation (fish oil) and protecting it against damage (antioxidants). 
Some nutrients have undoubted benefits, proven in clinical trials to improve performance and recovery. However, the 'normal balanced diet' may not provide these nutrients in sufficient quantities, and extra demand on the body through training and competing can deplete them even faster.
BioCare have made innovative steps in sports supplementation by gaining Informed-Sport accreditation for five products which truly support the foundations of health – One A Day Vitamins & Minerals, BioAcidophilus Forte, Glucosamine Hydrochloride, Mega EPA and Vitamin C 1000.  These supplements do not necessarily correlate with stereotypical sports supplementation, but this holistic and innovative approach represents the future of sports nutrition.
Purity is one of the most essential considerations when choosing supplements for sport. Each batch is tested for contaminants and WADA banned substances by HFL Sport Sciences, an internationally recognised and accredited laboratory, supported by UK Sport. 
Find out more www.biocare.co.uk
Pulsin Supershakes
Pulsin
Tel: 01452 729000
E-mail:  [email protected]
www.pulsin.co.uk
There's exciting innovation coming from Pulsin HQ with the impending launch of their Supershakes range – optimum blends of the highest quality plant-based protein powders with added superfoods, vitamins and minerals specially selected for their health-boosting benefits. A product for savvy consumers looking for a single nutritional solution, the Supershake range will launch in January as part of Pulsin's sponsorship of the 2019 Veganuary campaign, which has seen over 267,000 people 'try vegan' for January since launching in 2014.  There are three blends in the versatile Supershake range, Energy, Immunity, Vitality, each with their own plethora of benefits that go far beyond a simple protein boost.  They come in a variety of delicious natural flavours and are quick to make, simply add water, shake and enjoy. 
Link Nutrition Food Based Magnesium
Link Nutrition
Tel: 020 7881 0046
E-mail:  [email protected]
www.linknutrition.com
Make the most of your workouts by making recovery a priority. Link Nutrition's Food Based™ Magnesium supplement supports normal protein synthesis, so you can recover better from intense exercise.  It also helps fight tiredness and fatigue, so you can get to your next workout quicker. Because it is Food Based™ it is gentle on the stomach and readily absorbed. Food based™ nutrients are vitamins and minerals just like those found in nature; complete with naturally occurring cofactors. This makes them safe, effective and readily absorbed by the body
Beet It Sport Nitrate 400 Shot
Beet It Sport
Tel: 01473 890 111
E-mail:  [email protected]
www.beet-it.com
The natural nitrate supplement you can trust to deliver 400mg nitrate! The 7cl Beet It Sport concentrated beetroot shot (98% beetroot, 2% lemon) provides this minimum nitrate dose required to enhance endurance. Used worldwide for research into the benefits of nitrate supplementation research, Beet It Sport is the choice of many of the worlds sporting elites such as Eliud Kipchoge, the new Marathon world record holder and David Weir, six-time Paralympic gold medallist .