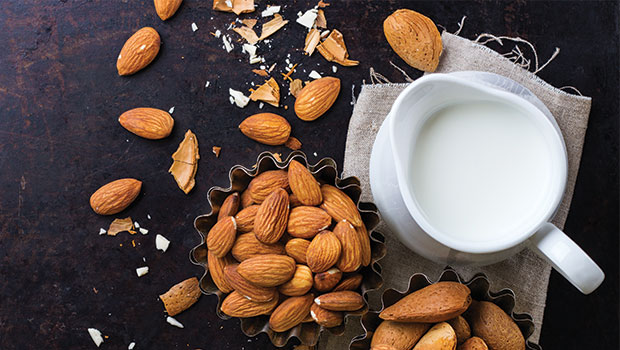 It started with the avocado, then came the kale smoothie. Now, nut butters and nut milks are at the heart of healthy breakfasts across the UK. Hayley Coristine looks at what's fueling the interest, brands to watch and what's next for the most important meal of the day
The growing popularity of nut milks (or 'mylks') and nut butters is hard to ignore. According to Mintel, last year plant-based milk sales in the UK rose by 30% since 2015, accounting for sales of £376 million against a backdrop of falling dairy sales. In the US, sales have increased by 61% over the past five years. 
While nut and other plant-based milks were once aimed at consumers with an intolerance to cow's milk or lactose, a rise in flexitarianism has led to broader interest in dairy alternatives, with younger shoppers especially open to making the switch, citing health, animal welfare and the environmental impact of dairy farming as their motivations.
Ethical credentials
Lucy Buckingham, founder of Hertfordshire-based coconut company Lucy Bee, says shoppers are increasingly switched on when it comes to health: "People are trying to avoid using as much dairy in their lives. It's not just people who are dairy or lactose intolerant, it's a wide range of people trying to have a healthier lifestyle," she says. The brand has a loyal following, and its Organic Coconut Milk has been a firm favourite among shoppers and retailers seeking a dairy alternative with a short list of ingredients and a long list of credentials – in 2018 it was rated Ethical Consumers' No 1 Best Buy for soya and non-dairy milks. 
Buckingham believes that taste and good provenance are aspects shoppers will pay a premium for. After launching in Asda in 2018, Lucy Bee sold out in its first week – which may have come as a bigger surprise to the retailer than to Buckingham. "[She was] at first really hesitant to take it on," says Buckingham of her initial talks with ASDA's buyer. "She just didn't think that people would pay. But in the first week it launched, people were buying four or five [cartons] straight away without even trying it, because people trust us as a brand."
Ethics and health credentials aside, taste also sets this coconut milk – made from 99% coconut cream and coconut water – apart from other milks on the market. "The comments … are that it's like drinking [from] a coconut. It's got that … consistency and thickness," says Buckingham. Shoppers might not usually be tempted to drink milk straight from the carton, but she believes that starting from this point and developing a product without fillers or additives, and where taste is front and centre, has contributed to her brand's success.
Nut butters: a wide appeal
Meanwhile, the market for nut butters has boomed as health-conscious consumers seek breakfast ingredients high in protein and healthy fats. The market is worth nearly £100 million and peanut butter is now on course to become Britain's most popular spread. But the trend isn't limited to peanuts, with a variety of other butters from almond to walnut popping up on plates and in breakfast bowls around the country.
"The market for nut butters has boomed as health-conscious consumers seek breakfast ingredients high in protein and healthy fats"
Nut butters are hardly new, but they are becoming more diverse, especially at the upper end of the market. The premium nut butter category has recently expanded with Meridian's new Rich Roast offering – a peanut butter which claims to have a more intense flavour as a result of blanching nuts and roasting them for longer. Is this move indicative of shoppers becoming connoisseurs of nut butters, in a similar way to interest in premium coffee beans? Darren Robinson, head of sales at Meridian Foods, believes so. "We believe Rich Roast will appeal to all, but it might gather a more loyal following between those with more discerning taste buds who prefer a richer and more intense taste," he says. 
Robinson expects that Rich Roast will appeal to nut butter aficionados, but the incorporation of hi-oleic peanuts (which are higher in monounsaturated fats than standard peanuts) will make it attractive not just to health-conscious millennials but also senior adults seeking more protein in their diet.
On-the-go protein
The soaring popularity of nut milks and butters as breakfast staples is in no small part thanks to their versatility: nut milks aren't just for hot drinks and cereal, but are also favoured in smoothies, overnight oats and porridge, while nut butters now star in smoothies, shakes and breakfast bakes. 
Perhaps for this reason, both have been at the heart of healthy convenience breakfasts. Bonnie Ellis, marketing manager for The Seasons, Forest Row, attributes the 'extraordinary' explosion in these products to increasing health awareness, alongside a rise in the number of shoppers looking for wholesome convenience food – especially at breakfast. 
After The Seasons participated in Wake Up to Organic last year the team realized how excited people were about easy, healthy breakfasts, and this inspired them to create a new on-the-go offering under the banner of Seasons' Kitchen. Ellis says: "When people tried [our breakfasts] at Wake Up to Organic they were like, 'This is what we need!' At the moment we sell a huge amount of croissants and Danish pastries, as people are wanting food on the go. So giving them the opportunity to have a healthy breakfast pot will be a real winner." 
Included in the Seasons' Kitchen offer will be breakfast pots, smoothies and chia seed puddings charged with hazelnut butter and almond or rice milk.
Ellis points to frequent taster days and events as an opportunity to introduce more people to new ways to use products, which has in turn helped fuel sales. "People who had never tried chia seed pudding are still coming into the shop and going 'If you hadn't done Wake Up to Organic I would never be eating chia seed pudding for breakfast' because it's such an easy thing [to make]."
Taste is paramount
Natural nut butter superstar Pip & Nut has also found a niche in the on-the-go breakfast market with its squeeze packs. Developed as a natural alternative to energy gels, the packs have found a natural home in the handbags and lunch boxes of busy breakfasters. "Many of our shoppers are active in the mornings and so breakfast needs to fuel their workouts," says founder Pippa Murray. "This is where nut butter squeeze packs are ideal: naturally delicious, convenient portions, high protein content and a low-sugar energy source."
The interest in nut milks and butters looks like it's here to stay. Whether new products are developed with a premium market in mind or to address trends, Murray's parting advice for creating an on-the-go product with staying power is not to compromise on taste: "Snacking and on-the-go is still a treat-led purchase and taste should remain a priority."
Alara Active Life Organic Gluten Free Muesli
Alara Wholefoods Ltd.
Tel: 0207 387 9303
E-mail:  [email protected]
www.alara.co.uk
Alara's Active Life Muesli is perfectly balanced for modern living and formulated to meet the nutritional requirements of people with busy, active lifestyles. Everything about Alara's all organic gluten-free muesli is different. It is light to eat with puffed amaranth and quinoa, and packed with high protein buckwheat, sunflower seeds, pumpkin seeds, linseeds and nuts. Active Life Muesli is sweetened only with apple (no other dried fruit), making it low in natural sugars. With 53% of seeds, nuts and apple this tasty, nutrient dense muesli makes a wholesome and healthy breakfast to start your day right.
Lucy Bee Organic Fair Trade Coconut Milk
Lucy Bee
Tel: 01992 747900
E-mail:  [email protected]
www.shop.lucybee.com
Lucy Bee Coconut Milk is 99.9% coconut and this is exactly what makes it stand out against other milks on the current UK market. The majority of plant based milks contain plain water in their top 2 ingredients and also a lot contain fillers such as rice. Lucy Bee Coconut Milk has a deliciously delicate coconut flavour, with a velvety smooth texture, much like dairy milk. Our Coconut Milk is organic, Fair Trade and the UK's #1 Best Buy for non-dairy milk, as voted by the leading ethical magazine, Ethical Consumer.  Have you checked YOUR ingredients? 
Essential Organic Muesli
Essential Cacao Nibs
Tel: 0117 943 0800
E-mail:  [email protected]
www.essential-trading.coop
An eclectic range of organic mueslis to leave you spoilt for choice in the mornings! Created with principles of nutrition and deliciousness, each Essential Muesli is packed with select natural ingredients, and mixed in-house at our worker's cooperative. Feeling fruity? Choose from Berry Crunch, Apple and Cinnamon, Date & Apricot. Containing cereals, nuts, seeds and fruits.  For a simple yet satisfying bowlful – try the long-standing Classic, Deluxe, or Supreme recipes. All made with your health and your morning in mind. 
OatWell Crispy Hearts Heart Healthy Cereal
Anyone 4 Tea
Tel: 01428 609922
E-mail: [email protected]
www.anyone4tea.com
Have you tried OatWell Crispy Hearts? Heart-healthy cereal proven to reduce cholesterol. One sachet provides the full 3g of oat beta-glucan needed daily to lower cholesterol, equivalent to 3 bowls of porridge! Try with milk or dairy alternative, yoghurt or fruit. Also great as a snack. Vegan-friendly. RSP £7.99 for 7-day supply. Also available: OatWell Original Powder – simply sprinkle into porridge or cereal. For a FREE sample of OatWell Crispy Hearts (1 x 30g sachet), send us an email with 'FREE SAMPLE' in the subject line, your name & address and we'll pop one in the post.
That Protein – Plant-Based Super Proteins
Wholesale Health Ltd
Tel: 01606 889905
E-mail: [email protected]
www.wholesalehealthltd.co.uk
These unique plant-based protein powders from That Protein combine high-quality plant proteins with delicious super-foods to create a plant-based Super Protein that can be used in cooking or added to mylk to produce luxuriously creamy, high protein shakes and smoothies. Their impressive range of dairy-free super proteins boasts 5 heavenly flavours, including Chirpy Chirpy Choca Mocha, I Heart Pumpkin & Chia Seed, Blissful Brown Rice & Raw Cacoa, Happy Happy Hemp & Baobab and Nourish Awards 2018/19 Winner of Best Protein & Sports Nutrition Products – Nutty Nutty Peanut Butter. 
Bonsan Organic Breakfast Scramble
Bonsan
Tel: 0208 547 2775
E-mail:  [email protected]
www.bonsan.co.uk
Make mornings more delicious with Bonsan Vegan Breakfast Scramble. Made from tofu and a subtle blend of spices, this vegan egg replacement is gluten free and high in protein making it a guaranteed winner served alongside freshly toasted sourdough and crushed avocado.