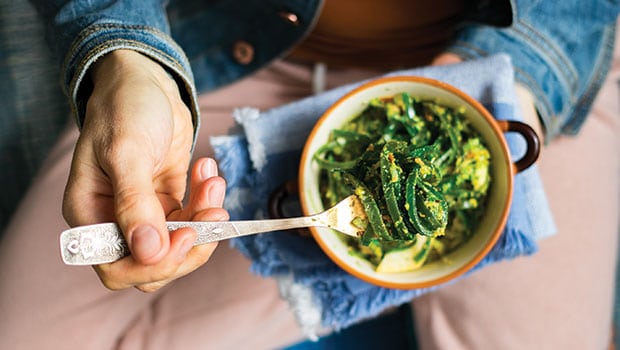 Whether you believe the term 'superfood' should exist or not, divided opinion hasn't stopped natural product brands from marketing a raft of products aimed at nourishing foodies with nutrient-dense ingredients. Hayley Coristine casts her net from sea to tree, gathering the industry's current favourites 
Superfoods. At industry level, we debate whether or not they exist. In mainstream press, they are raised to lofty heights, lauded as saviours of our health, while at the same time we hear concerns that some may have negative consequences for the planet or the people who produce them. But one thing is certain: consumers can't get enough of them. Call them super foods or superfoods, two nutrient-packed naturals with a sustainable difference are seaweed and baobab. 
Seafood with a difference 
Eaten in Asia for millennia, seaweed isn't exactly a new kid on the block, but it's hard to ignore its recent ascent to superhero status. In 2016 Mintel hailed it as the next superfood, and consumer interest in algae has led to seaweed popping up in everything from salads to smoothies. So what's the fuss about?
Simon Ranger, founder of Seagreens, explains: "The mineral content of seaweed is unlike [that of] any land food, because all the minerals leach from land to sea – you've got to go to this source to bring those minerals back into circulation."
Nutritional profiles differ depending on the species (there are more than 10,000 varieties), but on the whole seaweeds are an excellent source of the vitamins and minerals vital to human health. These include calcium, copper, iodine and iron, vitamins K and all the Bs, as well as protein, soluble fibre and folic acid. The fact that it's a meat-free source of vitamin B12 and iodine makes seaweed a particular boon for vegans and vegetarians.
Above all, it is versatile. "Seaweed has been brought to us on the back of sushi, but most people don't want to eat it [that way]," says Ranger. It's better, he says, to encourage consumers to eat seaweed in small quantities more frequently as a dried, ground ingredient.
"You can add it into anything – a bouillon, a sauce, vegetables, or in foods like bread. Just putting a little bit in on a daily basis … rather than trying to experiment with really exotic dishes."
Aside from its exceptional nutrient profile, there's also seaweed's sustainability aspect, which can be a compelling story for consumers. The UK has a bountiful supply on its shores, and it is hand-harvested by a few British seaweed brands. "In a single Scottish loch, on one day, we go only a few hundred metres to harvest three tonnes of wet wild seaweed," says Ranger. Farmed seaweed is more complex, but Robert Mock of California-based seaweed brand Ocean's Halo is positive: "It's the most sustainable crop on the planet because it grows in the ocean with sunlight." 
On a seaweed farm, it takes two weeks to go from seed to harvest, effectively making it a carbon negative crop, as the seaweed grows by sequestering carbon from the atmosphere while requiring no irrigation, land to grow on, or – at least in the case of organic seaweed – pesticides or herbicides. 
Bets on baobab
When it comes to superfoods, medicine hunter Chris Kilham reminds us that there may be many more lurking out there, common in other countries but not yet on our radar. "In an ideal world you would want every food to be nutritious, that's the real deal," says Kilham. "I do believe that there are many foods out there that are highly valuable … which are yet to find a place."
One such lesser known food is baobab. Still fairly uncommon in the UK, this African 'super' fruit is nutrient-dense, rich in vitamin C, calcium, potassium and iron. In its native continent the baobab tree is known
as 'the vitamin C tree'. With plenty of soluble and insoluble fibre, baobab is a prebiotic, helps to slow blood sugar release and has high antioxidant levels, with findings suggesting it has double those of the acai berry. And, like seaweed, baobab also has a compelling sustainability story.
Andrew Hunt, co-founder and managing director of London-based health food brand Aduna, was introduced to baobab while working in the Gambia and became interested in its potential to create sustainable
livelihoods for small-scale producers, who are often also communities on the front line of climate change. Aduna now sources baobab from over 850 women in Upper East Ghana – one of the remotest and poorest regions of Africa – and employs a further 250 women in its processing centre. 
"It's kind of like a miracle because it produces this fruit in the middle of the dry season, when you can't see any other green shoots for miles around," says Hunt. "In the past [baobab hasn't] had any commercial value to communities because there was no market for it – it was just rotting on the trees. But now, bang in the middle of the dry season, they have got this entirely new additional stream of income. In some cases the household income has been multiplied by ten times. This is not a Fairtrade premium, nor a small incremental improvement in people's lives. This is transformation."
Retail therapy
Aside from the positive social impact, how can retailers help get consumers excited about baobab? "Coughs and colds have been going around, and unfortunately they will do for the next six months or so," says Hunt. "This is the time of year when people are coming into stores looking for vitamin C, and seeking healthy preventatives, so it's a good time of year to be recommending it to people to add into their breakfasts or smoothies."
Meanwhile, the case for seaweed may be even stronger. Ranger believes that the industry needs to make the names of seaweed species more meaningful to retailers and consumers.
"The crazy thing is that people are more familiar with names like nori and wakame than they are with the equivalent seaweeds in our native language! They don't know what to ask for
or which are the most nutritious species. One important thing is for consumers to become more familiar with the names of these British and Nordic seaweeds." 
Nori, for example, is the Japanese name for a subspecies of red algae commonly sold in dried sheet form for rolling sushi. Here in the UK, it's nearest match is laver, the key ingredient of traditional Welsh laverbread.
Mock advises that retailers who start exploring the seaweed trend today will be ahead of the curve. While he hasn't seen much resistance to trying seaweed at the consumer level, convincing traditional retailers to give it a try has been another matter. "What's really funny is that we've gone into so many meetings where the grocery store buyer, the category manager, doesn't even realize that they have nori [on shelf already]; they've got it in their 'ethnic aisle'."
Mock's advice for the independent retailer? "These products work very well, they have velocity, they have great consumer acceptance. A lot of times you think it's a niche … but what we've found is that they do really well and they don't deserve to be tucked away. Wherever we've tried, we've succeeded, and so I think that's really encouraging for some of the smaller chains that are wary or uncertain that it's going to be a great item."
Of the Earth Superfoods Organic Hot Chocolate Maca
Of the Earth Superfoods
Tel: 020 7387 9303
E-mail:  [email protected]
www.otesuperfoods.com
Of The Earth Superfoods' Organic Hot Chocolate Maca makes the perfect warming drink for those chillier winter evenings. The mixture of Peruvian cacao powder, banana flakes, lucuma and maca (known as the fountain of youth in its indigenous Peru) makes a deliciously rich, smooth, and creamy hot drink. OTE Superfoods Hot Chocolate Maca is loaded with essential minerals, flavonoids and antioxidants, particularly iron, potassium, Vitamin B6, and zinc. Simply stir 1-2 tablespoons into a mug of warm milk of choice for a deliciously indulgent hot chocolate with no added sugar. £5.99 for 180g
Clearspring NEW Organic Seaveg Crispies
Clearspring Ltd
Tel:  020 8749 1781
E-mail: [email protected]
www.clearspring.co.uk
Introducing Clearspring NEW Organic Seaveg Crispies Flavours! These light, thin and crispy toasted nori sea vegetable snacks are now available in zingy Ginger and aromatic Turmeric flavours. Made with just four simple ingredients: nori grown in the clear waters off the coast of Korea, unrefined sea salt and organic sunflower and organic turmeric or ginger. Adding to the ever-popular and moreish Original + Chilli Seaveg Crispies, Baked for just a few seconds to produce this tasty, convenient and nutritious snack. Delicious on its own, with sushi or sprinkled over salads.  • Gluten free • High in fibre • High in Vitamin B12* • Vegan • No additives 
• No preservatives • No MSG
Ethical Superfood Blends – save time and money.
One Earth Organics
Tel: 07460 123456
E-mail:  [email protected]
www.oneearthorganics.co.uk
Carefully formulated by a team of experts with more than 30 years in the organic industry, One Earth Organics Superfood Blends have some of the highest  nutritional content in the world. Our Green Goodness won Finalist for Best New Food Product at Natural & Organic Products Europe. Just 1 teaspoon of Green Goodness provides over 44% vitamin A, 34% Vitamin D, 15% Manganese and its high in calcium, magnesium, protein and Omega 3. Rejuvenate Your Soul is a natural energy booster with maca and baobab. Coco Gogo makes a nourishing matcha-cacao beetroot latte. All of our blends have been sourced ethically and this year we are set to move to compostable packaging. 
OM Mushroom Powder,
 

Lion's mane

Kinetic Natural Products Distributor
Tel: 08450 725 825
E-mail:  [email protected]
www.kinetic4health.co.uk  

Formulated by an expert mycologist with over 30 years of experience, Organic Mushrooms powders are the leading producers of pure, fresh, certified organic medicinal mushrooms. While the quality is exceptional, they also produce holistic blends instead of extracts by using both the mycelial biomass and the fruiting body of mushrooms. OM Lion's Mane is a non-GMO mushroom, fermented on a bed of gluten-free organic oats offering an array of nutrients and well known for its action on cognitive health. For more information or to order visit www.kinetic4health.co.uk , email [email protected]  or call 08450 725 825.
Uberfood™
Bestcare
Tel:  01342 410303
E-mail: [email protected]
www.bestcare-uk.com
Bestcare is proud to introduce organic Uberfood™ as part of our MicrOrganics® range. This unique superfood mix can be used by all age groups and lifestyles to boost their nutrient intake. No single vitamin or mineral works alone in the body, that's why we felt it important to create a product to provide a broad nutrient profile in a highly absorbable form. Uberfood is packed with 11 of nature's finest superfoods, Spirulina; Wheatgrass; Barley Grass; Chlorella; Seagreens Fucus; Whole Apple Powder; Lucuma; Turmeric; Blueberry; Goji berry and Acai berry, all of which are 100% organic. For more information visit: www.bestcare-uk.com. 
Pukka Organic Turmeric Gold Latte
Pukka Herbs
Tel: 0117 964 0944
E-mail:  [email protected]
www.pukkaherbs.com
Pukka Organic Turmeric Gold Latte is a protective, aromatic, antioxidant-fuelled and caffeine-free blend with organic turmeric, saffron and ginger. Expertly blended using medicinal-grade herbs and spices, with no added sugar or artificial sweeteners. Turmeric is a super-spice, renowned for its powerful anti-oxidant and anti-inflammatory qualities that naturally nourish and support both brain and body at all stages of life. Ginger is warming, reinvigorating and rich in essential oils, helping the absorption of turmeric and aiding digestion. Cinnamon is a naturally sweet and warming spice, helping to balance blood sugar levels and curb sweet cravings. A supportive spicy blend, bringing you all the botanical benefits of turmeric. 
Seagreens® Food Capsules & Food Granules
Seagreens Ltd
Tel: 01444 400 403
E-mail:  [email protected]
www.seagreens.co.uk
20 years in daily use, restoring dietary micronutrient balance, this classic whole blend of primordial seaweed has many applications in nutrition therapy. Capsules (Granules in smoothies) provide a remarkable spectrum of microvitamins and minerals not available from land foods, with protein, amino acids, enzymes, unusual antioxidant and polyphenol levels, and polysaccharides with a high ratio of soluble fibre. Seagreens® leads research on our native seaweeds in obesity, weight regulation, diabetes, digestion, thyroid iodine, and balancing dietary salt. 10 years' independent compositonal data ensures you know what you're eating – certified to NFS and Organic standards. Email for nutrition and product information.
Ananda SuperFoods Organic Ayurvedic Nutritional Bars
Living Ayurveda Products Ltd
Tel: 0800 254 5077
E-mail: [email protected]
www.anandasuperfoods.co.uk
The UK's first organic nutritional bars containing Ayurvedic SuperFood powders. Part of a range of products that all include one of the three Ananda (Sanskrit for bliss) SuperFood powders: Vata, Pitta or Kapha. The best seller is Vata with cinnamon and almond, then Pitta with fennel & coconut and Kapha with ginger & lemon. Developed in collaboration with a leading Ayurvedic practitioner, the key to health is balance for your predominant mind-body type. Free in-store sampling available. 45g retail price £1.99 each with display box of 18 bars.