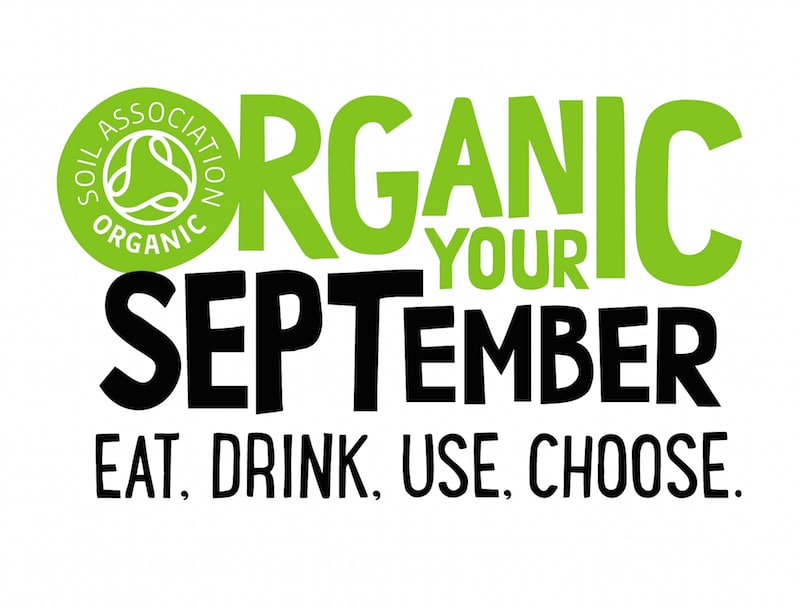 The Soil Association's month-long Organic September campaign presents retailers, wholesalers and organic businesses with an ideal opportunity to spread awareness of organic as well as increase sales and gain new customers.
Figures from Nielsen released in October last year showed that sales of organic food and drink through UK supermarkets were in excess of £100 million in September 2014, equivalent to a 3.6% growth as a result of the Organic September campaign.
As part of this year's Organic Your September campaign an interactive Organic30 list aims to encourage consumers to make small changes – from swapping to organic milk for a month to planning an organic wine and cheese evening with friends. The Organic30 list will show how these small changes all amount to a big difference for our environment – making it clear that organic farming supports wildlife, the environment and animal welfare. An easy to follow calendar will be available from the Soil Association website to keep track of each small change.
The Soil Association is dividing the campaign up into themes, with week one encompassing all things organic to drive general interest in the sector and week two focusing on fresh produce, with a harvest theme to draw in farming and seasonality. Week three incorporates Organic Beauty Week; week four concentrates on store-cupboard essentials; and week five is all about dairy.
"This year, with a new design, exciting logo and interactive digital campaign, Organic September will be even more successful"
These themes will be reinforced by the Soil Association's social media campaign – which last year reached over six million people – emphasizing various messages about the benefits of organic food and farming. For example, one message explains that if 20 families switched to organic milk, another cow would be free to range on clover-rich organic pastures; if two families switched to organic bacon, one more pig would keep its curly tail and stay with its mother for much longer; and if one family switched to organic eggs, a hen would have access to grassland and not be at risk of painful beak trimming.
"Organic September is making a real difference to organic sales, and it's great that all the organic industry comes together to support this," said Clare McDermott, business development director at the Soil Association. "Last year we saw an uplift in organic sales of 4% just in September. This year, with a brand new design, exciting logo and interactive digital campaign, Organic September will be even more successful, making sure buying and using organic is front of mind for consumers. We want to make sure all organic food and farming are featured, and have built in a weekly category focus to encourage consumers to make a small change so that it's easier for them to use and choose organic products each day."
Make the most of the month
Organic September will see a raft of activities organized by retailers, farmers, producers, distributors and wholesalers, including talks, brand discounts, special deals, tastings, debates, bake-offs, competitions and more. And it couldn't be easier to get involved.
To help share the organic message the Soil Association is providing free Organic September marketing materials, logos to use on products and advice for independent retailers.
Everyone in the industry is invited to get involved; from putting the Organic September logo on product packaging, displaying posters, talking to customers, running special offers or engaging in the Organic September social media activity. All areas of the industry can engage, and the Soil Association is tying everything together with a new digital hub designed for communication between consumers, retailers and producers to help share real stories about how organic really can make a difference.
Big up your offer
If you could do with a bit of help to promote your organic offer, not just during Organic September but throughout the rest of the year too, the Soil Association has created an independent retailer tool-kit with resources including open/closed door signs, shelf wobblers and digital banners. It also offers a free organic visual merchandising guide with clear instructions on displaying products effectively and how to communicate the selling points through displays. All of these are available via the Soil Association website.
Organic Beauty Week
The Soil Association's Organic Beauty Week, which takes place within Organic September, will run from 14-21 September in 2015.
The week will be themed around the Soil Association's recently launched Campaign for Clarity initiative which calls upon the beauty industry to clean up its act, promote organic certification and show the industry that "greenwashing just won't wash".
The organization will be teaming up with retailers, high profile ambassadors and key press to highlight the importance of trust, confidence, clarity and transparency when buying organic beauty products. Retailers will also have the chance to host their own Organic Beauty Week events and promotions.
Organic Beauty Week will be driven by a combination of POS promotions and offers, digital content, online offers and a targeted social media campaign that will educate and motivate consumers to buy organic beauty by providing them with small changes they can make and information on how to do this.
The Soil Association will be sharing a digital tool kit with the key messages, suggested tweets and all the campaign assets to ensure the message is amplified consistently.
This will be underpinned by a targeted media campaign designed to reach a wider consumer base and raise awareness of organic beauty.
This year's event will see Organic Beauty Week ambassadors, the celebrity cooks and authors the Hemsley sisters (Jasmine and Melissa), create recipes and ideas that link organic food with organic beauty and wellbeing.
The many organic beauty brands that will be involved in Organic Beauty Week include Neal's Yard Remedies, Pai Skincare, Skin and Tonic, Natracare, Spiezia Organics, SKN-RG and Therapi.
To find out more about how to get involved in Organic Beauty Week, visit the Soil Association website or email [email protected]
Get inspired!
To get you in the mood for this year's Organic September, NPN took a look at what retailers and producers got up to last year.
The Organic Farm shop in Cirencester held a prize draw for a box of farm veggies, eggs, honey and jam which was won by regular customer Corinna Mazzotta (pictured); it also made one dish of the day entirely with ingredients produced on the farm for a week.
Riverford Organic Farms held a competition to win one of four organic and sustainable starter packs comprising a month's worth of organic food from Riverford, £50 to spend on organic clothing from Frugi and the same at People Tree, and sustainable cleaning products from Ecover. Entrants were required to take a pledge to add just one organic item to their weekly shop in order to be placed into a prize draw.
The Better Food Company in Bristol had a taster day at both stores, inviting local producers in to meet customers, and also held a talk called Dirty Business with Garth Clark, MD of Yeo Valley, Andy Dibbon from The Community Farm, and Soil Association trade relations manager Lee Holdstock. Hosted by the retailer's founder Phil Haughton, the event took the form of an informal conversation between the speakers about their organic story and how each of them, from various backgrounds (farmer, social pioneer, conservationist), had arrived at the same place. The talk was followed by a round of Q&As.
In previous years, The Better Food Company's events for Organic September have included a farm tour. "We took a big tour bus around to visit some of our local suppliers," says the retailer's Laura Elliott.
"It was great to be able to help our customers engage and understand where their food comes from and that it really is genuinely local when we say we work with local people."
Planet Organic in Westbourne Grove also employed the expertise of Lee Holdstock during Organic September and hosted his well-attended talk – Can Organic  Save the World? – in which he walked the audience through the benefits of organic food and farming.