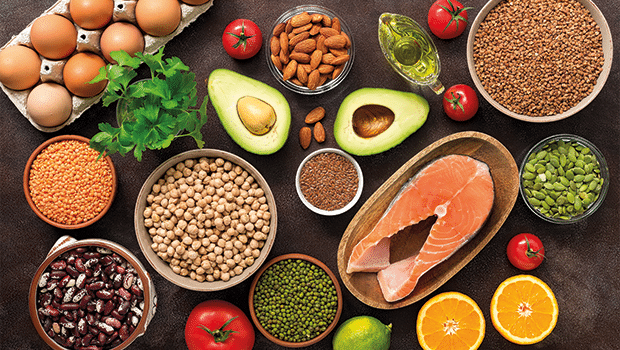 From canned vitamin drinks with hints of Cabernet Sauvignon stocked in hotel minibars to the convenience of pocket-sized oral sprays, Rosie Greenaway lifts the lid on the supplements market and discovers that it's not all pill-popping when it comes to keeping deficiency at bay
Deficiency: a state of not having, or not having enough of, something that is needed, according to the Cambridge Dictionary. We've probably all been deficient in something at some point in our lives. Most commonly, reports Healthspan, deficiencies occur around seven nutrients: iron, calcium, vitamin D, folic acid, iodine, magnesium and omega-3 – plus fibre, which the company says is only consumed in adequate quantities by one in nine UK adults. US website Healthline.com adds vitamins A and B12 to that list.
Dietary depletion
According to nutritionist Suzie Sawyer, nutritional gaps can occur as a result of popular dietary trends. Speaking at an event by Alive!, Sawyer said 'diets all have their merits' but come with the potential for nutrient depletion. "The vegan diet contains no animal produce … no vitamin B12, essential for the production of healthy red blood cells, synthesis of DNA and for a healthy nervous system. The keto diet … lacks a key macronutrient: carbohydrates. We're missing out on … fruits, vegetables and wholegrains, which also means there's the potential for lack of antioxidants. Intermittent fasting is very popular. But where there is calorie restriction there's also the potential for nutrient depletion, and in this particular case often a lack of … zinc and selenium. The paleo diet … doesn't contain any dairy, so there's a potential for a lack of iodine and calcium. The flexitarian diet is … fine but what tends to happen is that people will utilize fish replacements, which are healthy but contain no essential fats. We know from national diet and nutrition surveys they're very much depleted in UK diets.
"Dietary eating patterns have changed dramatically over the last 50 years. Unhealthy eating patterns are actually outpacing healthy eating patterns, which is leading to chronic obesity and illness. Unfortunately, the outcome of all this is nutrient depletion."
Rob Hobson, head of nutrition, Healthspan, adds: "Low intakes are mostly seen in the minerals more than the vitamins. Iron is a biggie for women, with 27% showing low intakes, as is selenium (36%), iodine (12%) and potassium (17%). Teenage girls have always been a concern as they exhibit a lot of low intakes of many micronutrients."
Silent creepers
"My heart sinks every time I hear the classic mantra … that you can get 'all the nutrition you need from a healthy diet'," says Mike Wakeman, clinical nutritionist, Vitmedics. "Every edition of the National Nutrition and Dietary Survey highlights the fact that so many groups are deficient in one or more micronutrients, so clearly people aren't eating this enigmatic 'healthy diet' despite many educational initiatives."
But Wakeman points out that not every vegan will be B12 deficient just because they eliminate animal products; a person correctly following a specific diet 'can have a healthier micronutrient intake' than someone not following one, providing proper research is carried out and the diet is not 'simply picked up on the whim of some social media influencer'.
Wakeman believes the worst deficiencies are 'the ones you don't know about, that have crept up as a result of a chronic low intake'. He says the UK is 'particularly poor' at assessing micronutrient status; gaps 'can remain undetected for years', coming to light only once 'disease state' presents itself. "My main concern relates to the elderly, whose diet is often lacking, who are frequently taking multiple medications which can significantly and detrimentally impact upon micronutrient status over many years if not properly corrected." 
Improved early years schooling could help prevent such a situation: "[An] initiative to encourage young people to engage in the pleasure of preparing food and understanding the nutritive benefits of healthy, home-made meals is to be welcomed. What child doesn't enjoy cooking, so bring it on aplenty! And remember, if you want to be able to consume a healthy diet from cradle to grave, keep your teeth!" 
Soil to oil
Once thought of as a weed, the potent ahiflower is now powering the plant-based VMS market and providing vegans with a balanced source of fatty acids – all fish-free of course. Each bloom produces up to four seeds which are pressed into an omega-rich oil. 
"Nutritional supplementation can only be effective in the long term if we recognize the nutrients we are suboptimally receiving and understand our baseline levels" 
In Wiley's Finest's vegan CatchFree supplements, British-grown ahiflower seed oil is blended with Algarithm DHA derived from marine algae. The full-spectrum omega-3 comes in liquid and softgel capsules, offering a daily dose of omega-3 plus MenaQ7 vitamin K2 and Vitashine vitamin D from plant-based sources. The liquid option, with its tropical mango flavour, can be mixed into desserts and smoothies or drizzled over salads. "Studies show most of the UK population, and especially vegans, vegetarians and flexitarians, are commonly deficient in omega-3s," says the brand. 
Also delivering a powerhouse of omegas is Natural Traditions' Ahiflower Oil Omega 3-6-9. The brand highlights that although chia, flax, sacha inchi and hemp seed oils are valid sources of plant-based omega-3, they 'do not offer optimal conversion to EPA'. Ahiflower oil, on the other hand, is 'the richest source of stearidonic acid which converts more efficiently to the omega-3 fatty acid EPA that is found in fish oil'.  
Fuel gauge
Knowing whether you're getting enough of something into your system on a regular basis once involved specialized testing, but thanks to a raft of home-test kits it's now easy for consumers to keep an eye on their levels. Wiley's Finest offers the Omega-3 Index Test – a finger-prick test by OmegaQuant which measures the amount of EPA and DHA in red blood cell membranes. Samples are sent in pre-paid envelopes to a lab and the results are emailed to the user within two weeks, including personalized actionable information based on the results. 
OmegaQuant recommends thinking of nutrients as fuel, the body as a fuel tank and the test as the fuel gauge. "The Omega-3 Index will indicate if you are 'full' or closer to 'empty'. Most people worldwide, not surprisingly, are closer to 'empty' when it comes to omega-3s." 
BetterYou has the B12, iron and vitamin D market covered with its own Test Kits. They too require a finger-prick blood sample; lab specialists carry out the analysis and return the results within four working days. BetterYou then gives the customer a personalized supplementation plan, advice on how to 'elevate or maintain levels of the relevant nutrient' and a complimentary oral spray. Anyone found to be seriously deficient can retest for free. 
Front-runners
BetterYou's founder, Andrew Thomas, pinpoints B12 and iron as the 'front-runners of declining nutrients', the iron content of major foods having declined by 36% since the 1940s. Perhaps for this reason, until recently GPs focused on iron as a contributor to anaemia, with vitamin B12 rarely considered. "But this is starting to change," he says. "The problem is … the symptoms of B12 deficiency are quite insidious and take a while to manifest in any way that someone would seek advice. By this time the NHS machine takes over and we are treating the symptoms rather than the cause."
Of those turning to the brand to check their levels, Thomas says the results are 'disturbing': approximately 20% show 'signs of severe deficiency in at least one nutrient'. 
He believes the majority of people 'don't understand the impact of long-term suboptimal nutrient intake. "Nutritional supplementation can only be effective in the long term if we recognize the nutrients we are suboptimally receiving and understand our baseline levels. Only then can you truly begin to supplement. Anything else really is just hoping for the best. This is what BetterYou is all about … the education of 'why?'. B12 deficiency can have an irreversible impact upon nerve endings. Vitamin D and magnesium deficiencies will have an irreversible impact upon bone density if not addressed in early life."
Perfect partnership
BetterYou sprays offer a sling-it-in-your-handbag kind of convenience; something you can take on-the-go, without the need for water. Vitamins are administered via 'a fine plume of spray droplets which coat the inside of the mouth'. The highly absorbent buccal membrane of the inner cheek features a system of veins beneath the surface which allows for rapid and effective absorption. 
Since the brand first pioneered oral sprays, it has been joined by a number of other companies which recognize the benefits of a 'grab-and-spray' offer. AvaCare – founded in 2015 by three 'passionate dads' combining their expertise as pharmacists, nutritionists and fathers – markets a range of effervescent tablets, drops and liquids. In 2020 the trio introduced tropical orange-flavoured vegan Vitamin K2 Adult oral spray, calling it 'an under-consumed nutrient that is very difficult to obtain from diet alone'. 
"Vitamin K2 was relatively unknown up until a couple of years ago," says AvaCare. "[It] has recently been given more attention due to its impressive benefits and scientific research, conducted by NattoPharma. AvaCare only uses NattoPharma's MenaQ7, the actual source material for more than 20 published human clinical trials confirming the health benefits of vitamin K2 as MK-7. It is also the only scientifically researched K2 available which is proven to be absolutely safe and effective for both child and adults."
The brand also says K2 is the 'perfect and natural partner' of vitamin D and that 'in a few years any serious vitamin D product' will also contain K2. This partnership between the two is thanks to K2's ability to 'aid the transport of calcium away from the arteries and deposit it into the bones, where it is really needed'. 
Function meets flavour
A bold new canned vitamin drink by Gusto Organic has hit the market, containing high-dose vitamin C, D, K2 and zinc. Will Fugard, CEO, explains why this 'grown-up' functional soft drink is pushing hotels to rethink their mini-bars and how the 'darker moments' of 2020 helped bring an idea to fruition: "Coming back from BioFach the world looked very different. We were just about to print half a million cans of some groovy little mixers … and it just didn't seem appropriate. There seemed to be a real dark cloud on the horizon. We were all looking at this idea of something [to support] your immune system. I wanted to do something that didn't have refined sugar in, low in calories, not too sweet but still delicious, that delivers function. Something you'd have for breakfast at an expensive hotel or in a service station. Something pleasurable, but which delivers serious volumes of vitamin D [and] vitamin C. I rang up a few suppliers and four days later the ingredients turned up. It came together in a strange way."
Super DC was developed fast, in Fugard's kitchen 'with small children at my feet and a dog yapping'. He created 'thousands of different versions' using precise measurements to balance flavour against calories. The product began retailing in November, but Fugard says the team was 'very judicious'. "Everything is backed with EFSA claims, such as being able to put 'immune support'. It was the fastest bit of development I've ever done. There was obviously a creative process; we have smart-looking cans – they're kind of groovy, uplifting and based around the sun. They look a bit LA 1970s, roller skating down the boardwalk."
Super DC comes in two flavours: Blood Orange and Blackcurrant & Elderberry. Fugard's goal was 'to bring flavour to the forefront' without compromising on function. "Without a good flavour the proposition is weakened. I bought blood orange juice from a farm on Mount Etna. It's got real craft. You actually get to taste the juice. It's not just flavour and colour.
"The combination of blackcurrant and elderberry delivers some very wine-like flavonoids. If you listen to people who bang on about wine, elderberry is part of their vocabulary. [It] creates that adult complexity, it has that relationship to the dark tannins of a really good Cabernet Sauvignon." Beyond flavour, Fugard hails elderberry as a 'fascinating' ingredient, taken 'for millennia by people for colds and flu'.  
Bold ambitions
Super DC has been picked up by Holland & Barrett and Carrefour and has listings in the Middle East and Singapore – but Fugard has ambitions beyond retail. In partnership with British Airways, the cans are stocked in first-class airport lounges for exhausted travellers, while similar conversations with forecourt operators and hotels such as The Hyatt and The Four Seasons are ongoing, with a view to stocking their minibars. "We're a small business that punches very hard for our weight. We see this [drink] in every hotel minibar. It's time we cleaned all the rubbish out. They're starting to realize that just having Redbull in a minibar in an expensive hotel is nonsense. People expect more, they expect better." Gusto is part of the wider low- and no-alcohol movement too, campaigning with Club Soda to ensure clubs and bars have better alcohol-free options. Inroads are also being made with ferry and cruise operators, and 2,000 cans have been donated to Basingstoke Hospital to support key workers. 
An organic version isn't out of the question either: "That's the dream. There's so much relevance for this drink … particularly when you've got people in confined spaces. It's a lovely challenge to have. It's been a really exciting journey so far and we've got a lot more to do."
AvaCare's K2 Range
AvaCare Ltd
Tel: 07713 246163
E-mail:  [email protected]
www.avacare.co.uk
AvaCare's K2 range are unique best-in-market vegan products backed by clinical trials.
Clinical studies show that Vitamin K2 is an under-consumed nutrient that is very difficult to obtain from diet alone.  AvaCare's products offer a perfect combination with Vitamin D3 as well as a product on its own, to support bone and circulatory health, for your family.
AvaCare only uses NattoPharma's MenaQ7®, the actual source material for more than 20 published human clinical trials confirming the health benefits of Vitamin K2 as MK-7. It is also the only scientifically researched K2
FSC Magnesium 500mg
FSC
Tel: 0800 083 0356
E-mail:  [email protected]
www.fscsupplements.com
Magnesium is needed for energy production, growth and repair, and formulation of blood cells, nerve signals and muscle relaxation. This high potency formulation has Vitamin B6 added to assist the absorption of the Magnesium.
As with all FSC supplements, FSC Magnesium 500mg is made in the UK with the finest ingredients and based on widely recognised scientific evidence of their health qualities. Our formulations provide maximum efficiency with minimum additives.
Suitable for Vegetarians and recommended to take one tablet daily with with food. 
Bio-Kult Advanced Multi-Strain Formulation
Bio-Kult | ADM Protexin Ltd
Tel: 01460 243230
E-mail:  [email protected]
www.bio-kult.com
The bacteria found naturally within our bodies play an important role as our first line of defence. Bio-Kult is a scientifically developed, advanced multi-strain live bacteria supplement containing 14 live bacterial cultures proven to survive the high acidity of the stomach, and to complement the existing gut flora naturally present in a healthy person's digestive system. Bio-Kult does not need to be refrigerated and can be taken alongside antibiotics, by children, when pregnant, by vegetarians and as part of a healthy diet.
BetterYou Boost B12 Oral Spray
BetterYou
Tel: 01226 814 030
E-mail:  [email protected]
www.betteryou.com
Boost B12 Oral Spray is a unique formulation of Vitamin B12, chromium and green tea extract formulated to support with energy levels, aid memory and concentration and help reduce tiredness and fatigue. The great-tasting spray has been specially formulated to deliver vitamin B12 directly to the bloodstream, via the inner cheek for enhanced absorption.
The spray is suitable for vegans, is palm oil & palm oil derivative free and contained in a bottle made from recycled waste including ocean waste plastic and post-consumer recycling (PCR), which is fully recyclable. RRP: £11.95. www.betteryou.com 
Catch Free: Full Spectrum Omega-3 Liquid
Wiley's Finest U.K LTD
Tel: 0800 027 7362
E-mail:  [email protected]
www.wileysfinest.co.uk
There's no catch inside our fish-free Omega-3 supplement designed especially for vegans to help support a healthy heart, healthy brain function and daily head-to-toe well-being. * CatchFree Omega Full Spectrum Omega-3 Liquid features DHA Omega-3 from Algarithm™️, Omega 3-6-9 from Ahiflower®️, and Vitashine™️ Vitamin D3, in a naturally flavored, great-tasting Tropical Mango Liquid.
CatchFree Omega Full Spectrum Omega-3 Liquid combines over 2300 mg of fish-free Omega-3s, including 500 mg DHA Omega-3, with 25 ug of Vitamin D3 to nourish your heart and brain and support overall health and wellness.*
Garden of Life mykind Organics Vitamin B12 spray
Kinetic Natural Products Distributor
Tel: 08450 725 825
E-mail:  [email protected]
www.kinetic4health.co.uk
Garden of Life mykind Organics Vitamin B12 is the first certified organic, wholefood, non-GMO project verified B12 spray. Garden of Life's B12 provides an easily absorbed, active natural form of B12 (as found in the body) at a dose of 500mcg per spray, in a delicious organic raspberry flavour. One bottle contains 140 servings. Garden of Life sprays are the only certified organic spray vitamins offering a more bioavailable format that reaches the bloodstream quicker, therefore more efficiently absorbed into the bloodstream and utilised by the body. They taste great and are easily carried so can be taken quickly and conveniently on the go. The dose can also be easily tailored depending on seasonal needs.
For more information or to place an order, visit www.kinetic4health.co.uk or email [email protected] 
Lamberts® MagAsorb®
Lamberts Healthcare Ltd
Tel: : 01892 554313
E-mail:  [email protected]
www.lambertshealthcare.co.uk
The adult NRV for magnesium is 375mg daily, yet surveys conducted in the UK show adults get an average of just 270mg of magnesium per day, so deficiency is widespread. Responsible for over 300 biochemical reactions within the body, magnesium is essential to many of your bodily functions. Lamberts® MagAsorb® is clinically researched and provides a highly bioavailable magnesium in citrate form. In tests comparing MagAsorb® with two other commonly used magnesium compounds, the absorption of MagAsorb® in the body
was far superior.
Nature's Answer Vitamin D3 & K2
Kinetic Natural Products Distributor
Tel: 08450 725 825
E-mail:  [email protected]
www.kinetic4health.co.uk
Nature's Answer Vitamin D3 & K2 delivers 1000 IU of Vitamin D3 and 120 micrograms of Vitamin K2 per serving, carried in a natural base of olive oil. Being in a liquid form it is quickly absorbed into the body. The Vitamin D3 is in its bio-active form and suitable for vegetarians. Vitamin D3 is supports the normal function of the immune system, Vitamin D3 & K2 also supports the health of our bones and joints as part of a balanced diet and healthy lifestyle. Formulated by a team of experts at Nature's Answer, with guaranteed potency, purity & authenticity.
For more information or to place an order, visit www.kinetic4health.co.uk or email  [email protected] 
NutraThyroid Herbal Remedy Tea
NutraTea Ltd
Tel: 020 3146 7150
E-mail:  [email protected]
www.nutratea.co.uk
NutraThyroid® by NutraTea® is 1 in a range of 19 herbal remedy teas that has been uniquely developed to help support thyroid function and the symptoms associated. This complete herbal blend contains 100% active botanicals that have been sustainably sourced including Ashwagandha, Bugleweed and Siberian Ginseng to help maintain energy levels and the natural hormone balance. Each natural 2-gram herbal tea bag contains no excipients, flavourings or oils enabling the herbal bag to be reused throughout the day to achieve optimum results. This tasty herbal remedy tea is a simple way to help maintain hormone production and a healthy weight.
ActiveLife™
Wholesale Health Ltd
Tel: 01606 889 905
E-mail: [email protected]
www.wholesalehealthltd.co.uk
Good Health Naturally's ActiveLife™ Capsules, are a comprehensive multi-vitamin/mineral complex, ideal for supporting the modern diet, as nutrients from food alone are often insufficient due to depleted soil. Each capsule contains an impressive 130 nutrients, including vitamins, minerals, trace minerals, amino acids and carotenoids (lutein and zeaxanthin). ActiveLifeTM also uses the biologically active Quatrefolic® Folate (5-MTHF Folate), which is better utilised by the body than synthetic folic acid. This full spectrum formula is perfect for the whole family as dosage can be altered to suit. Available in an eco-friendly, biodegradable refill pouch option, to replenish glass jars. Suitable for vegetarians.
Blockbuster® All Clear
Wholesale Health Ltd
Tel: 01606 889 905
E-mail: [email protected]
www.wholesalehealthltd.co.uk
Good Health Naturally's Blockbuster® All Clear boasts a powerful blend of proteolytic enzymes, antioxidants and more, designed for arterial and cardiovascular support. The blend includes 80,000IU Serrapeptase per serving, along with Nattokinase- a potent fibrinolytic enzyme that can accelerate the body's healing process. Plus, unique antioxidants Pine Bark Extract 95% and Grapeseed Extract which help protect against free radical damage and promote other factors such as healthy circulation an d blood pressure. When combined, the ingredients support internal cleansing and healing and overall circulation. Safe for long-term maintenance. Suitable for vegetarians and vegans. Now available in fully recyclable glass bottles. 
CurcuminX4000® with Fenugreek
Wholesale Health Ltd
Tel: 01606 889 905
E-mail: [email protected]
www.wholesalehealthltd.co.uk
CurcuminX4000® with Fenugreek Seed Extract uses highly bioavailable Meriva® curcumin, which studies show can absorb up to 45x more effectively than ordinary curcumin. Added Fenugreek enhances its absorption even further. Widely studied for its health benefits, curcumin's anti-oxidant and anti-inflammatory properties make it the ideal choice to support many health conditions, such as joint, skin, brain, heart, digestive and immune health. Choosing CurcuminX4000® with Fenugreek Seed Extract ensures you are getting value for money with superior absorption and long-lasting benefits. CurcuminX4000® Original also available. Suitable for vegetarians and vegans. Now available in fully recyclable glass bottles.
CureC™ with Quercetin
Wholesale Health Ltd
Tel: 01606 889 905
E-mail: [email protected]
www.wholesalehealthltd.co.uk
CureC™ with Quercetin is a high potency liquid liposomal vitamin C product with added quercetin. Contains 1000mg vitamin C and 175mg of quercetin per serving (6mls). Using advanced 'liposome' technology ensures faster and superior absorption than capsules, tablets and powders, achieving higher, longer-lasting dosing with no digestive upset. CureC™+Quercetin delivers powerful support for your immune health, offering a beneficial solution for allergies and hay fever symptoms during the warmer months. Pleasant tasting straight off the spoon or mixed into liquids, for convenience and flexible dosing. 30 days supply at 6ml per day. Suitable for vegetarians and vegans. 
MaxiFocus® Sublingual Liposomal Drops
Wholesale Health Ltd
Tel: 01606 889 905
E-mail: [email protected]
www.wholesalehealthltd.co.uk
MaxiFocus® now contains AstaReal® Astaxanthin, alongside existing powerful carotenoids Lutein and Zeaxanthin- which have been identified as vital nutrients for lens and macular health. This super formula contains 26 nutrients to help maintain normal vision* and uses an advanced liposomal delivery system for guaranteed improved absorption which is up to 9x greater than tablet alternatives. All nutrients are blended in their most biologically active forms, including Methylfolate, and now the active forms of Benfotiamine (bioavailable form of thiamine), Riboflavin (as co-enzyme B2) and Vitamin B6 (as P-5-P, co-enzyme B6), plus Selenium (as selenocysteine), enhancing utilisation even further. Suitable for vegetarians.
PrescriptBiotics™
Wholesale Health Ltd
Tel: 01606 889 905
E-mail: [email protected]
www.wholesalehealthltd.co.uk
Far from your ordinary probiotic, the multi-award winning PrescriptBiotics™ by Good Health Naturally is a unique soil-based probiotic containing a super strain of x8 beneficial soil-based organisms (SBO'S) which are bio-identical to the life-giving bacteria found naturally in your gut. These SBO's are praised for their ability to survive the harsh digestive tract, unlike other ordinary probiotics on the market. Research shows that taking a high-quality probiotic, like PrescriptBiotics™ balances gut microbiota, leading to improved immune response and regulated digestion. PrescriptBiotics™ are vegan friendly and completely chemical, toxin and GMO free. Now available in fully recyclable glass bottles.