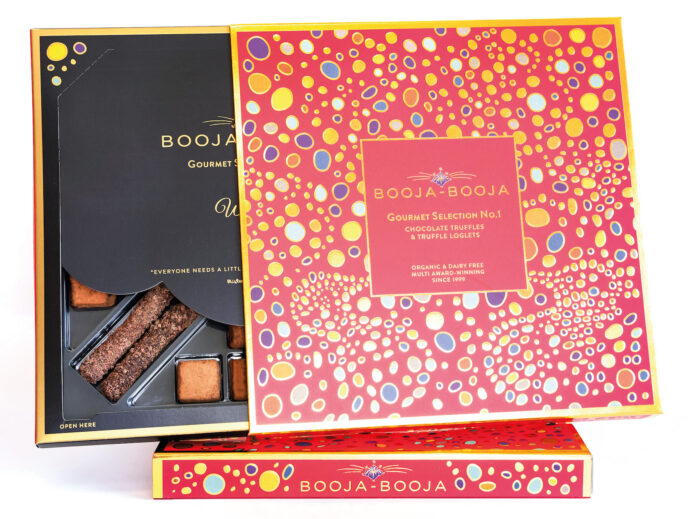 Booja-Booja says its autumn launch is one of the biggest in the company's history, featuring its first ever seasonal winter selection, alongside new truffle shapes and an array of new gift boxes.
The Winter Collection is Booja-Booja's first seasonal winter product containing 16 chocolate truffles and showcasing new flavours in the form of Yuletide Spice, Cherry Bakewell and Salted Caramel Mocha.
Also new are Chocolate Truffle Loglets – extra-long chocolate truffles rolled in rich chocolate flakes and created for 'elegant nibbling'. Available all year round, the loglets come in three flavours: Hazelnut Crunch, Chocolate Orange and Salted Caramel Mocha. Yuletide Spice Loglets are also available seasonally as part of the new winter range.
For gifting, the brand has introduced two new Gourmet Selections, each containing 25 chocolate treats including truffles, loglets and a chocolate truffle star.
Gourmet Selection No1 features new flavours Cherry Bakewell, Gingered Toffee Apple and Salted Caramel Mocha, alongside existing favourites like Hazelnut Crunch and Honeycomb Caramel.
Gourmet Selection No2 features new flavours Rhubarb & Ginger Gin, Salted Caramel Mocha and Gingered Toffee Apple alongside Cherry Cognac and Fine de Champagne chocolate truffles.
The brand also has two new gift boxes for luxury chocolate gifting: A Grand Adventure and A Magnificent Adventure are presented in rigid boxes and feature chocolate truffles, loglets and a truffle star in a variety of flavours.