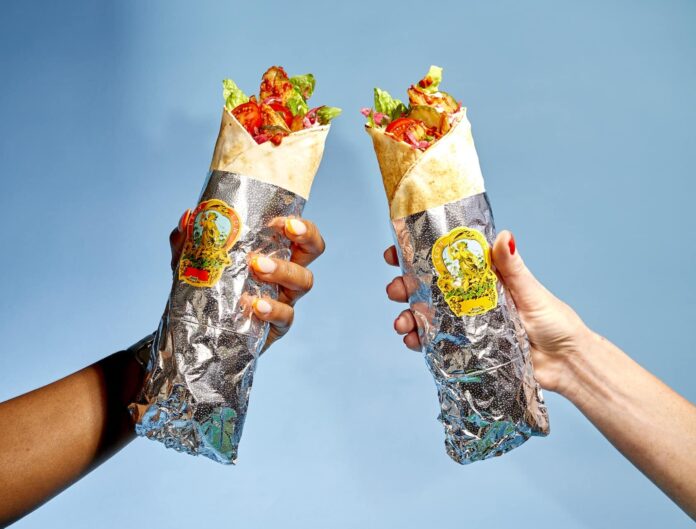 Plant-based brand Heura and fast-food chain LEON have united for their first collaborative campaign, 'Powered By Pride' to support displaced LGBTIQ+ people around the globe.
Launched to coincide with Pride celebrations in the UK, the campaign sees Heura donate £3 from the sale of each Vegan Harissa Chick'n Wrap at LEON using a discount code to The UN Refugee Agency (UNHCR) which works to protect people forced to flee their homes.
The discount codes for 20% off the LEON and Heura Vegan Harissa Chick'n Wrap are available through the Plant Based News and UK influencers in the sustainable food industry.
"We were so thrilled with the positive response from UK consumers when we first launched Heura in LEON, we knew we had to leverage this momentum for good," comments Bernat Añaños, Heura Foods co-founder. "And while there is still a lot to be done, we greatly respect and admire the work UNHCR is doing to protect and serve displaced people within the community, and hope that 'Powered By Pride' can act as a reminder that every action has the power to drive positive change."
During Pride in London (2 July), Heura hosted an event in conjunction with Dalston Superstore, a cultural epicentre of LGBTIQ+ lifestyle and community in London.
Adds Glenn Edwards, MD of LEON Restaurants: "LEON is proud to support Pride across the UK with our new plant-forward Harissa Chick'n Wrap, made using Heura's Vegan Chicken. We look forward to Pride revellers getting the chance to try this summer menu dish while supporting a very worthy cause."
LEON featured Vegan Harissa Chick'n Wrap in the London parade and will also do so in the upcoming Brighton and Manchester Pride parades in August.