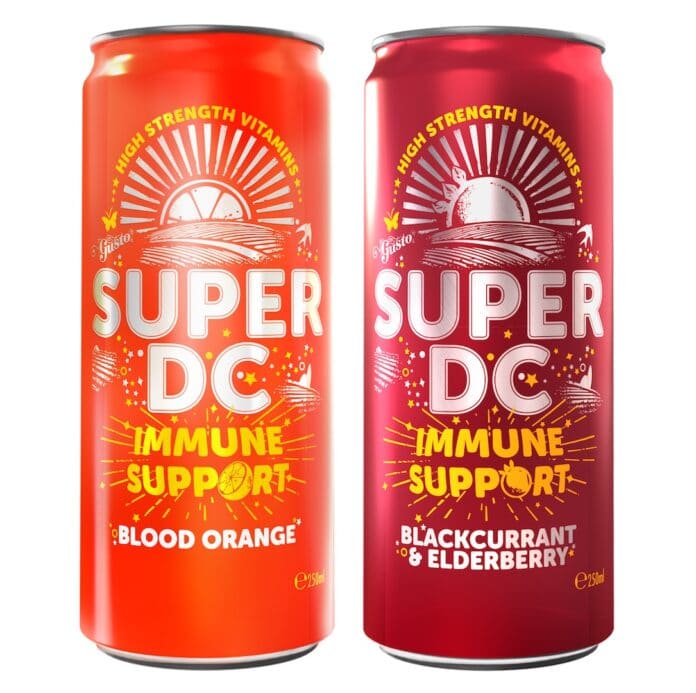 Natural drinks brand Gusto has introduced two new functional drinks which deliver a daily vitamin boost to shore up the immune system.
High in antioxidants, Gusto Super DC Blood Orange and Super DC Blackcurrant & Elderberry combine high strength vitamins D (200% RI) and C (2500% RI), with vitamins A, K, folic acid and zinc.
The low-calorie drinks contain a high percentage of real fruit juice and are rich in free-radical-fighting anthocyanins, with botanical ingredients including elderberry, white mulberry, blackcurrant and acerola cherry.
'We are delighted to offer a drink created with an adult audience in mind and designed for optimal immune support," says Will Fugard, who co-founded the brand with Craig Sams. "Super DC will ensure you hit your daily reference intake of vitamins D and C, and can be enjoyed as your one a day immune support boost, on-the-go or from the breakfast table as part of your daily routine.
"Gusto's new drinks are born from an age when there is a significant focus on immune support; we wanted to bring a sense of occasion to a natural vitamin drink. We think Super DC offers exceptional taste like no other vitamin drink on the market."
Super DC drinks are available in 250ml cans.