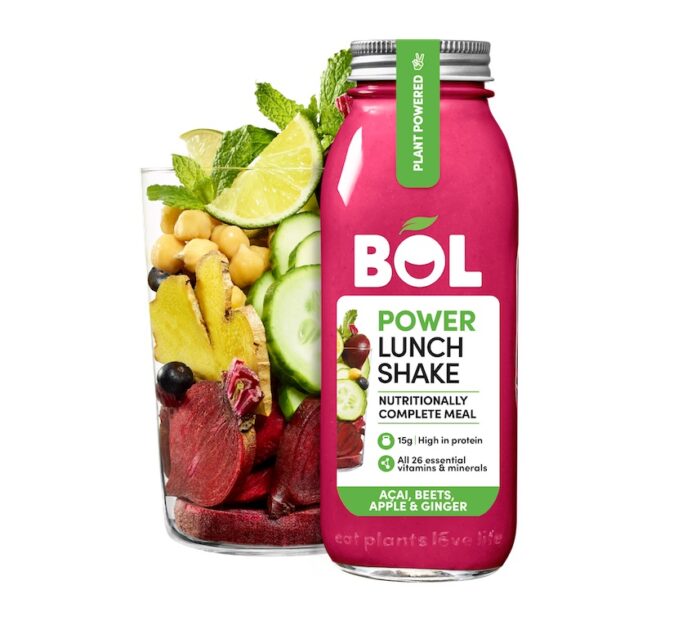 BOL Foods is aiming to shake up the growing meal replacement category with a line of plant-based Power Shakes made exclusively from real whole foods.
Described as a global first-to-market, the 100% plant-powered BOL shakes contain 26 of the essential vitamins and minerals the body needs for a nutritionally complete, healthy meal, combining whole foods such as sunflower seeds, nuts, beans and gluten-free oats with fresh fruit and veg, coconut yoghurt, almond milk and an array of herbs and spices.
The shakes are designed to help busy, health-conscious consumers have a tasty, healthy and convenient post-workout snack, quick breakfast, working lunch, afternoon pick-me-up or meal on-the-go. They offer at least 20g protein, up to two of your five-a-day, and come in at under 400kcal each.
Power Shakes are packaged in 100% recyclable glass bottles (450g) and come in six variants:
Power Brekkie Shakes: Coconut, Almond & Chai Spice; Colombian Coffee, Banana & Cinnamon; and Mango, Peach & Creamy Coconut
Power Lunch Shakes: Chocolate, Orange & Toasted Hazelnut; Açai, Beets, Apple & Ginger; and Fresh Carrot, Ginger & Turmeric
"We have reinvented mealtimes with our new 100% real food, ready-to-drink Power Shakes," comments BOL Foods founder and CEO, Paul Brown. "These are a first of their kind and the perfect meal solution for busy people who don't want to compromise on taste or nutrition.
"As a nation, we often forego nutrition for the 'convenient choice' or skip meals altogether – our Power Shakes provide the answer for both, with a tasty and nutritious brekkie or lunch, bottled."