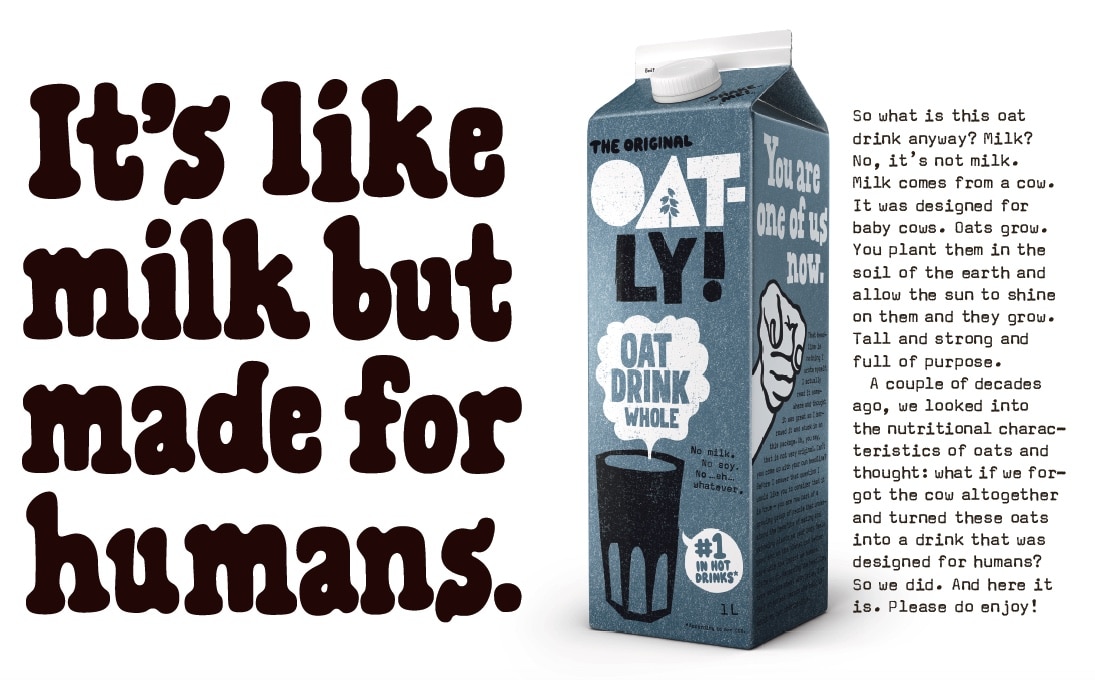 Swedish oat drinks company Oatly has launched its first nationwide, cross-media UK campaign: 'It's like milk, but made for humans' in a bid to convince UK consumers to swap cow's milk for a plant-based, oat drink alternative.
The creative is based on the brand's previous European marketing endeavours, which resulted in it being sued by Sweden's dairy industry in 2015.
This month, Oatly unveiled a new range of chilled oat drinks – Oatly Skinny, Semi and Whole – and the brand says that the 'It's like milk, but made for humans' creative describes its range perfectly, because, it explains, 'cow's milk is actually meant for baby cows'.
Oatly has previously only advertised in East London, but this £700k campaign will see OOH media running across key London underground stations including Kings Cross and Oxford Circus, as well as what the brand describes as high impact sites in areas such as Shoreditch, Peckham and Brixton. The OOH campaign is being supported by video, print media and podcast sponsorship.
"Some consider our messaging to be controversial," says Oatly's creative & strategic director (international markets), Michael Lee. "We disagree. It's fact, because our oat drinks actually are made for humans, rather than for baby cows. Although we lost a lawsuit from the Swedish diary industry in 2015, we still believe in the line, it's still the truth, which is why you're seeing it across the UK."