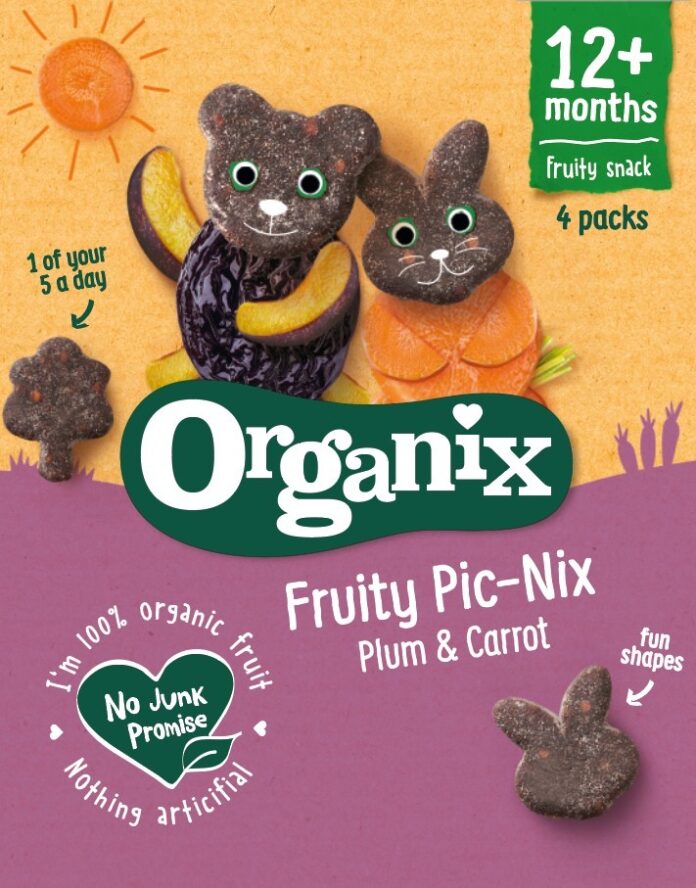 Organix has added three new products to its portfolio: with Strawberry & Apple Puffcorn and Pic-Nix (12 months+) and Kids Crunchy Waves (3-6 years).
Strawberry and Apple Puffcorn offer a light and tasty healthy alternative to popcorn for adventurous taste buds. Bursting with natural fruit flavours, these on-the-go, bite-sized snacks are popped, not fried, and contain no hard kernels or added salt.
Organix Fruity Pic-Nixs are a healthy snack designed to get children eating and enjoying more fruit and veg with a blend of textures. Available in Plum & Carrot and Plum & Tomato, the bite-sized pieces come in nature-inspired shapes, such as trees and bunny ears and count as one of a toddler's five-a-day.
Aimed at older children, Kids Crunchy Waves are crunchy baked snacks which come in three veg-packed flavours: Sizzling Sweetcorn, Crazy Carrot and Tangy Tomato. They are designed to cater to developing palates and more adventurous taste buds and are made from baked chickpeas rather than potatoes. The waves are 100% organic, non-HFSS and contain no added salt.
The three new snacks all come in multi-packs of four so are handy for lunch boxes, picnics or a quick bite on the beach.
"These new launches are fantastic additions to our already outstanding portfolio of baby, toddler and kids' foods," says Mandy Bobrowski, Organix marketing manager. "Here at Organix, we know how important it is to keep little ones happy and satisfied, as well as making sure children have access to nutritious and healthy food options – which is why we're sure these foods will ignite creative taste buds and spark a love of great food.
"Using only the best organic ingredients, parents can be assured that their children are enjoying snacks created with completely natural ingredients, with absolutely nothing unnecessary added, that will amuse not only hungry tummies, but also nurture developing minds and imaginations."